Blog
REGISTER NOW
LOGIN
SIGN UP FOR OUR NEWSLETTER
Results from our Annual Cycling Survey
In March we sent out our annual survey and our generous community responded en masse – over 300 of our past participants and nearly 700 of our newsletter subscribers took the time to provide important feedback on a number of questions and topics on our minds.
Thank you to everyone who contributed. We go through the results in detail and we listen to your feedback and try our best to improve the information we share and the tours we run every single year… but especially in a pandemic year.
>>RELATED: Cycle Touring and COVID-19: Survey Results (2020)
We thought that some of the information we gathered would be of interest to our expanding community of cyclists around the world. Here is a summary of the results.
Who Completed the Survey?

The majority of our followers and past participants are from North America, Europe, New Zealand and Australia. The vast majority of our followers are 46 years old and up. We tend to get more younger people on our Expedition-level tours. Among our newsletter list 30% are female, but we have a growing number of female riders on our tours. This year's survey to past participants showed that 35% are female. We hope to see the balance between male and female participants continue to equalize.
Participating in Supported Cycling Tours

More than 50% of our newsletter subscribers have already participated in some kind of supported / group tour in the past (but not yet with TDA) and an incredible 58% plan to do a tour with us and most of those plan to do one of our tours within the next two years!
That is extremely encouraging and we hope to help as many people as possible started on the path to their first long distance supported tour experience. We've developed great online resources, and our staff are on stand-by to answer all your questions and address your concerns and reservations.
Travelling After the Pandemic
There were some very encouraging signs for the future of cycle touring. Over 80% of our followers expect to be fully vaccinated by the end of September. With the vast majority of our audience in Europe, North America and other wealthy, developed nations we should all feel very privileged at the speed at which we are able to access these highly important and effective vaccines and begin to return to adventure travel activities abroad.
Only 6% said they expect to travel less and for shorter periods of time after the pandemic whereas 51% said they would travel the same as before and 23% said they expect to travel more and for longer periods of time. For many, they believe they must now seize the opportunities they have, and not wait for a day far in the future to have experiences that can last a lifetime.
It does seem that people do plan to travel closer to home – within their home country, continent or region – at least initially. Over time, as the situation improves globally, we expect people to expand their travel choices.
One interesting point – when we asked if people thought our information on our website was adequate concerning COVID-19, 48% said yes, but a huge portion (51%) had not yet seen it. So if you were one of those, check it out here.
Things That People Like
Most people found our How to Prepare series useful, but about 25% hadn't heard of it, so here it is – a great resource for anyone contemplating their first group / supported cycling tour.
The same was true for the two video series we are producing: TDA Talks and Two Minute Tips. Both were enjoyed, but many people had not yet discovered them.
We also asked people about bikepacking. We had some mixed results here: 9% said they only do supported cycle touring, and 14% prefer cycling on public roads. But almost 80% of people either have bikepacked or are curious to try it. So we hope that we'll be able to offer more bikepacking style trips in the future.
Lots of Great Ideas for Our Newsletter
Most subscribers to our newsletter want to learn more about our company and our tours in hopes to one day participate themselves. But a lot of people also subscribe to read inspiring and informative blogs, or watch videos from our tours or to read profiles of some of the past participants. People also want to hear about the latest tours we have created as well as commentary on things that affect touring cyclists and the regions we travel in.
People also suggested that we include more behind the scenes stories of what it takes to run these multi-country tours, and who are the types of people (staff and cyclists) that participate. They also want practical information on basic bike maintenance, gear choices, how to stay safe, how to train for these tours, and other ways they can become inspired and motivated to ride their bike with us some day.
Hurdles to Joining a Tour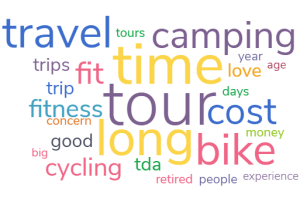 Finding enough time and covering all the costs of our long distance tours continues to be the main hurdles for people who hope to join a tour (this is one of the reasons we now have a bikepacking category too). But many people are also concerned about their fitness levels, camping in rough camps, the fact that they are getting older. People also have family and work commitments, and people worry about safety.
Another thing that people often say is that flying with their bicycle is a big hassle. We wrote about this for our how-to series and we will continue to write about and shoot videos that address some of your most common concerns.
Thanks again to everyone for participating in these surveys that provide us with much important information and that influence our decision making. It's very much appreciated.