Blog
REGISTER NOW
LOGIN
SIGN UP FOR OUR NEWSLETTER
Honey, Can You Draw Me A Bath?: Staying Clean On The Tour d'Afrique
As you can imagine, we get a lot of questions from riders before they set out on the Tour d'Afrique. I mean a lot! One question that, suspiciously, is not answered in our FAQs is, "What about Showers? How will I stay clean?" Well, that is a really good question…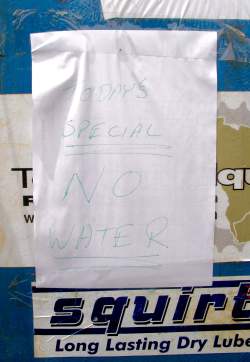 Our Rider Bulletin warns that, "During the TDA we will go through stretches where water becomes our most precious resource. Typically these areas are in Botswana and Namibia. However it can happen at any time of extreme heat. There should never be a shortage of drinking water. However, where water resources are limited, rations on using water for cleaning oneself (in bush camps) will take effect. At times this can mean that everyone is allowed 1 water bottle full to rinse themselves off. Other times we will need to keep all of our water for drinking and cooking, and so no water will be allocated for washing."
To prepare, 2013 cyclist Philip Howard suggested, "It is very difficult to properly prepare for the levels of dirt that you and your clothes will be exposed to. I would advise that for 8 days straight, you should not shower, you should exercise for many hours every day and wear the same clothes. You may lose some friends and get some funny looks especially in work and on public transport but at least you will be prepared mentally for the task ahead. You will be allowed use a limited supply of baby wipes in this period though."
One 2019 cyclist pointed out, 'Dirty' and 'clean' take on a new meaning here. If it's not visibly covered in dirt or grease from your chain you'll likely wear it again."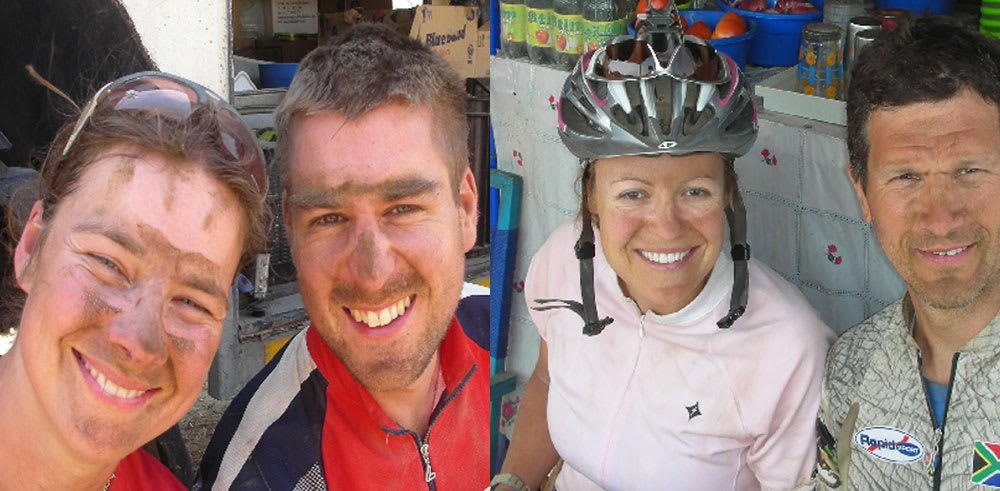 In 2008 one rider wrote about the Cyclical Levels of Cleanliness in the Sudan:
Day 1: Shower. Wear 1 set of clean clothes for day, fresh t-shirt to bed. Brush teeth twice. Copious use of hand sanitizer.
Day 2: Return to day clothes, same night t-shirt. Brush hair. Use baby wipes to shower. Good use of hand sanitizer & toilet paper. Brush teeth morning & night.
Day 3: Day clothes back on, but after dinner is spent cleaning & repairing bike, too tired to change into night T. Brush hair out of ponytail. Brush teeth twice. Remembered to wash hands for lunch only.
Day 4: Still in same clothes for riding & sleeping (minus spandex). Continue to brush teeth twice. Hair in same style as previous day, too dirty to move, plastered to head w/ helmet, anyway. Brushed teeth. Scrubbed w/ clean desert sand to get grease off fingers after dinner.
Day 5: Plan to wash sleeping bag liner on rest day, b/c still sleeping in same clothes. No need to put clean clothes on dirty, sweaty, unwashed body. Grime accumulating under nails. Forgot about the baby wipes. At least able to brush teeth & rinse toothbrush. Hair hasn't moved in 3 days.
Day 6: As soon as we make it to Dongola, we've got water & a rest day so no need for day's ablutions I'll take care of things then.
Day 7: Shower at last – a partially-clothed rinse with a public hose, scrunched in a bath in a red box. Due to degradation and desperation levels, we're quite happy to be this clean!
Of course, there are other ways of dealing with this issue…
Donkey shower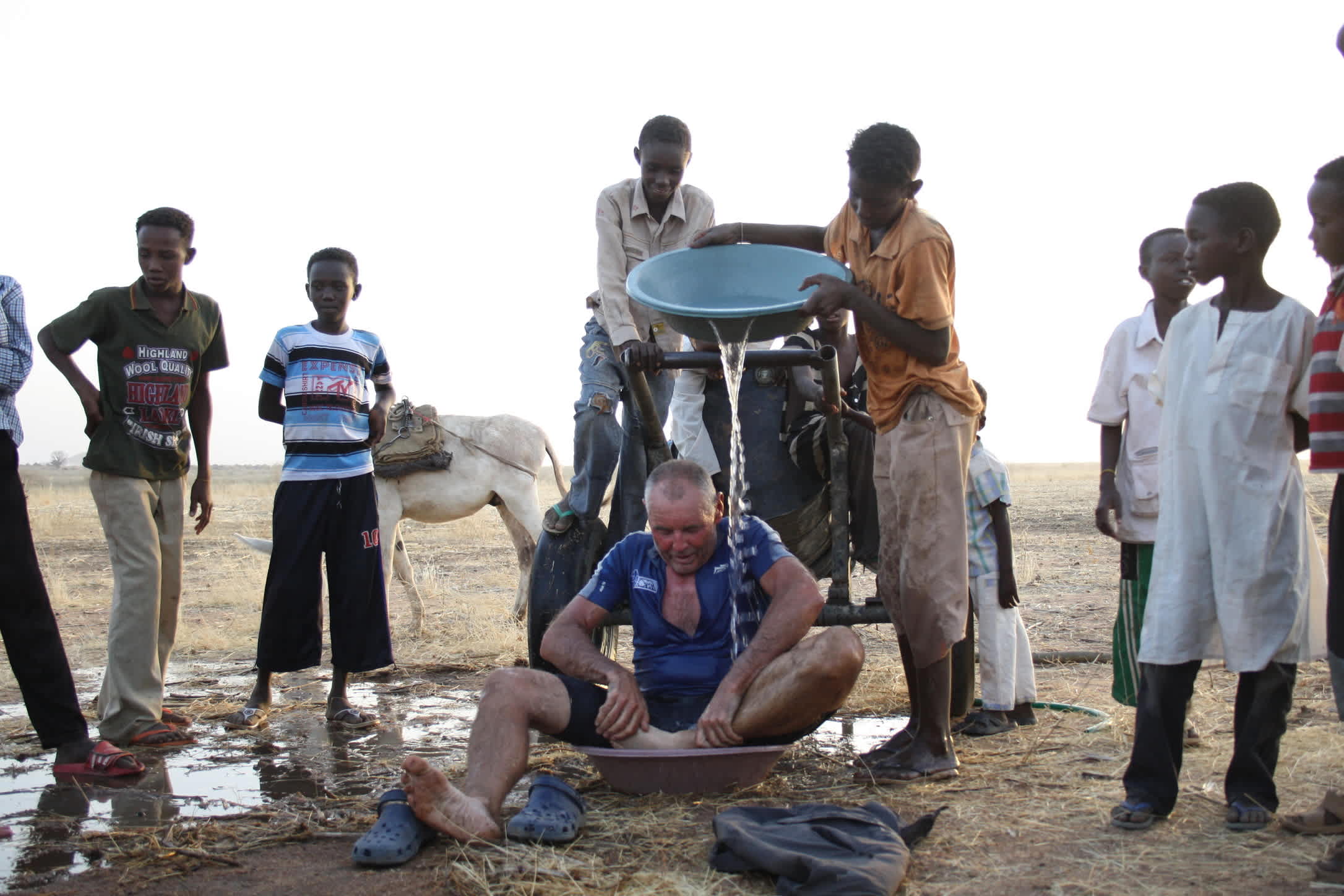 "On the last night in Sudan, we were offered the opportunity of a bucket shower. This consisted of entering a galvanized sheet iron hut with a mud floor and no lights. I entered just at sundown so tried to do my best in the light of dusk. Then I was given a tub with about 15 litres of cold, muddy water into which I stepped. I was able to wash my hair by using a water bottle from my bike to pour the muddy water over my head. I ended by grabbing the wash basin like bucket filled with muddy water and pouring it over my head. Only then did I notice the nearby generator with exposed live wires. Most interesting shower I have ever had. Total cost? About 50 cents for one bucket. I needed a second bucket just to get the mud out of my hair and off my feet." – Don Holshuh, TDA 2018
Pros: Personal service
Cons: Currently only available in Sudan & Ethiopia
A Swim in the River
Pros: Easy access
Cons: Crocs. The Nile and the Zambezi Rivers feature crocs but the Chobe River adds in some cranky hippos, just for fun.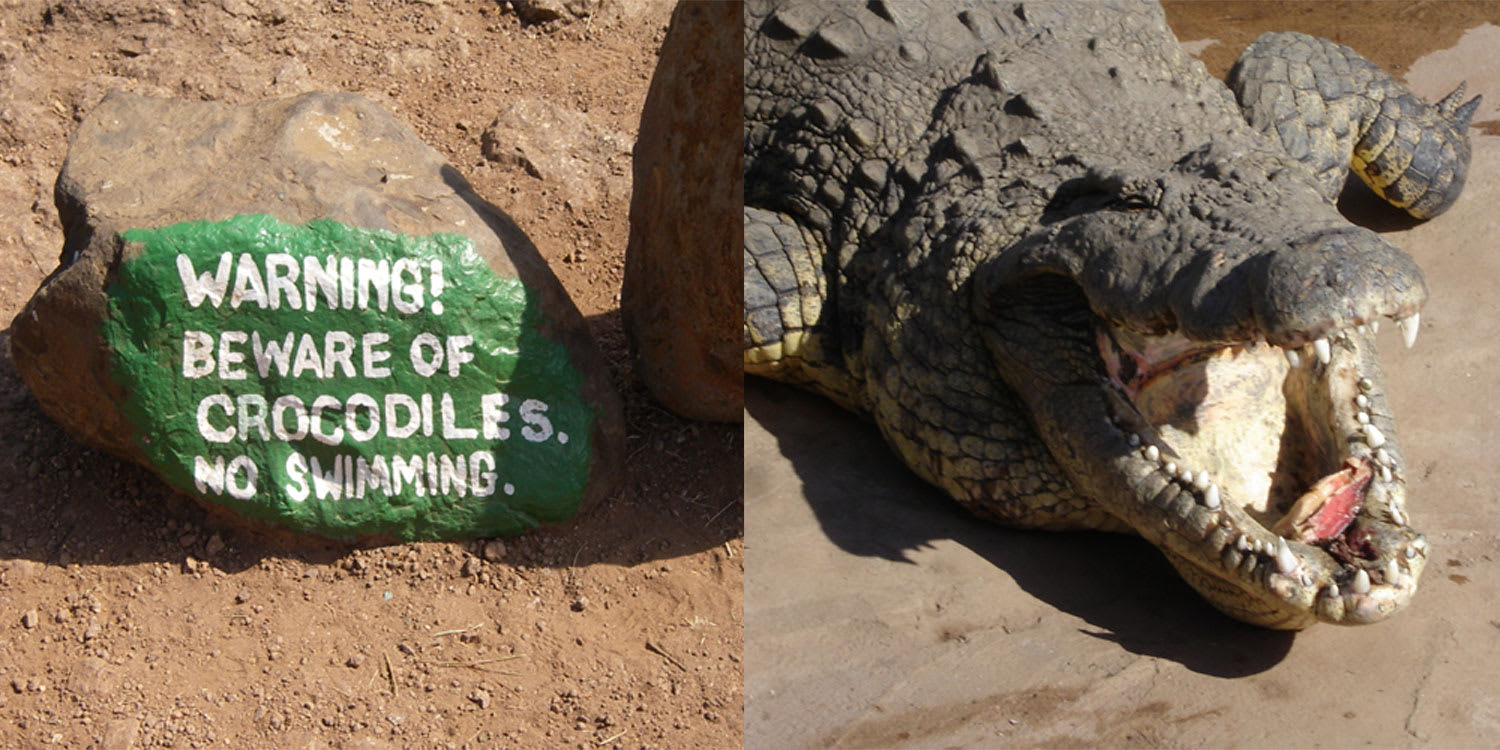 A Swim in the Lake
Pros: Beautiful beaches/Great views over Lake Malawi
Cons: Urogenital schistosomiasis (Yes, as gross as it sounds)
A Swim in the Ocean
Pros: No Crocs or Urogenital schistosomiasis
Cons: Freezing cold/Only available the week before the finish
Bottle showers & Baby wipes
Pros: Controlled cleaning
Cons: No privacy, especially in Ethiopia
"One particularly hilarious incident that made this clear occurred in Ethiopia when Kevin, one of the riders, went off into a field to have a water bottle shower. Within a few minutes, all you could see was a pale white speck being converged on by scores of tiny kinetic black dots, as the excitement was almost too much for the children to handle. Kevin stood painfully unaware as everyone at camp laughed and watched the spectacle unfold until he finally noticed the avalanching army of children and struggled to quickly put back on his clothes in time." – Danny Gold (2006)
Idfu Stadium Hose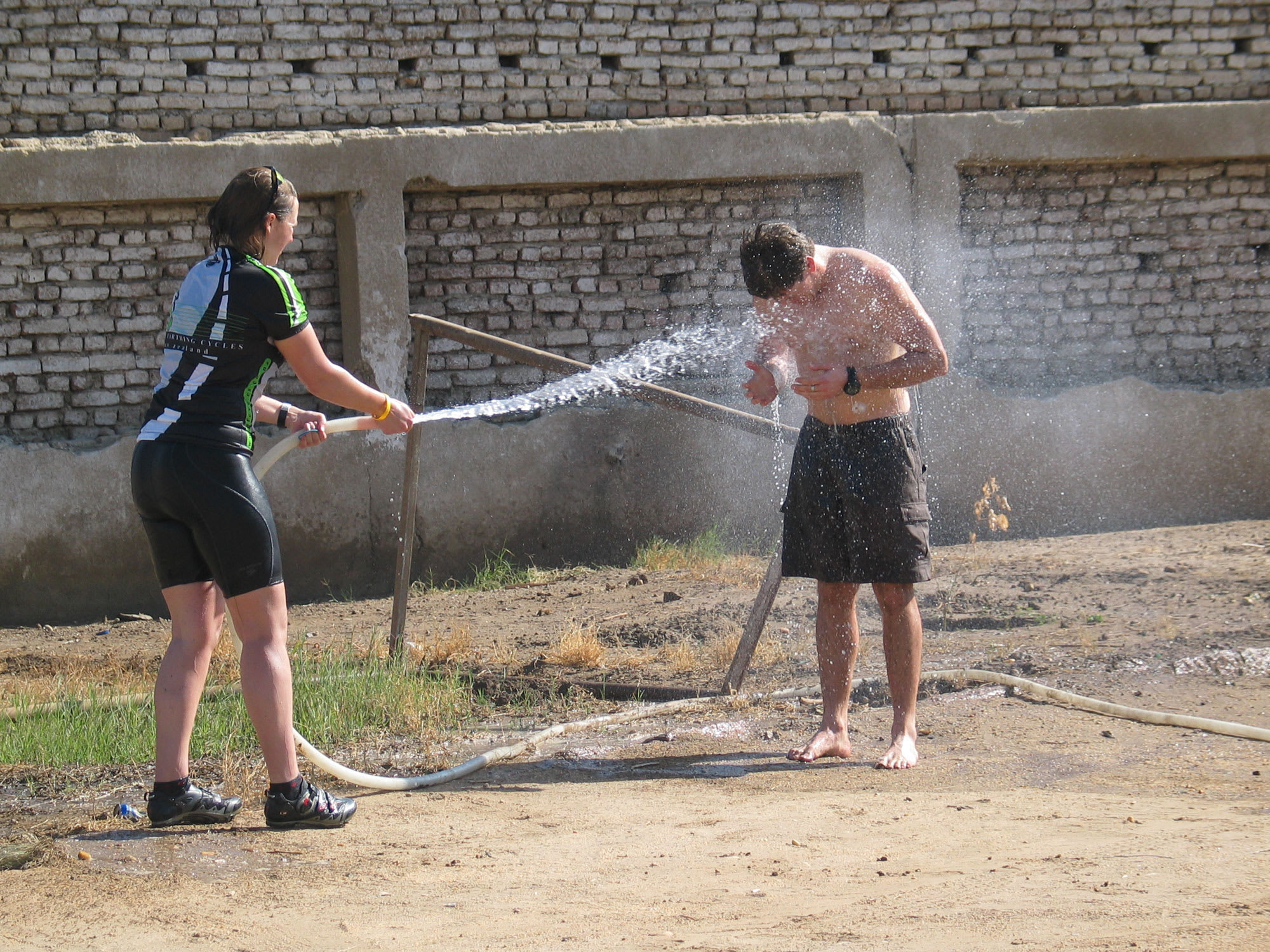 Pros: Wonderful water pressure
Cons: Discontinued due to multiple mosque wake-up calls at 04:00
Waterfalls
Pros: Clean water
Cons: Limited supply
Red Boxes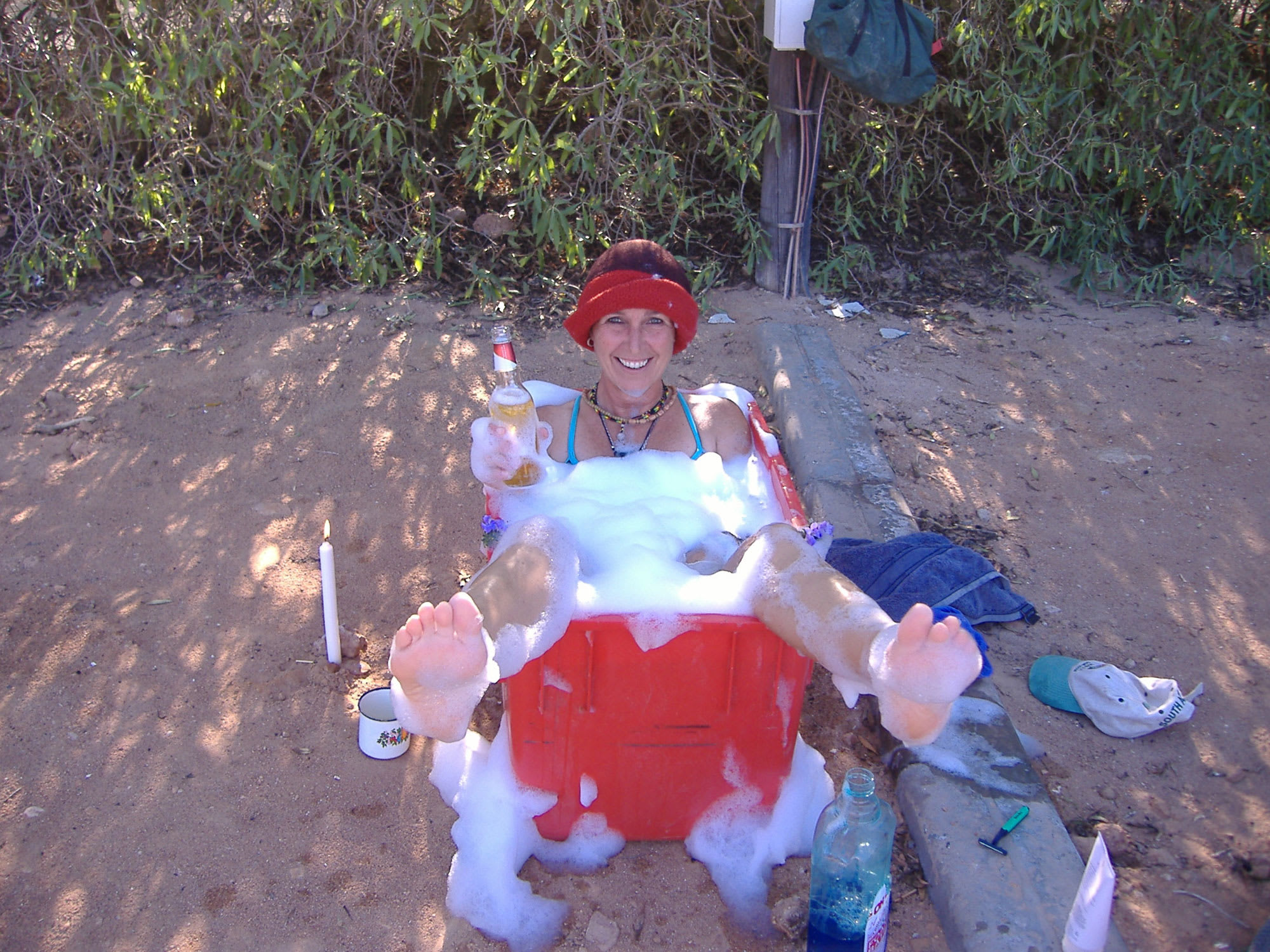 Pros: Soaker tub
Cons: Discontinued in 2009
Swimming Pools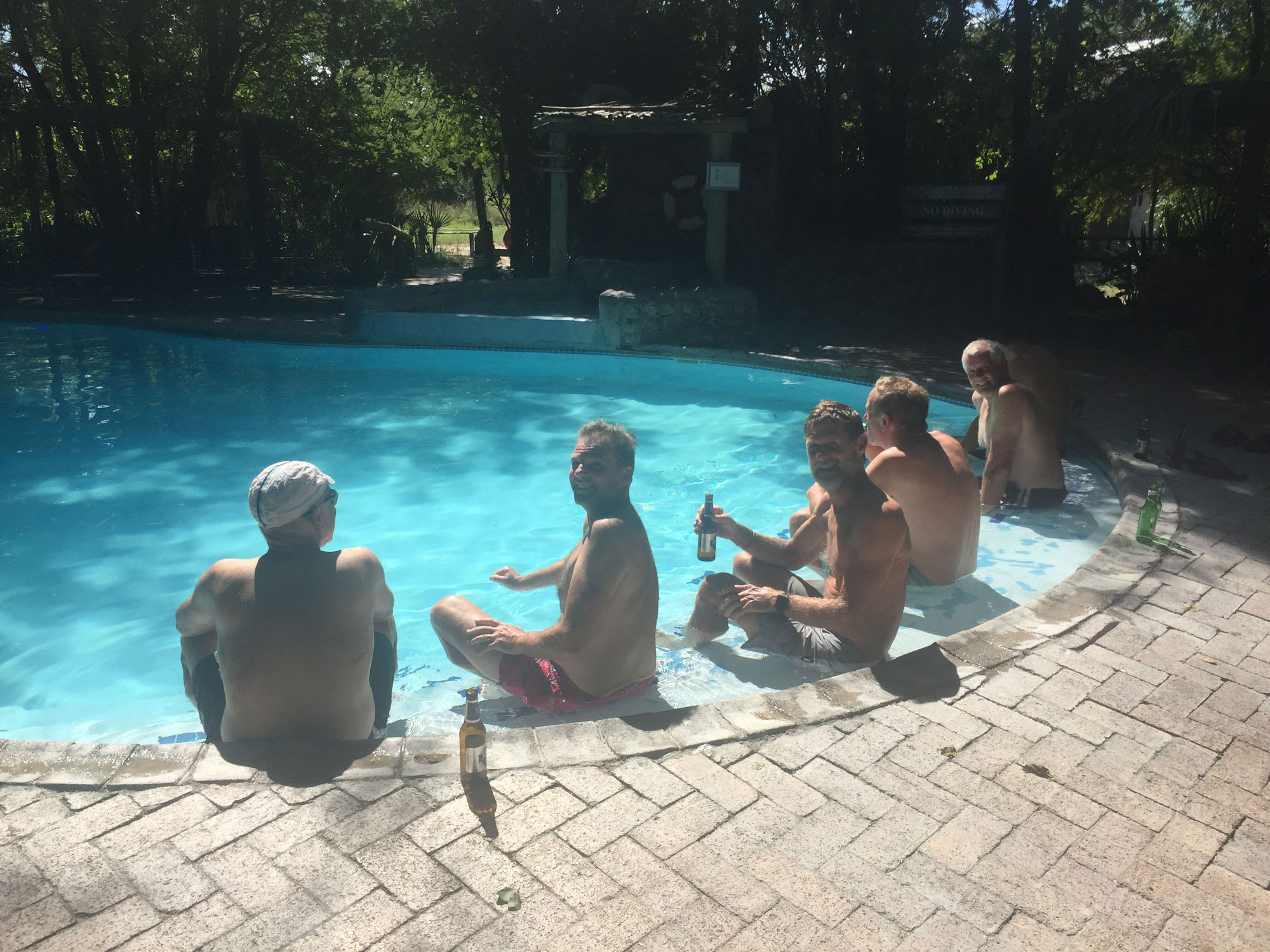 Pros: Chlorine
Cons: Pee pee/Limited availability
During my ride across Africa in 2006, I very much appreciated even a single bottle of water at the end of the day so I could wash off the accumulated sweat and grime that is inevitable after cycling 120 kms on dusty roads in the hot sun. It is amazing what you can do with just 12 oz of liquid when you have no other options. I also remember that baby wipes were considered more valuable than gold. I swam in the Nile River (no crocs!) and floated lazily in the warm waters of Lake Malawi (no Urogenital schistosomiasis). I got hosed in Idfu and dipped my toes in the frigid Atlantic Ocean. I leapt off my bike on the climb up out of Chitimba Beach and stood under an amazing waterfall. I enjoyed the swimming pools in Sagana, Kenya and Luangwa River Camp in Zambia but it was the unexpected pool that we discovered at Planet Baobab in the middle of nowhere in Botswana that will always be one of my fondest memories. You turn left down a dirt lane at the giant pink aardvark and follow the signs for just over a kilometre where you will be amazed to find, set amongst 4,000 year old baobab trees, a funky bar and refreshing swimming pool!