Blog
REGISTER NOW
LOGIN
SIGN UP FOR OUR NEWSLETTER
Riders of the Purple Sage
It was 4 degrees Celsius when we woke up. There we all stood, shivering in a nondescript Super 8 parking lot in Flagstaff, Arizona at the end of the first section of the Great American Roadtrip (known as Riders of the Purple Sage). The riders were getting a quick briefing before they set out onto isolated roads for a 7 day stretch of riding. This, after a single day's rest following an incredibly difficult start with heat and hills and adversity galore.
As I looked around, however, all I saw were smiling faces and a lot of laughter. Tour leader Emily was cracking jokes with riders who laughed and dished it back in equal measure. What a group! What a strange collection of adventurers who had chosen to ride their bikes and expand their world again after 18 months of living smaller. Now, I'm no rookie and I know there has been (and will be) much adversity and moments of frustration and disappointment on the road to Savannah, but it sure was great to see this resilient group getting out into the world and eager to take on the challenges that lay ahead of them.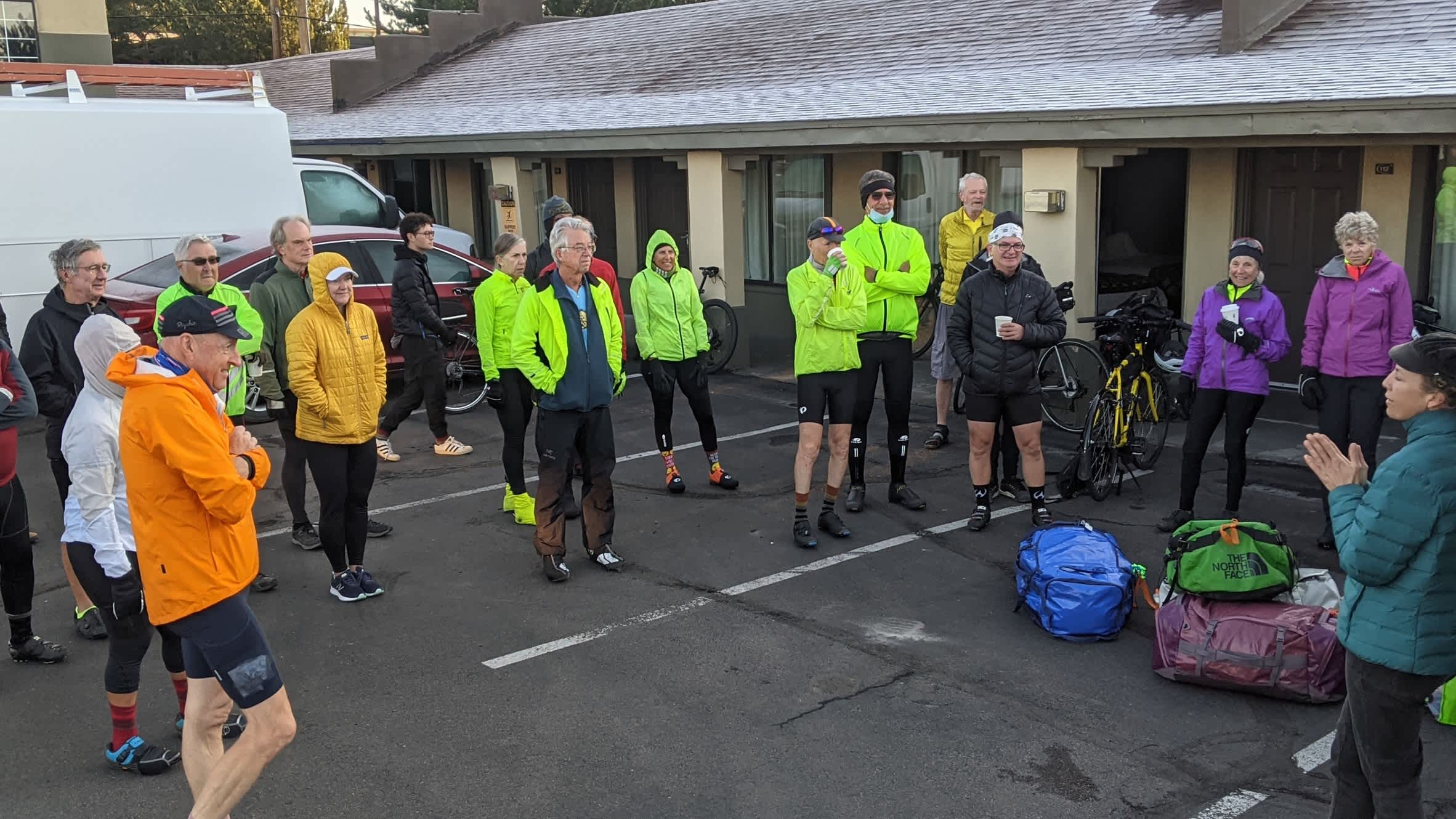 We had warned everyone that this – our first of two tours during COVID – was not a return to normal. COVID-19 is still here and we should be prepared for disruptions to our cycling plans. But on this particular morning, the mood felt buoyant and what more could we ask for after the times we have all been through – some happy moments, some oatmeal and a destination to pedal towards.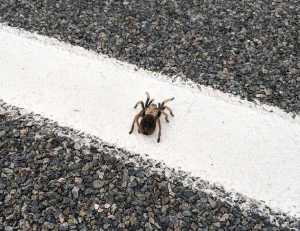 From  Santa Monica, we changed the route for the first four stages as our original route had been closed as a precaution due high risk of wild fires. Our staff pulled a new plan together within days through enormous effort and with a bit of luck. The route initially took us  through communities that were part of the greater Los Angeles sprawl, I suppose, but pleasant places all the same – Pasadena and San Bernardino amongst others. We carried on southeast to Palm Springs where bike lanes doubled as golf cart lanes. From there, we had the unexpected treat of a ride through Joshua Tree National Park with its iconic trees and rock formations. These first stages saw intense heat, above 40 degrees Celsius for consecutive days. The desert camps were hot and sticky with warnings to beware or scorpions, rattlesnakes and tarantulas – which many of us saw on the roads as we pedalled along. From our rest day in Twentynine Palms we crossed into Arizona where we headed northeast, gaining elevation and seeing temperatures dropping. The climbs were tough but the new landscapes in places like Sedona were spectacular. The cooler temperatures were a pleasant respite but several riders decided to stock up on thermal layers for the colder camps that lay ahead.
As I write this, the group is resting at the end of the second section – Truth, Consequences & UFOs – and I am back in Toronto getting TDA ready for more tours coming up this December and early in 2022. The excitement is growing as it seems that the future of cycle touring is bright. While laughter isn't the cure, it appears to be a pretty good treatment in these times we find ourselves in. Thanks to all the riders and staff who made my time on the tour a great adventure with lots of laughs.
RELATED
TOUR