Blog
REGISTER NOW
LOGIN
SIGN UP FOR OUR NEWSLETTER
Tbilisi – Not Your Average Capital City
Mitchell Kadelbach is the Chef on the 2022 Trans-Caucasus. Here is his take on Tbilisi, the capital of Georgia.
Upon arrival in Tbilisi, you might find a skyline littered with aesthetically nuanced architecture, comparatively small churches which command your attention through sheer quantity. Look closer, away from the steady drum of jostling vehicle factions and you'll find a cityscape married to climbing greenery, cushioned from the sweltering summer sun by low hanging forest beach and maple canopies. Tbilisi is not a city lying in wait for an Olympics nomination to put it on the map. Furthermore, the character and charm here is not born from an imperialist coffer but rather a people who are naturally accustomed to having a good time and getting on with it. Here are three things I loved that set Tbilisi apart from its neighbours.
1. It's not slanted it's offset!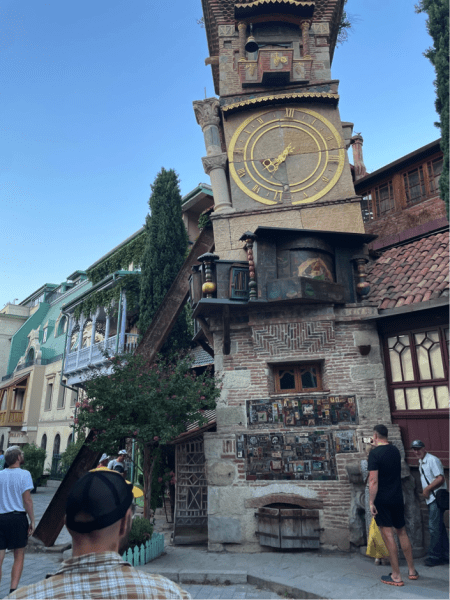 In Tbilisi (or Bellisi as locals spin it), courtyards of complicated and precarious wonders brought me to a stop, as I couldn't help but speculate whether a well-aimed gust of wind would push it down flat. In the vibrant and enticing cobbled streets of the Old Town, it doesn't matter which way you turn, you're sure to find a collage of building extensions. Overhanging gothic balconies, DIY wooden verandas and corrugated steel huts; tastefully combined with cracked and often crumbling cement cladding to humbly reveal that fashionable red brickwork prized in the west. While some of these angled and undoubtably teetering developments remain defiant to earth's eternal pull, others are less fortunate…
Another mark of quaint charm is their almost too typical Soviet state building style. Having been through Central Asia on TDA's Silk Road in 2018, I've seen so many Soviet-era papier mâché façades that I'm no longer caught off guard by their towering demeanour. Georgia and Tbilisi, to my surprise, feels different. While the 'in your face' sentiment is still there, the upkeep and lifespan is notably more considered. I've seen fifty-foot-high statues which are better described as wire sculptures, because the outer layer of cement feels about as brittle as drywall in a testosterone filled frat house. The steel structure of Mother Georgia, sword in hand, looks surprisingly more permanent and less permeable.
2. What an unassuming culture!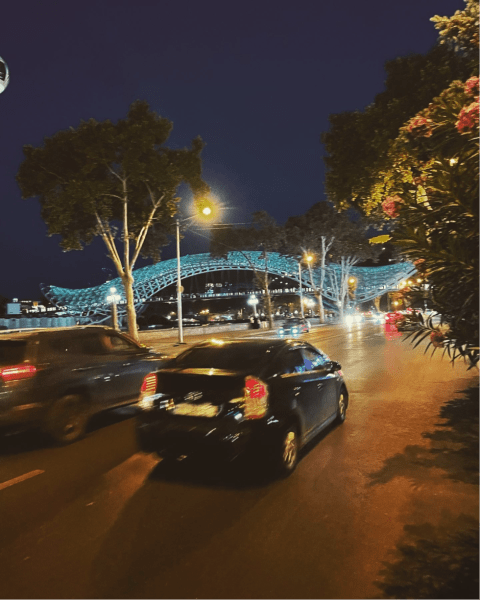 I can't speak much for specifics as I'm no studied historian, but the shallow research I did pre-arrival highlighted the fact that a multitude of different empires have warred over Georgia's fertile lands since records began. Mongol hordes, Turkish Sultans, Romans, and Persians pretty much all have had their way with this region. I can see why. The weather is hot while the grass is green. Grape vines take so naturally to the soil in Georgia it's as if it's really a weed. And a further note of accreditation to this fact is that the earliest artifacts holding wine residue were found in Georgia, making it the birthplace of the beverage. Yet classical Georgian wine is something else altogether, largely because grapes are crushed and fermented, seed, stem and all. Georgians don't like to swirl, sip and pontificate refined palates. Instead, they toast to God's good favour, slam it back and poor another.
Celebrations aren't reserved just for weekends; in Tbilisi shops open late (usually 9:00am or 10:00am) and stay open later (their Baskin-Robbins was still serving at 2:00am). While Georgians may be renowned for their hospitality and easy-does-it approach, mannerisms here are clearly separate from European customs. Gather up all the looks and interactions I have shared with the locals – working men, shopkeepers, waiters, and waitress and that'll tell you subtly what life here is really like.  People in Georgia, for the most part (…there are exceptions to all assumptions), I've found are indignant or unconcerned about you and yours. Part of that is unhelpful at times and comforting at others, when you learn how tourists receive no special pampering. Instead, eyes are stern, cheeks unwaveringly flat and discourse is often curter than it is indulgent.
3. Not all cheesy breads are cooked equally.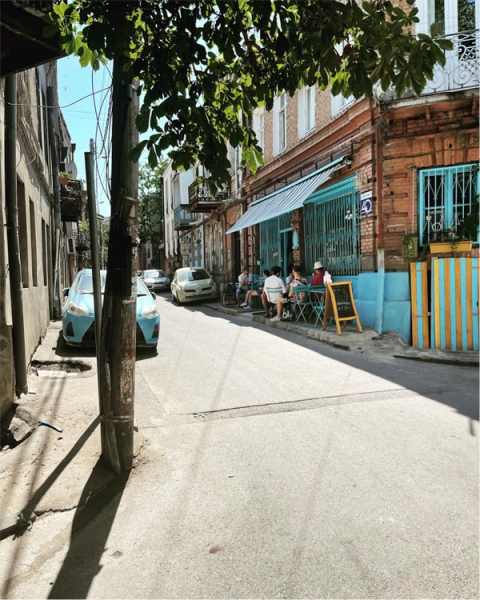 I first had Georgian food in Almaty, Kazakhstan and was blown away by how original, fresh and well presented everything was. That experience I've learned was something of a misnomer. Georgian food in Georgia can be somewhat hit and miss. Service is inattentive and slow for the most part. Menus are usually foreigner-friendly, with pictures and English descriptions. Yet navigating how much you're getting or when it will come requires a little more tact. Cold items come first and quickly (for the most part), hot dishes, usually meat oriented, arrive sporadically and often require some starchy accompaniment i.e., bread! An etiquette I learned a little too late is that Georgian food is often shared and enjoyed rather than coursed and personally placed. This makes ordering a dream if you all enjoy the same appetite and diet, not so much if you're a lonely vegan adamant on staying true. Regardless, the options are still there and Tbilisi's restaurant scene offers varied cuisines and classifications for rigid diners.
Our group took to the tactic of ordering lots of different sides and cold options to ensure that we didn't have to wait too long before feasting. Or you could avoid the wait entirely and enjoy one Tbilisi's many kiosk-style bakeries, which turn out a variety of stuffed breads, namely, Khachapuri, a traditional cheese-filled bread Georgians are proud to call their own. Normally cheesy bread needs no introduction as it practically sells itself. However, Khachapuri is largely different due to the type of cheese held within its often crunchy confinement – Sugulni, which is easily the most popular and widely distributed Georgian cheese. The flavour is mild in comparison to European varieties and can come from either a cow, goat, or buffalo, I would liken it to mozzarella, yet the taste of Sugulni is more defined and cultured than it is fresh. Either way, Sugulni, is a deliciously salty cheese which melts beautifully, draping strings, ideal for baking. Lastly, the quality largely remains in the craft of the cooking. The best Khachapuri I found was made by a seasoned local in a traditional homestead, enjoyed fresh from the wood-fired oven – it was worlds away from any other. Other pertinent Georgian dishes for me are Lobio (beans in clay pot), Khinkali (soup filled dumplings), Nigvziani Badrijani (walnut stuffed eggplant rolls) and Ispanakhis pkhali (spinach, walnut, and fenugreek dip).
RELATED
TOUR
Trans-Caucasus
The Trans-Caucasus Cycling Adventure will take cyclists on a spectacular journey through the ancient lands of Armenia, Georgia and Türkiye. The...