Blog
REGISTER NOW
LOGIN
SIGN UP FOR OUR NEWSLETTER
Prophet River, British Colombia: A Learning Experience
Hans van der Wulp is a Dutch rider cycling the North American Epic from Tuktoyaktuk to Panama City. He looks back at one of the memorable experiences from his journey.
When we travel, we open up, we learn, we absorb, we get amazed. Travel slow and you see more, feel more. Be in the moment and don't hesitate to start a conversation with a stranger; you will be amazed what you may learn. On July 8th I started my first long distance biking expedition, one that would take me from Tuktoyaktuk, at the edge of the Arctic Ocean, to Panama City – a 5 1/2 month long journey across North America covering more then 14.000 kilometres. My mind could not comprehend the challenge laying ahead of me so I told myself I to take it day by day and live in the present rather then in the future. My fellow North American Epic riders and I cover, on average, a daily distance of 100 km, four to six days in a row. This is followed by a rest day in a hotel to recharge the body and mind.
Along the way I have had the privilege of meeting a lot of different people, each with their own interesting story. One, in particular, left a huge impression on me. After a rest day in Fort Nelson our cycling stage was to take us south to a bush camp near Prophet River. After breakfast we decided to hang around in the lobby of the hotel. The day's ride was only going to be 105 km and we would be staying in a bush camp (zero facilities), so why rush? At around 08:30 we hopped on our bikes and left the Super 8 hotel behind. A good hour into the ride we saw a car parked on the shoulder of the road. This usually either means car trouble or wildlife in the area. When we arrived we saw two birds in the bush, long legged with colourful heads. The lady in the car, who had binoculars, told us we were looking at sand hill cranes and that they were very rare.
In just over 2 hours we reached the lunch stop. Somehow we managed to stay out of the rain but I was a bit cold as the temperature had dropped to around 10C. We still had some 45 km to go to our campground but there was supposed to be a coke stop at around 90 km. We had our hopes set on that but when we got there we found only an abandoned gas station on the right hand side of the road. I saw a fellow rider across the street eating something so I thought the store was across the road. Unfortunately, this was not the case. It was a Canadian Post Office which was now closed. Then a red car pulled up and a lady, Lorraine, stepped out. I started a conversation with her and asked whether there was a store nearby. She thought briefly and said there is a 'band house' where we could possibly get some food and drinks. After a short phone call she told us to follow her car.
Not knowing what a 'band house' was, nor where we were going, we decided to follow her anyways. We arrived at the beautiful Community Centre of Prophet River First Nation, which is located 100 km south of Fort Nelson, British Columbia on the world-famous Alaska Highway at Mile 233. The community reserve is 924 acres in size. The traditional territory of the Prophet River First Nation is situated mainly in the boreal forest region of northeastern British Columbia. It has a population of around 275 members. These First Nation people are from the Beaver Band tribe with an elementary school, a health clinic where a nurse takes patients two days a week, kitchen, basketball court etc. Lorraine offered us Gatorade and asked whether we wanted coffee or a hot drink for the cold day. Of course!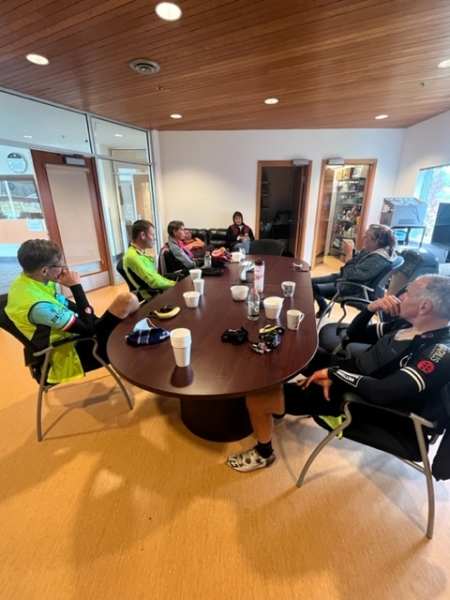 She took us to the boardroom and soon we were eating hot soup, drinking coffee, eating biscuits and chatting to several people of the community about the education, languages, elders and life within the First Nation community. When the US soldiers constructed the Alaska highway in 1942 they used heavy equipment. The First Nation people had never seen a bulldozer and described this as a huge animal with brights eyes that was eating trees. A white man seemed to be trying to tame the wild animal but did not seem to be in control!! Up till 1942, these people had limited interactions with others, they did not speak English and did not know what alcohol was. The Alaska Highway changed everything but not always for the better.
Alcohol addiction started with the construction of the Alaska Highway and has been a problem ever since. Many of them still struggle with addictions. First Nation members did not benefit from the construction of the highway at all. A few times they were asked to act as guides for planning purposes but other then that, they had no involvement whatsoever. Can you imagine how they must have felt as part of their land was taken away abruptly? The conversation continued to be very open and we listened intensively to their stories. One of the members told us about her parents being abused in the notorious boarding schools. She later ran away from school several times because of physical and verbal abuse. The government has admitted their wrongdoings and there is the possibility to claim for compensation. However, if the traumatic experiences are such that you are unable to talk about it with your children, the compensation is only theoretical.
The group structure is one of the important backbones of the First Nation peoples. Elders came together frequently to decide priorities and tasks for the season. Important roles were for the 'dreamers' and the 'drummers'. Dancing around the fire to the beat of the music and singing songs cleared you from your sins. Unfortunately, nowadays there are less and less 'dreamers' and 'drummers'. Decisions are made on how much game (wildlife) is needed to survive the winter. Essential skills like skinning a moose are passed on from generation to generation. With a shrinking population and young First Nations people moving to bigger cities, these skills are likely to be lost soon.
In the end we were shown around the facilities and were introduced to plants that would help us to keep mosquitos away. Maybe TDA needs to consider inviting First Nation's people to the initial briefing in Inuvik so the riders may potentially save on bug spray and end up with fewer mosquito bites. Overall it was a priceless experience that afternoon. We were just so lucky to be in the right place and the right moment, talking to a stranger.
RELATED
TOUR
North American Epic
Cycling from the Arctic Ocean to Panama City will take you through 9 countries and countless variations in landscape, culture, language, cuisine and...