Blog
REGISTER NOW
LOGIN
SIGN UP FOR OUR NEWSLETTER
Meet Jan & Grace: 'The Extreme Cyclist' & 'The Documenter'
This is the second part of a three part series that will introduce some of the riders who rode the 2022 North American Epic. Sarah Fonger, our Content Creator, will look at how they got into cycling, their past and who they are as people.
"The Extreme Cyclist" – Jan Demeulemeester (Tuktoyaktuk To Panama City)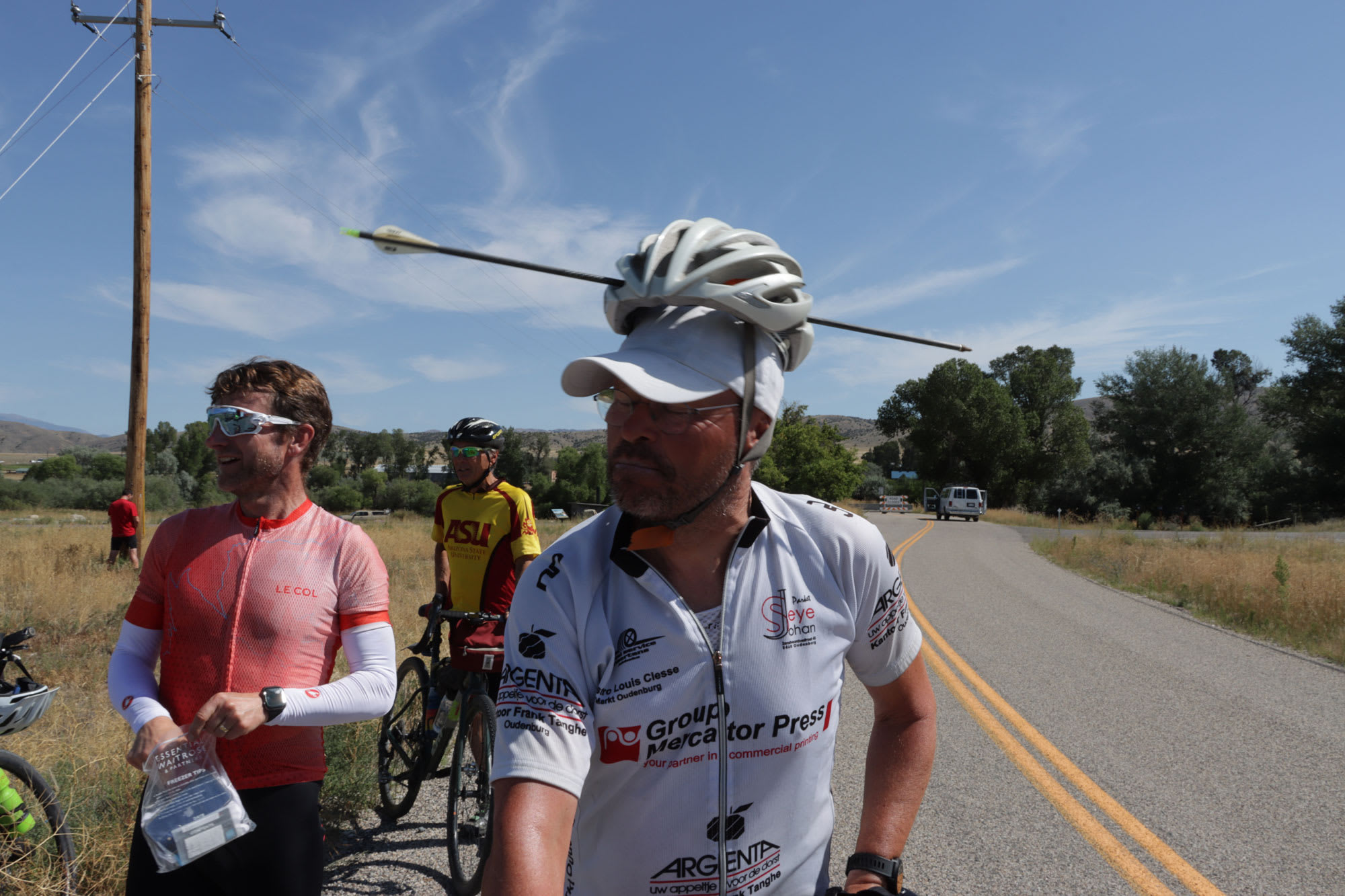 Jan is what people refer to as an 'extreme cyclist.' His record for kilometres cycled in a 24 hour period is 608. He enjoys entering races and events where he must cycle between 200 – 400 kilometres each day. The University of Leuven, Belgium has reached out to Jan to use him as one of their subjects in a study that they are doing on extreme cycling and its effects on the heart. In early 2022 they ran many tests on him and will run those tests again once he is back. The most interesting test that was done on Jan was one where he was cycling while having a brain scan in an MRI machine. Jan keeps data from all of his rides and will provide the university with that information when he returns. Jan also enjoys bikepacking and has done self supported trips around the UK and Switzerland. He has also done supported trips in Australia and South America.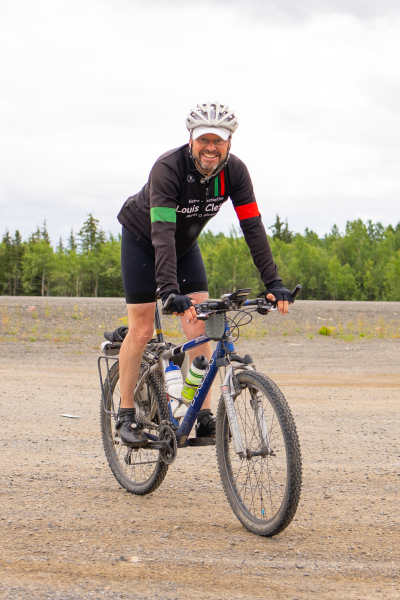 Jan is by far the most eclectic and eccentric person on tour and never fails to keep things new and interesting. One thing that Jan is famous for is his figurine turtle collection. Jan currently has 30 turtles in his collection, 15 of which have come from the tour. Jan's goal has been to find at least one turtle per country. This has proved to be quite challenging in Central America where days in a country can be few and locations quite remote. Because of this Jan has many times requested the help from staff and fellow riders who have been more than happy to participate, mostly due to the unique nature of his request.
Since seeking the help of others, Jan has provided the participants in his hunt a quite thorough list of requirements for his potential new turtle statue. The turtle must not be "tacky", have the name of a place on it, be on something else or have a country's flag on its back. The fifth rule is, "just nice turtles." Watching Jan find a new kind of turtle that he has never seen before is one of the most wonderful things; his face lights up and a very pure kind of happiness immediately washes over him.
Jan is also known for finding a flag of each country and attaching it to his bicycle. In Nicaragua he went as far as to have a shop print out the flag from Honduras (the country before) on a piece of paper because he was not able to find one from there. Jan also rides with a stuffed dinosaur on the back of his bicycle named after the chef, previously on tour, Colleen. Colleen rides with Jan wherever he goes and keeps him company. Jan loves animals and has famously helped a tarantula cross the road in Mexico.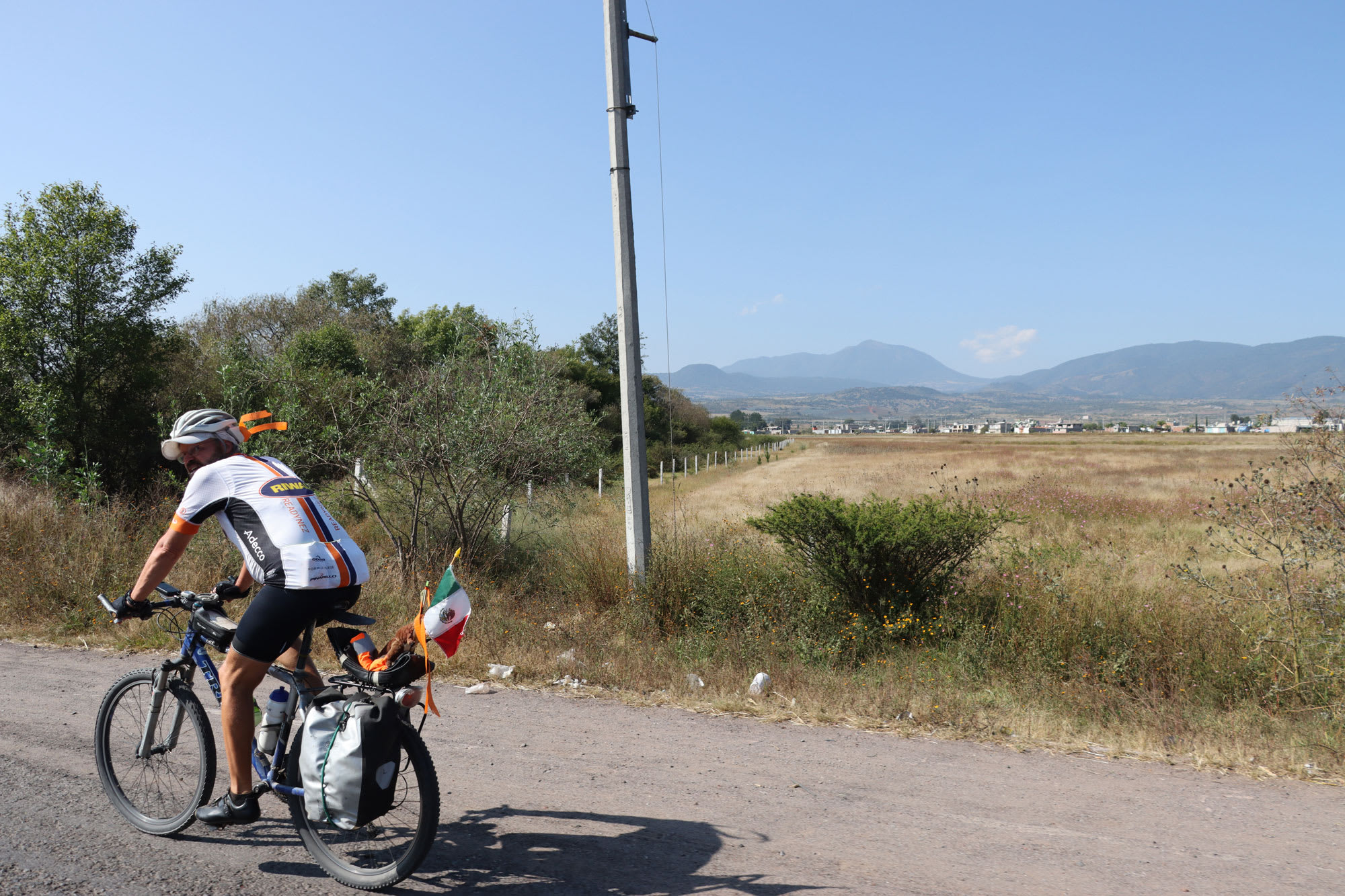 For Jan's birthday the staff and riders came together to give him a celebration. It started off with a song, "Jan you are a determined man…" and ended with a deconstructed key lime pie. Jan was given a special turtle wrapped in newspaper, a flag designed by the riders and a card signed by everyone on tour. It's safe to say that this tour is more interesting with Jan on board.
>>Related Post: Meet Tom & Isla: The Observer & The Chatterbox
"The Documenter" – Grace Zhang (Yuma to Panama City)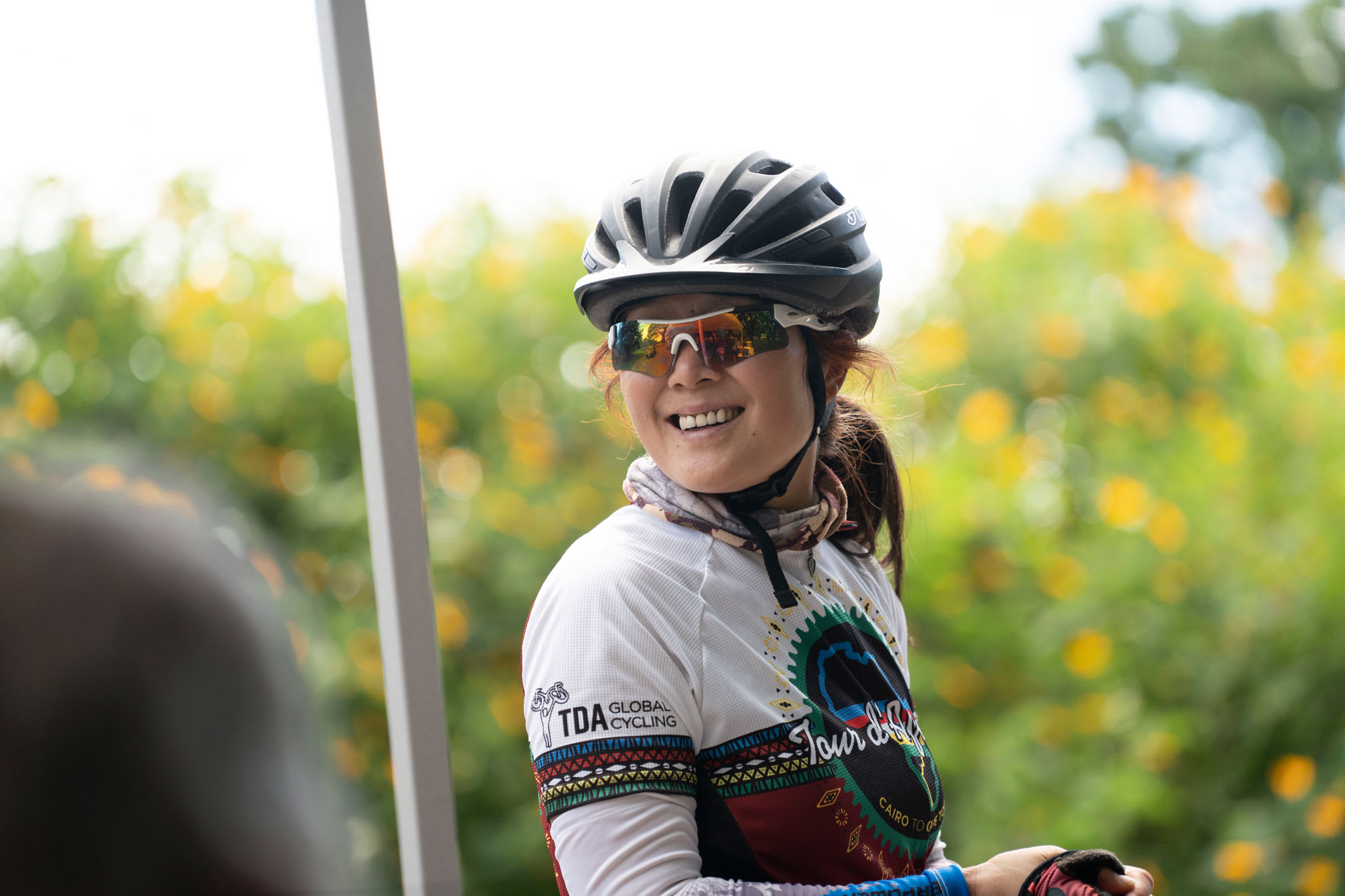 This is Grace's second tour with TDA as she previously did the Tour D'Afrique in 2020 (only the first half due to COVID). Grace got into cycling in 2011 when a friend asked her if she wanted to participate in a fundraiser and ride from Vancouver to Seattle (250 km). She hadn't cycled very much but she decided to do it anyway. She really enjoyed it so she did the ride again in 2012. In 2018 she bought her own bike and travelled across Canada with her son for a different fundraiser. She did this in 2019 again but cycled across America instead. She was hooked, so in 2020 she decided to set off for the Tour d'Afrique. Unfortunately the 2020 trip was cut in half due to COVID so Grace plans to finish the second half next year. This year she arrived on the North American Epic in Yuma. Her favourite part of the trip so far has been cycling down Baja California. The uniqueness of the landscape was something that really interested her.
Grace rides her bike everyday, sometimes upwards of 150 km. She truly loves it. She doesn't have insurance on her car so she uses her bike to get around. In the last 2 years she has cycled over 10,000 miles (each). She likes travelling by bike because it gives her the ability to see things in a different way and stop whenever she likes. When she found out that there was a tour down the continent of Africa she knew that she had to do it. While she is on tour she loves taking pictures and videos of her travels. She has a drone and a Go Pro and can often be seen using her camera. For her it's about preserving the memories of her travels and the people that she meets.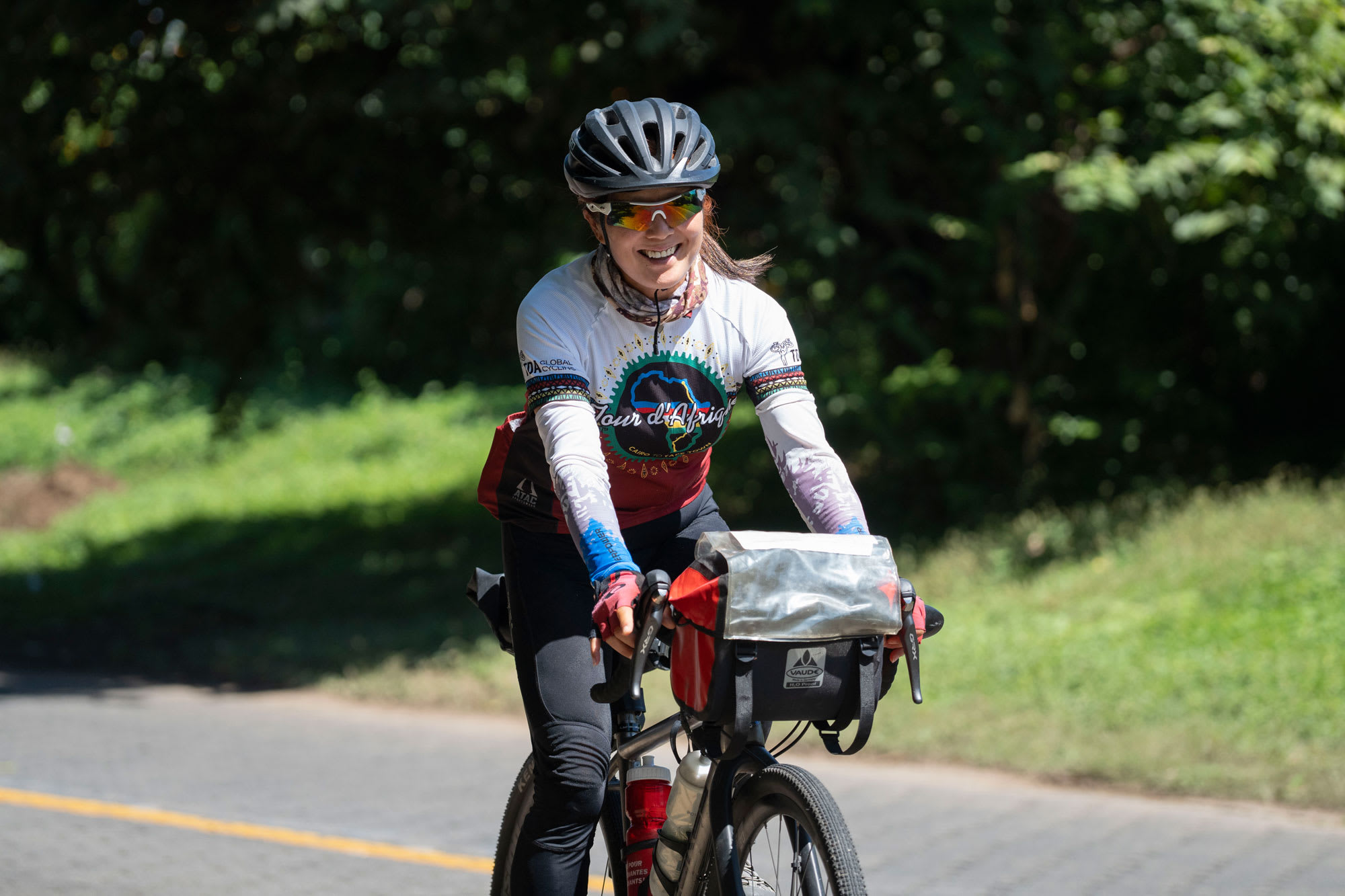 There was a really tough day for the riders, a hot day with 1,964 metres of elevation gain in 82 kilometres. The views were absolutely beautiful but most riders were very focussed on making it up the climbs and finishing the ride in good time. It definitely looked like a struggle, the climbs kept coming and the heat made it so difficult. When some riders rode by her, Grace was standing at the bottom of a hill, no worry in the world, flying her drone, trying to get some shots of the amazing scenery. I think this explains Grace's personality, she is always so calm and chill and rarely seems outwardly stressed. She's here for the journey and she'll get there when she gets there. She rarely seems phased by tough days or difficult situations.
Grace is warm and friendly, always greeting you with a smile and a "how are you?" She doesn't talk much about herself unprompted so it's not uncommon to be completely surprised to learn something very impressive about her. Her partner Roger is one of the sectional riders and is cycling with her between Nicaragua and Panama. No one really knew that he was the new sectional rider until the day before he was set to arrive. Grace is full of surprises and it has been really fun to learn more and more about her.
Stayed tuned for the last part of this three part series on riders of the 2022 North American Epic.
RELATED
TOUR
North American Epic
Cycling from the Arctic Ocean to Panama City will take you through 9 countries and countless variations in landscape, culture, language, cuisine and...