Blog
REGISTER NOW
LOGIN
SIGN UP FOR OUR NEWSLETTER
A Rest Day Retrospective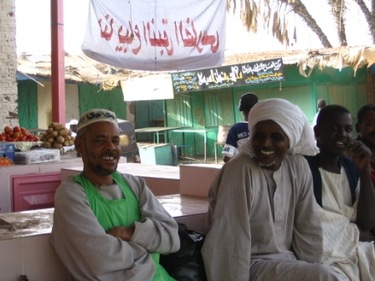 Tents are pitched throughout the "zoo" of Dongola. If people didn't believe it before, they sure do now: we are in Sudan. A country ostracized by the western world, and ostensibly for good reason, everyone who hadn't been here before was a least a little bit concerned about what lay on the other side of Lake Nasser. What we have found here has been the polar opposite of what we are told about this nation by CNN. Expecting men with guns and harsh stares we were greeted rather by wide smiles, handshakes and invitations for tea. Government officials stop by to collect documents or employment registries and then stop us on the street hours later for tea and conversation.
Today is a rest day and it hasn't come a moment too soon. Shortly after leaving our campsite in Wadi Halfa, our port of disembarkation into Sudan, we were charging down kilometer after kilometer of oppressive heat, deep sand pits and millions of gnats at our Nile bank campgrounds. A tough slog for even our strongest riders and the first few days claimed many an EFI rider. Yet, despite the hardships morale remains high. The general mood of the camp is one of happiness brought on by the delicious and ample Sudanese food, strong cups of tea and a chance to sleep in (although a sleep-in now is waking up at 8:00am). Despite the warmth and hospitality of the people here I feel a sense of unease being so at peace in a country that is currently so troubled. The conflict in Darfur rages and South Sudan is still deemed unsafe (although I read recently that the government in Khartoum has issued the first license to operate a brewery for those down in the Christian south).Things aren't necessarily looking up, the International Criminal Court has announced that they plan to indict the President and as I write this update I have three Sudanese soldiers within five feet of me watching as I type. One of them cannot be over the age of 16. I truly hope for his sake and mine that the breadth of his responsibility in the military will be to oversee foreigners and occasionally patrol the streets. I have a feeling that my hopes will not be realized.
Tomorrow we will wake, dark and early, and leave this town for the bustling capitol of Khartoum. The dirt roads will disappear and be replaced in short order by new blacktop, the construction of which has been overseen for the past few years by the Chinese government which has been pouring money into this nouveau riche burgeoning oil state. From Khartoum we will take the Osama bin Laden highway to the Ethiopian border and a new country. From what I have seen so far I doubt many people will be eager to leave this place.