Blog
REGISTER NOW
LOGIN
SIGN UP FOR OUR NEWSLETTER
TDA 2009 Bike Donation Update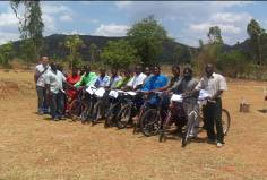 In March, 2009, Tour D'Afrique/Planet Wheeler Foundation, through Africycle, donated 10 bicycles to Emmanuel International Malawi for a new program that was just starting up. This program, called SAVEUP, is a village savings and loans program that is expanding in many areas of Malawi.
The concept is simple: village people organize themselves in groups who are willing to pool a small amount of money on a regular basis. As the fund grows, the group members start taking loans. With these loans, they develop small businesses. The groups follow a precise methodology of saving while at the same time developing their own rules and regulations that govern group choices….for instance, how much money equals 1 share, how large a loan can people take, and what interest will the loan attract.
The SAVEUP program, a 2 ½ year program supported by CARE International, is hoping to help 17,200 people join a Village Savings and Loans Association, enabling those living in rural areas to generate a brighter economic future that previously has not been possible.
It takes at least a year to get a group from start up to maturity. As groups have been established, the Emmanuel International Malawi field team have worked with traditional leaders in their areas to identify individuals who can keep this program growing, individuals who are trained as Village Agents. These agents will undergo more in depth training which will prepare them for starting up new groups, thus repeating over and over the village savings and loans opportunities in more communities…..the ripple effect!
And this is where the generous gift of 10 donated bicycles from Africycle through Tour D'Afrique/Planet Wheeler Foundation comes in. Village Agents who have just completed their SAVEUP training have been gifted with these donated bicycles. The bicycles will help them reach the communities around them, providing them with a means of establishing an increased number of groups. The chief of each Village Agent was on hand to witness the handover of these bikes, a precious commodity to these communities.
Anne Taulo is one of the VSLA participants from Zomba district, TA Chikowi in Chiwamba village. Anne is the head of her household; she is 27 years old and lives with her 7 year old son, Brian. Anne has about 3.5 hectares of land to farm. She has depended on what she can produce from her farm, selling the surplus to make a living for her and her son. But Anne did not have a culture of savings. She couldn't think beyond her door step and she kept doing what her mother and granny used to do: keep the money under the pillow, in the house and even by digging holes in the ground.
Anne said, "I couldn't think there can be meaningful and profitable ventures to undertake." Even if she had, she added, "I didn't have anywhere to get a loan."
The SAVEUP project targets the poor and less advantaged people, assisting them to improve their economic muscle. In June, 2009, Anne found herself in the VSLA group. So far Anne has managed to save MK 4800. 00 (US$34.00) and she has taken a loan out worth Mk 3000.00 (US$21.00). She ventured into a cooking oil business and made a profit of Mk 2000.00 (US$14.00). She hired temporary help to assist her on her farm for Mk 1500.00 (US$ 10.00) and with the remaining money, she purchased small household needs like soap and salt.
When Anne was asked to talk about her vision of the future, she said that when the money is shared out in December 2009, she intends to buy a sewing machine (US$78.00). Anne is thankful for village savings and loans and believes it will bring change and a chance to build her capacity.
Anne was selected in her group to be trained as a Village Agent in her area. She wishes to thank Africycle and Tour D'Afrique/Planet Wheeler Foundation for the gift of the bike which she feels will help her in her responsibilities of forming, mentoring and supervising more groups. Her final statement is, "No more misuse of money as we have the Village Banks which are in our communities."
Mr. Ronney Dauda is the head of a family with 5 members. He provides for his family through subsistence farming. In July 2009, Ronney joined the Tiyanjane Villlage Savings and Loans group. Rooney saved Mk 5000.00 (US$35.00) and took a loan from his group for Mk 2000.00 (US$14.00). He used the money to buy paraffin for lamps which he sold to his neighbors. The profit on this start up business was Mk 1500.00 (US$10.50) which he used to buy chemicals for his fields and clothes for his children. When asked about the program, Mr. Dauda said, "I didn't know how to save. I was just using the money anyhow. I felt I had little money so I can't save." Ronney feels the village savings and loans works well for people who have problems and will help to improve household livelihood security. Ronney stated with a smile, "Thank you, Africycle [and Tour D'Afrique/Planet Wheeler Foundation], for giving me a precious gift of a bicycle. I will be forming new groups in my area!"