Blog
REGISTER NOW
LOGIN
SIGN UP FOR OUR NEWSLETTER
Interview with South African rider Simon Francis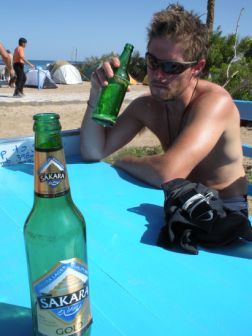 How is the tour going?
"It's pretty much a lot more epic than I thought it was going to be. It was difficult to comprehend the enormity of the thing before, and now I'm starting to get a bit of an idea of the scope – not just the mileage, but the organization and planning… it's really quite huge. And I feel a very long way from home all of a sudden; but it's brilliant in a nutshell."

What has been the biggest challenge for you so far?
"For success you've got to keep your body and your bike healthy. Hygiene and health have become a number one priority. I normally shower twice a day back home. That first week with six desert camps was a bit of a shock to the system. Riding 170km in the desert and not being able to shower… and then having to hop into your sleeping bag takes some getting used to, but you fall into the routine pretty quickly. Wet wipes are your best friend."
What are you looking forward to?
"It's difficult to think about the future. Big city life is incredibly fast-paced and weeks pass by in a blink. I really wanted to stop that, to slow down and have an adventure…to live in the moment. I'm just enjoying each day as it comes. I'm not wishing away the days."
Are you racing the tour or riding it as an expedition?
"I'm a mountain biker. Initially I wanted to race it. But I've come to realize as I've started this trip that it's not what I want to be doing. It's been the biggest conflict for me – wanting to race but also enjoy the countries I'm riding through. So I'm slowing down a lot, taking photos and chatting. I want to live Africa. For me the most polarizing experience so far was the night we had a bonfire; it was the most magic evening. But all the racers were in bed. That was the first night where it really became clear to me what I want. That's what this tour is all about. I can race anywhere."
What is your goal for the tour?
"My goal is EFI (riding Every Fabulous Inch of the tour without getting on a truck). Without a doubt."
Can you do it?
"Yes. Absolutely. Barring breaking a leg. Breaking an arm is fine. I can ride with one arm. "
– Allison Barnes