Blog
REGISTER NOW
LOGIN
SIGN UP FOR OUR NEWSLETTER
Eating in Istanbul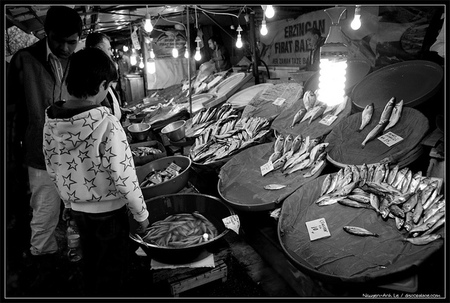 A cyclist is often inspired to pedal through a tough day of hills, rough roads, bad weather or whatever else may slow their speed or challenge their morale by the thought of a meal at days' end. Its' importance goes beyond the required calorie intake or nutritional necessities. At it's heart a great meal is a moment in time where the cyclist doesn't feel the aches of their body, can't remember the frustration of the roads' ceaseless obstacles; and is allowed to be nurtured by the food while surrounded by their fellows.
In this spirit we wish to introduce to our future Tour cyclists the historically, culturally and most important, gastronomically blessed city of Istanbul.
Istanbul is at the heart of many of our Tours. It's the destination of our European Tour the Orient Express, the destination of our Spotlight on Turkey Tour, and the beginning of the grand Silk Route Expedition.
Discovering Istanbul is a process best done without hurry. To begin, I suggest hitting one of the city's meyhanes that dot the metropolis. Meyhane, literally translated as "drink house", is more than a bar. It is more an institution of drink, mezes, culture, politics and music. Raki is the beverage of choice, an un-sweetened anise alcoholic drink that clouds white when mixed with water. The mezes on offer at meyhanes vary but you most likely will find the ingredients involved being white cheese, yoghurt, aubergine, artichokes, rice-stuffed vine leaves, peppers and even a calves brain if you're feeling high minded. If you are saving your appetite for later then try a snack of roasted chickpeas, called leblebi. It happens that Ataturk, the father of the Turkish Republic, ate these zealously. If you look around the meyhane chances are you'll see his portrait staring back at you with envy.
When you're done with the meyhanes it may be time to hit an Ocak Basi; which one could translate as, "by the fire" This is where that cavernous appetite built up cycling can be filled. Endless skewers of lamb meat, beef, calves' liver, Adana kebab (which is a mixture of lamb, fat from the lambs' own tail and red pepper flakes) are placed over the charcoal grill not far from your table. Served with grilled peppers, tomatoes, onions, a side of bitterly fresh arugula and thin lavas bread to help clean up every bit on your plate. These places are bustling and loud with reverie.
The nature of a cyclist leads them to the tried and true eating establishments frequented by the local populace. On any day of the year in Istanbul if you ride your bike to the Galata Bridge, which crosses the Golden Horn connecting Old Istanbul with Beyoglu, you can watch the fisherman casting their lines into the cold waters below, pulling up endless little whitefish. If you head to the lower level of the bridge you'll see a walkway, along which small restaurants will be selling Balik Ekmek = "fish sandwich", this is a belly pleasing treat; grilled Mackerel in fresh crusty bread. Throw in a cold beer and you've really caught the essence of it all.
To help you with you with your culinary adventures in Istanbul, check out these links below. Enjoy.

Chef in Istanbul