Blog
REGISTER NOW
LOGIN
SIGN UP FOR OUR NEWSLETTER
Circus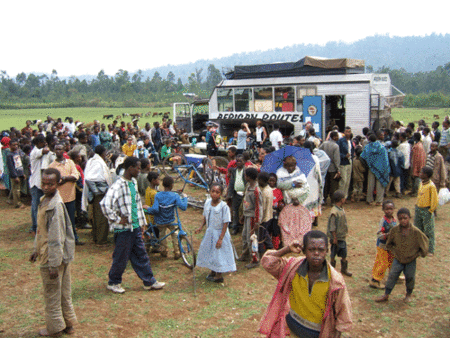 The circus has arrived! How odd we must look to the locals. Clad from head to toe in neon colored lycra, we tromp about our camp performing incomprehensible acts. Just this morning I dug a pit, filled it with garbage, doused it with petrol and set it alight. The children surrounding our camp stared in amazement.
We attract attention everywhere we travel in this country. Whether you are riding alone or in a group, to stop along the side of the road is to invite attention and conversation. First one or two children walk over to you. Then a few more will come running. After a few minutes, you may have ten or more kids watching your every move with fascination. They are very curious. "You! Where are you go? Pen? Shirt?" Sometimes the topic is a bit more personal. "Where are you from? What you name?" The children are bold, and also filled with mischeif as most children are. It's not uncommon to hear a rock clattering along the pavement after passing by a group of kids. I don't think there is any malicious intent in the stone throwing, just boredom and a lack of adult supervision.
Our bush camps are quickly surrounded by locals of all ages. Mostly, they sit on the outside of our encampment and observe our daily activities. Anyone who gets close to the edge of the camp is questioned. "You you you! Water? Pen?" The more daring children will cross over our perimeter rope in hope of gaining some useful object from an inattentive cyclist. Used bottles and cans are coveted items, and quickly disappear from our recycing bags when we break camp in the morning. We do our best to leave our campsites in the same state as when we arrived. We are careful to collect all of our trash, and level the soil over our latrine and trash pits. In time, all physical trace of our presence disappears. How long does it take for the memories of our campsite to fade from the minds of the local children?
— Gabe Altman