Blog
REGISTER NOW
LOGIN
SIGN UP FOR OUR NEWSLETTER
Individual Time Trial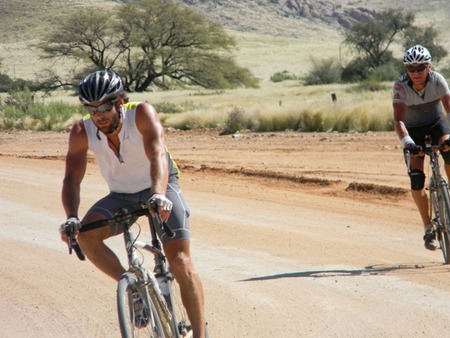 25 intrepid TdA racers took part in the 30.25 km individual off road time trial this morning between Solitaire and Seeheim along a relatively smooth stretch of the Namibia C19. While strong head-cross winds, a wet and sandy surface, and a looming thunderstorm posed challenges, the riders rose the occasion, pedaling madly to the finish line just short of the lunch truck. Here are the results for the top finishers:
Men:
Scott DeMoss 55:04
Dennis Kipphardt 55:57
Adam Stickler 56:06
Paul Spencer 56:29
Jörg Hartmann 1:01:22
Luke Naish 1:01:29
Kim Frandsen 1:01:37
Paul Wolfe 1:05:14
Women:
Tori Fahey 1:06:25
A mere 40 km spin from the lunch truck brought the riders into Seeheim, gateway to the famous dunes at Sossusvlei which we all hope to explore tomorrow on the 2nd last rest day of the 2011 TdA.