Blog
REGISTER NOW
LOGIN
SIGN UP FOR OUR NEWSLETTER
True Grit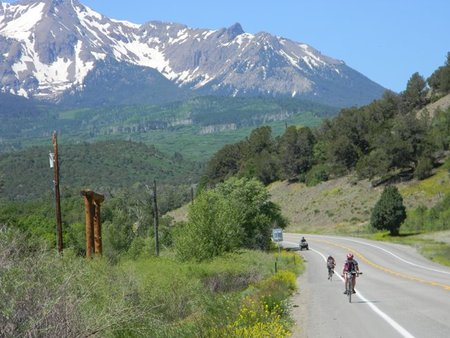 Cycling across any continent requires guts and determination, in a word, "grit." Two of the NAE clients who embody "True Grit" are fellow Ontarions and close friends Shirley Davey and Daphne Tonellato. While well past their athletic prime, cycle touring and a spirit for adventure keeps these 2 fine ladies young at heart.
Today, after a 2000' descent out of Telluride in the cool early morning air, followed by a 2000' foot climb to Divide Pass, Shirley and Daphne and our other gritty cyclists sped down into the gateway town of Ridgway Colorado and the Uncompahgre Valley. Jim Norman set a personal best, clocking a speed of 77.4 km per hour on his computer during this picturesque descent.
Surrounded by the majestic snow-capped peaks of the Cimarron and San Juan Mountains, Ridgway marks the northern entrance of the scenic San Juan Skyway, a crossroad for commerce, transportation, history and scenery. The Skyway, one of the All-American Roads in the U.S., winds through unmatched scenery — a photographer's dream.
Founded in 1891, Ridgway's park and surroundings were locations for the movies "True Grit", and "How the West Was Won". Those two titles are an apt synopsis of Shirley and Daphne's journey since the NAE left San Francisco 3 ½ weeks ago.