Blog
REGISTER NOW
LOGIN
SIGN UP FOR OUR NEWSLETTER
Ready to Eat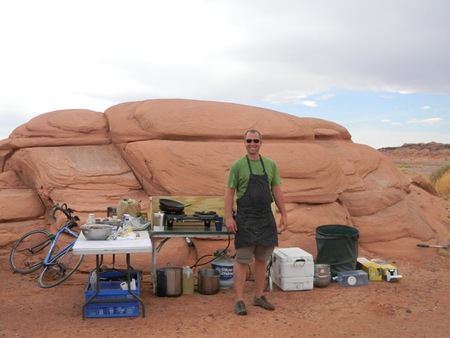 Weekly Recipe from the NAE: #1 Frontier Chili

Watching a bit of food network on the rest day is definitely a great way to find some inspiration. I got into this show featuring a little restaurant in Sedona county where the chef dry rubs, smokes and braises whole pork shoulder until it falls apart. Seemed like a simple and delicious idea.
So I went out shopping and bought a pork butt ( shoulder ), knowing that I probably wouldn't have a smoker to smoke it or even an oven to braise it in. It is a general rule of mine not to get too specific about what to make for dinner, until I see what I can find first. I decided to go with a braised pork and ancho pepper chili instead. Here it is ( don't try this at home).
For 20 cyclists riding 138 km in 40 degrees C
-10 lbs. pork shoulder
-1/4 cup toasted cumin seed                –
-3 lbs. dry beans ( kidney, pinto and black turtle )
-3 tbsp dried oregano
-8 green peppers
-3 tbsp onion powder
-6 poblano peppers
-3 tbsp garlic powder
-6 large onions
-4 limes juice
-1 bunch celery
-3 bunches cilantro
-4 large carrots
-bay leaves
-12 ancho chillies
-salt
-12 guajillo chillies
-black pepper
-4 L chicken broth
-masa harina to thicken
-2 cans tomato paste
-salvadorian crema and shredded cheese to garnish
-4 cans tomato puree
-tortilla chips
-12 tomatillos
Enjoy!
Jonathan Shepheard