Blog
REGISTER NOW
LOGIN
SIGN UP FOR OUR NEWSLETTER
Rider Profile: Robert Rowley (Full Tour)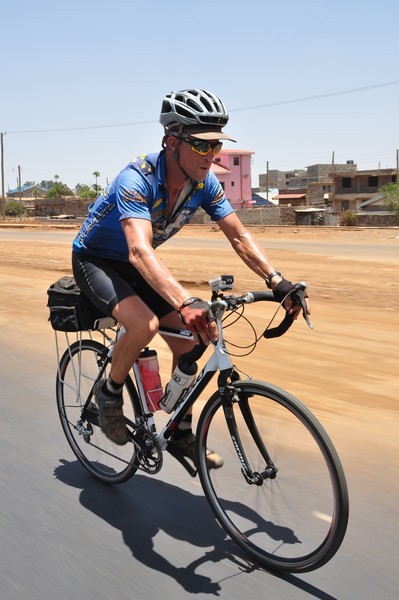 From: Houston, Texas
Age: 55
Occupation: Investor
Where and when did you hear about TDA?
I heard about TDA from a cycling buddy, Jack Penn on April 7 2010. It was on his bucket list, and it sounded so challenging and a way to strengthen my right knee, so I signed up for it a year later.
What is the best thing about your bike?
The best and worst thing about my bike is its stiffness. On pavement it responds like a sports car but on the dirt it doesn't run at all.

How's your body holding up?
I am still eating a lot and gaining back the 10 lbs. I lost in northern Africa. I'll continue digging deep into my reserves to keep me cycling to Cape Town.
My back hurts the most; it's weary from bending over the handle bars. I have to do a lot of yoga.
Do you like the food on tour?
The food is good especially the vegetarian but we've had to deal with some tough meat a few times unfortunately.

What is the best way to communicate with the locals?
With a charming smile and kid around with the kids.

What is your impression of Africa?

It's a raw, dark, warm and remorseless continent!!!! I LUV IT.