Blog
REGISTER NOW
LOGIN
SIGN UP FOR OUR NEWSLETTER
Buenos Dias Nicaragua! Guapo!
Mechanic Luke tames a Nicaraguan bull
We barely scraped the surface of Costa Rica during the last few days of cycling and then it was time to say goodbye. Linda, our mouse whisperer, drily noted as we were hanging out at the border, "I certainly scraped the surface of Costa Rica…with my bum and my elbows and my knees". And it is true. It was a tough bit of cycling that really challenged each person on so many levels. Most people, at one point took a tumble on the loose rocks and slippery mud. Most people just got up and carried on. Remarkably the doc has only reported a few scrapes and cuts, lots of insect bites, saddlesores and a few persistent coughs. Quite a tough bunch we have here.  Clay battled with his road bike for two days and then him and Henry Perez, our Costa Rican connection and super hero, hustled at a local bike shop and swapped Clay's bike for a decent mountain bike and Clay is super happy.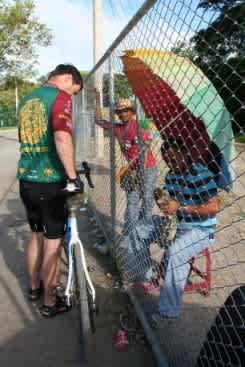 Money changers at the border. They use a Megaphone to call you over.
The border crossing sucked. What is new? We sat for hours with the Landrover. Mucho paperwork, and bureaucracy, too little time. The border between Costa Rica and Nicaragua closes at 12pm. Sorry for you if you arrive one minute after. When we got to the border at about 7am there was a line of trucks at least 2km long waiting to cross. Costa Rica is far wealthier than Nicaragua and this is evident the minute we cross the border. But it is really pretty: cycling by volcanoes and lush verdant vegetation, shiny and fat cows and swollen rivers. We are on the Pacific Ocean side and the rain has stopped and the heat has set in. Great for getting our clothes and shoes dry after Costa Rica. The Nicaraguans are super-friendly. They wave and greet and actually ask for their photo to be taken.  Not that I say Costa Ricans are surly, but maybe just a lot more reserved. We look forward to a day off in Granada.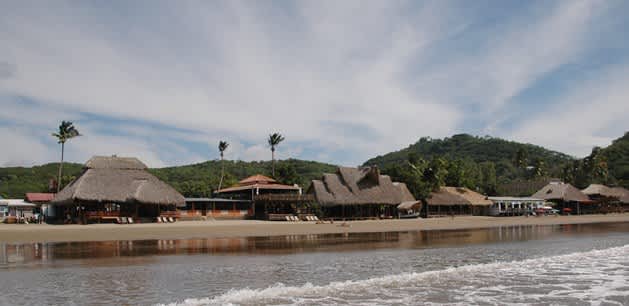 Photo by Joachim Loeffels – our view from the hotel in San Juan