Blog
REGISTER NOW
LOGIN
SIGN UP FOR OUR NEWSLETTER
Suzie Q
Curious about the kind of people that tackle our tours? We chat to South African, Suzette Niewoudt, aka Suzie Q, about surviving the TDA 2012 Doomsday Ride – a 2,700km bicycle adventure through Costa Rica, Nicaragua, Honduras, Guatemala & Belize. Fun, fearless, super-duper intelligent, humble, adventurous: Suzie Q offers detailed tips on the best kind of bike to take, preparing for the tour, and how to find joy in any situation on the La Ruta Maya: The Doomsday Ride .
By way of introduction: give us the basics please?
SN:  I am a "spring flower" 1 September 1956 (57 this year!@#).  I'm a cyclist without borders. I live where I cycle and cycle where I work. I've been living and working in Gaborone, Botswana for the past 2 years but I was born and bred in Pretoria where I still have a small cottage to rendezvous with my two sons, Rian (18) and Bennie (25), whenever my journeys for work take me through SA either going on a mission or returning from some State in the Southern African Development Community.
TDA: You do some pretty cool stuff with aeroplanes and the people involved with them, all over Africa. Tell us a bit more…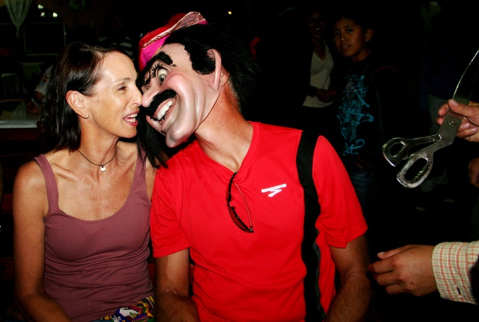 SN: It's all about safer skies for Africa! I work for the International Civil Aviation Organisation, a Specialized Agency of the UN. Our Project is called the ICAO Cooperative Development of Operational Safety and Continuing Airworthiness for the SADC Region. Our Project's objective is to establish a Regional Aviation Safety Organisation for our 14 States with harmonised civil aviation standards and procedures, much like EASA for Europe. I am a commercial pilot working on the regulatory and safety oversight side of this industry as a Regional Flight Safety Inspector, which takes me all over Africa but specifically throughout the SADC Region. My specific subject matter expertise is in the areas of Inspector Training Systems and Air Operator Certification. I am very fortunate to be able to work in all these places. I not only love Africa, I live it!
TDA: Your love affair with bicycles…when and why?|
SN:  After many and varied stories of life-changing cycling adventures of my neighbour, Esti du Plessis, I inherited her trusty (but rather heavy) Giant Iguana to try out mountain biking.  I was instantly hooked. The Iguana, since the late 90s has since produced at least 5 more cycling adventurers! I simply love cycling and those who cycle, especially mountain bikers. There is something about grafting to accomplish a long ride, the dust between your teeth, the switchbacks of the single track and the sense of accomplishment at the top of climb after a long ascent and the exhilaration of a well earned steep downhill! My stud has consisted so far of the trusty Iguana, Specialized Era, Ellsworth Truth and this year a Cannondale Scalpel 2.
TDA:  Why the TDA Doomsday Ride: the last cycle to the end of the world…nihilistic or pure joy?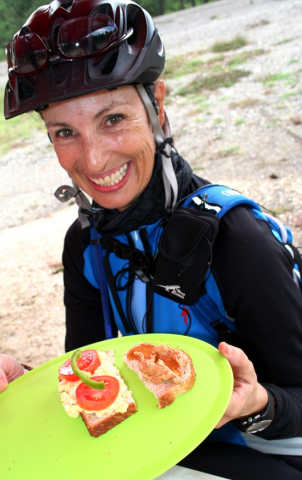 SN:  Since my neighbour completed the first TDA Silk Route, I have been scouting the TDA website waiting for the most opportune moment, finances and timeline, to commit to a tour. The full tour! A new tour! Somewhere I have never been! I loved the idea of doing something original, as a pioneer! There could never be another Doomsday (21/12/2012), even if Doomsday wasn't the end of the world but the end of another Mayan Era! So, although all cyclists on subsequent tours would be about knowing Doomsday isn't actually a day, we had to first make that history! Let that be engraved on the temple's corner stone! Ending the tour on "Doomsday" at a Mayan temple is very appropriate. Nihilistic, off course! There was that constant of the EFI Club conscience which drove me until my guts succumbed to the wars of the travel bug! Even though the EFI was not applicable since the Doomsday Ride is not a race, I rode every day like a pioneer and took pride in staying on the road until I was the last lady left inching up every hill of every day. I missed two hills of the 42'000m total Doomsday ascent in the last of 5 weeks. (44'000m TDA over 12 weeks! Big difference!) Pure joy when you see the Doomsday banner waving-you-in at the end of every day!
TDA:  How much preparation did you do for the Doomsday Ride?
In Botswana we ride 4 times a week in the bush. There are no significant hills here, but lots of sand and I really mean a lot of deep soft sand. We call them horizontal hills. 29er country! I did an average of 150 km/week actual riding in the saddle for all the months before the tour. All of these training rides were basically over flat terrain. (No terrain on offer in Botswana could have prepared me for those monster climbs shared with the roaring Central American diesel trucks and buses.) During the last 3 weeks just prior to the tour I was sent away on a mission to Nairobi. Definitely no riding there! I did a 1 hour spinning session every day in the hotel's gymnasium which kept my legs going and my butt in the saddle.
TDA:  What bike did you bring and how did it work out for you?
SN:  The bike. I brought my Ellsworth Truth (26er soft tail). This is an incredible little bike which served me well on the tour. It performed fantastically whenever the technical surfaces demanded some mountain biking skills. I distinctly remember the increased level of endorphins whenever the road changed into mountain bike surface! It was definitively much different for those on touring bikes with thinner wheels!
Rear Suspension:
The big con was my rear suspension without a lock-out function! Having to ride the steep ascents with a rear suspension absorbing every honest effort made to excel on the climbs, proved very challenging in the long run. I would recommend a soft tail with a lock-out, or otherwise a hard tail.
Shifting:
Day one was a very rainy day. Day two had us crossing a river using ropes to assist us in not getting washed away in the strong knee-deep current whilst treading lightly over the submersed boulders. The ride after the crossing was muddy mountain bike country for most of that day. Needless to say that towards midway of the tour the cables showed the strains of all the grit that had built up. Take an extra set of shifting cables to be used when necessary.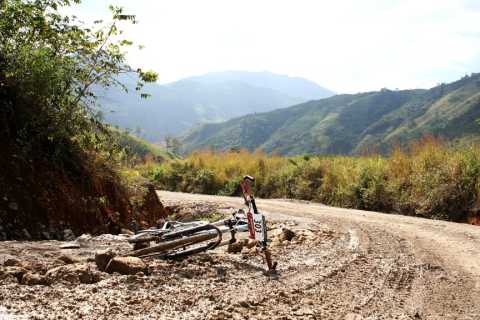 Drive train:
I packed and unpacked my bag several times before I left. At the last moment I decided to leave the degreasing at home. I would recommend anyone to rather leave the big bottle of shampoo than the stuff you normally use for day to day care of the mechanical bits on your bike. At one stage Esti and I used lemons to try and get rid of the grease build-up. By then I was getting desperate, as I had already suffered all sorts of glitches such as chain suck due to not having followed a stricter regime in cleaning the moving bits in my bike. (Do not mix the lubes!) Later on in the tour I got some dishwasher soap at a local store and that proved perfect. The only deflation (not a puncture) was caused after a good soapy wash of the entire bike, which caused the nut on the valve to loosen.
Tubeless rims or tubeless conversion:
We (the SA gals) were of the only cyclists who never had any punctures! Here down south we ride tubeless. My rims were normal rims but I had a tubeless conversion done. That means a normal rim, rim strip, tubeless tyre and ENOUGH sealant (otherwise referred to as slime!) I took 2 tubes with sealant in any rare case of a side-wall cut. I never needed the tubes. (In fact, they were used in an emergency for a 29er with a puncture. Be certain not to over-inflate a 26er tube in a 29er wheel! We thought we had a small explosion in the middle of the night on the tour!)
Slicks:
Many cyclists carried and often used slicks for a following day where surfaces would have been paved roads. It was hard to predict here the road may change to gravel or even mud. I only had knobblies and only took one extra tyre of the same kind for replacement. Yes, it would have helped to have slicks on those hills, but having tubeless means you don't want to unnecessarily break the seal on a tubeless conversion. I carried extra sealant in case of an emergency and a tubeless repair kit (plugs).
TDA:  Central America is incredible. Which country stood out for you as the most interesting/exciting to ride through?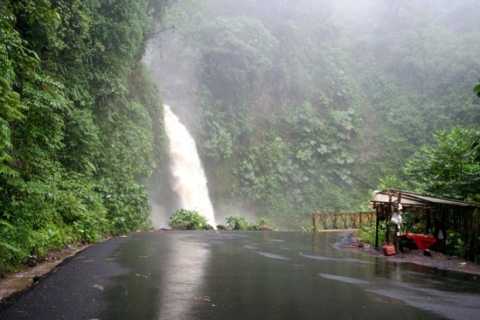 SN: I loved them all for their differences. Costa Rica had those amazing rain and cloud forests. Nicaragua had farmland, windmills and cowboys with cowboy hats on bicycles! Honduras had the rolling hills… and a flasher! Guatemala had the fantastic Mayan textiles. We dressed in Mayan attire and wrapped ourselves in Mayan shawls on cold evenings. The country side was inspiring. I will always remember the children chanting us on: 'bicicleta, bicicleta!' AND the day we were escorted through a busy town in Guatemala by the local police force on green bicycles. Chasing down the streets with renewed strength as if were finishing another stage on the Tour de France! I guess if I have to pick one, it would be Nicaragua. I was transported to a special place in this universe from the border crossing to the Pacific coast and beyond to the Caribbean.
Special people, special place, special memories, special family!
TDA: What was your biggest physical challenge?
SN: Cycling itself is like getting a large injection of endorphins. A constant high. I had so much fun both on and off the bike.
TDA: One of your mantras on tour was 'No 'fugly' food. Explain.
SN:  All people have "yard sticks" by which they live. Some are superstitious and believe in uneven numbers of kisses at the end of love letter … I have 3 Consumer no-no's
1.  f…… ugly food
2.  single ply toilet paper
3.  stale bread!
TDA:  How do you deal with a challenge?
SN: Not enough time to take swimming lessons on the shallow side, jump in at the deep end and discover a new swimming stroke!
TDA:  And your philosophy on patience?
SN:  A tomato can't be squeezed ripe…
TDA: What on the tour made you laugh like a drainpipe?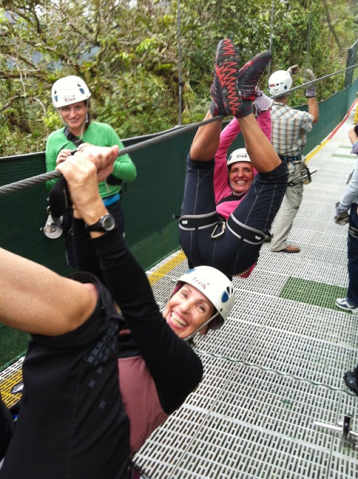 SN: My peculiar border crossing into Belize. Whilst the a string of pedestrians and cyclists pushing their bikes on the pedestrian walk way was chock and block filled with milling people , I thought being on a bike meant exiting the same way motorists would. Like at all the other border posts. Big mistake, this meant riding through a "shed-like" structure with motion sensors that trigger insecticide sprayers! Once inside the shed which I entered like I was a contender in the Tour de France … it was too late to turn around! It was both funny and scary… was I going to turn into a large healthy cabbage, a coughing cyclist, or not?
TDA: What training would you recommend for other Doomsday riders?
SN:  Enough hours in the bike's saddle (don't change saddle before the tour) and lots of hills. If you can't do hills before the tour you will still be fine, just slow. Any riders joining the tour along the way should remember that the Doomsday cyclists will already be fitter than they were on their day one. Every day's riding is like money in the bank. It is hard for cyclists who join later on.
TDA:  How does your body feel after an extreme physical challenge like this?
SN:  Like a sophisticated fly-by-wire aircraft! At the end of the tour it was fantastic to take a brand new fitness level home. As we rode day in and day out, we got fitter and fitter by the day. (With the added benefit of losing extra inches and kilograms.)
TDA:   A memorable thrill on tour?
SN:  Flying downhill at 64 kmph with my children's choice of heavy metal music, Pantera, blasting through my new AfterShockz bone conduction headset!
TDA:  One of the toughest days: emotionally?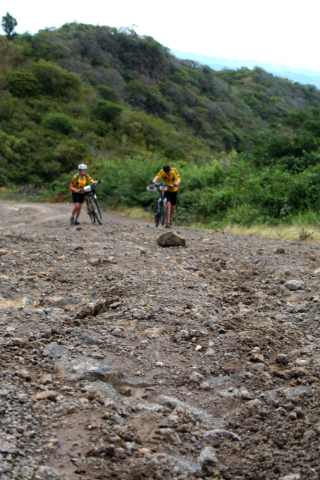 SN:  The shortest distance day became a long day after we made several mistakes interpreting our route instructions. I suffered the first symptoms of a travel bug that did its rounds amongst the Doomsday family. I remember pushing my bike up a steep hill when I realised I was in trouble. I was ill and had no strength left, but still insisted to inch my way to the lodge in Antigua.  In hind sight that wasn't smart. The next morning some of the cyclists decided to stay behind in Antigua, a stunning historical town with interesting architecture and lots of small shops and markets to browse through. We spent hours in the market buying Mayan shawls and drinking coffee.
TDA:  Readjusting after such a sensory overload may be difficult. How are you coping without your Doomsday family?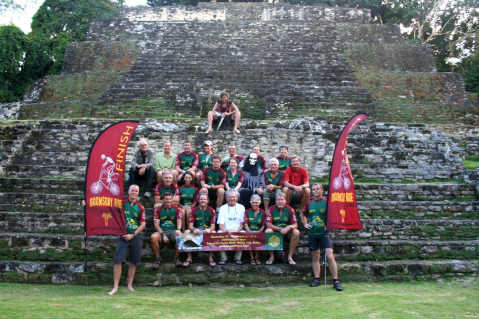 SN:  I had a thousand stories to share… and did! Yes, I felt rebellious. I didn't want it to end, but I also knew that I might do more TDA tours and that I would see some of them again. I shared this life-changing character-building experience with like-minded A+ type persons! Everyone in this Doomsday family was a winner. It was an honour to share both the hardship and the joy of this experience with them. I will always look out for them in my journey through life.
TDA:  Your favourite cocktail?
SN:  Without a shadow of a doubt: a large jug of Mojito shared with the Doomsday family and a Caiperinha short on its heels.
TDA:  Your finest meal?
SN:  On tour we had such healthy appetites that we could eat anything. We never needed anything fancy … as long as there was enough of it! I really enjoyed "tea-time" on the square in Valle de Los Angeles!
TDA:  Your thoughts on Nutella and Peanut Butter?
SN:  Everybody's favourite. (We all had nutella/peanut butter and bread. Not the other way around!) If TDA ever runs out of Nutella or Peanut Butter … the snow will be red in Gorky Park!
TDA:  What is your next big cycling challenge?
SN:  I have just completed the Kalahari Challenge 2 day Stage race and The Great Makgadiagadi Pans Mountain Bike Adventure in Botswana and in September I will be doing a Namaqualand Cycling tour in South Africa.  I am aiming at the first stage of the TDA to India and seriously considering the North American Epic 2015!