Blog
REGISTER NOW
LOGIN
SIGN UP FOR OUR NEWSLETTER
Leave the big stink and go island hopping.
Bangkok: a noisy, polluted cesspit of opportunists, cheap, nasty and dirty markets filled with anything from plastic bikinis to deep fried dogs and bugs, sad faced ex-pats, girls who do weird things with ping-pong balls, oh, and those tourists who simply cannot leave without the ubiquitous photo of them in plonker-looking pants next to a ladyboy. Afterwards they dramatically whisper to their friends back home, 'You would never say she was a he!". This is how I feel about Bangkok, many may well disagree.
I learned how to make a Thai Green Curry Paste from scratch, scrumptious crispy Prawn Spring Rolls and Spicy Papaya Salad, all the while sipping Mojitos.
Thailand still is one of the most sought after travel destinations in the world due to its relative affordability, breathtaking nature and shopping. But for me heading south of Bangkok is the best way to go. Krabi and Koh Lanta, situated next to each other, being two of my favourites for relatively quiet beaches, less pollution and some of the most unforgettable SCUBA diving and snorkeling. In fact, I got my SCUBA license in the warm waters of Koh Lanta. And what a horrid shock it was to dive for the first time on my return home in the freezing waters off Cape Town's coast in South Africa.
On Tour d'Afrique's Bamboo Road Bicycle Expedition our cyclists will have a rest day at Ao Nang (Krabi). Diving in the crystal clear waters around Krabi and Koh Lanta is guaranteed to offer you sights of exotic coral, fish, and sea snakes (highly poisonous – don't approach). Most of the PADI diving and snorkeling outfits offer half and full day boat trips to exotic islands. They are usually very professional but ask some of the locals or a tourist with experience for a recommendation. And never get on a boat if your diving master doesn't even ask to see your PADI card.
Remember the movie, The Beach, starring Leonardo DiCaprio? It was filmed mostly on Koh Pi Pi – a boat ride from Koh Lanta and Krabi. However Koh Pi Pi has become overrun with partygoers and tourists. It is best to stay in Krabi or Koh Lanta which is equally as spectacular and less busy. Ao Nang in the Krabi province is busy but hasn't lost that laid back, friendly small-town feeling. It is developed but is still filled with charm. Ao Nang has plenty spas, beauty shops and massage parlors for pampering. You cannot leave without having the painful but thoroughly invigorating Thai full- body massages lasting an hour and costing around 250 Baht.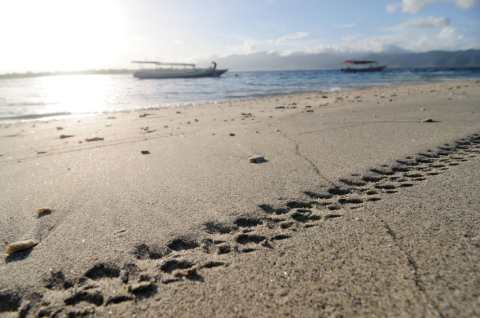 Ao Nang itself has two idyllic beaches surrounded by clear, warm water. Other pristine beaches are located on a number of outlying islands which can be accessed cheaply and quickly from Ao Nang by local longtail boats. Other activities in the area include: kayaking, island-hopping, shopping, white water rafting, hiking, temple visits, elephant trekking and fishing.
For something different and lasting you can go for authentic Thai cooking lessons at Time for Lime in Koh Lanta. My hair still salty and wet, dressed in a bikini, barefoot, and under the watchful eye of the no-nonsense Thai chef, I learned how to make a Thai Green Curry Paste from scratch, scrumptious crispy Prawn Spring Rolls and Spicy Papaya Salad, all the while sipping Mojitos. And the best part is that all the proceeds go to the Norwegian/Hungarian owner, Junie's, Lanta Animal Welfare which is next to the cooking school and its charming restaurant. What some visitors to Thailand don't realize is that many restaurants use cute puppies to lure tourists in to come for a drink and a bite to eat – I fell for it too. When the tourist scene is over and the pups are grown up they are thrown out on the beach. Who has not seen packs of golden yellow dogs playing in the surf? So learning to cook at Time for Lime will let you have fun whilst giving something back to the furries. They even let you walk their rescue dogs on the beach at dawn and again at sunset: an unforgettable experience.
After their rest day in Ao Nang our riders will set forth for Malaysia. Some spaces are still available for the Thai One On Section (November 24 to December 8). This section – from Bangkok to Penang – is 1,465km long and consists of 13 days riding and 2 days resting. Countries visited are Thailand and Malaysia