Blog
REGISTER NOW
LOGIN
SIGN UP FOR OUR NEWSLETTER
What do the Nubian Desert, Namibia and Philadelphia have in common?
These places don't really have anything in common, except that these are the places I recently traveled to. Here is a summary of my travels and a few lessons I learned along the way.
My hope is that more people will consider taking their first cycling tour
With the announcement of a redesigned route for the 2014 Tour d'Afrique, I was given the envious job of scouting a new route thru the Nubian Desert. My scouting companions were Alam, who helps us each year on the tour, and Jamal, our driver. I was excited to arrive there, and explore Sudan a little deeper than I had before. But after a few days I was reminded that whenever we are in unfamiliar places, we should always be respectful of the differences – environmental and cultural. Being from Toronto, Canada I have not grown up in desert environments. The deserts of Sudan are not something to be toyed with.
Broken down in the Desert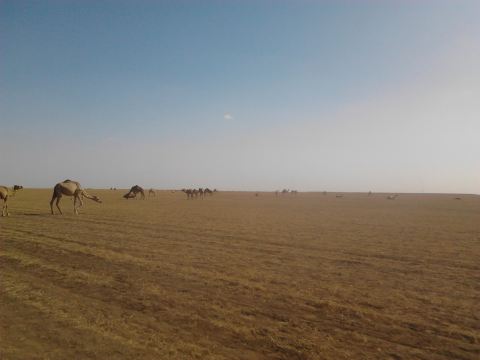 While driving from Atbara (a new rest day on our route) to New Halfa we had engine troubles. It only took minutes for me to feel completely ill-prepared for this. We had some snacks and water, but not nearly enough to sustain us for an extended stay in the desert. Standing outside the car I looked around and saw nothing but the horizon in the far distance and in every direction. This particular patch of desert was flat and featureless. It was fascinating (and slightly frightening) to see such vast nothingness. Looking out at the horizon, I may as well have been one of the grains of sand that battered my face with each gust of wind.
It's a good lesson and reminder – never to assume and never to come unprepared. For the cyclists of the 2014 Tour, you will surely be hearing more about this section from your tour leader and the extra precautions you will need to take while cycling the Nubian Desert. Soon after we got back underway (our vehicle came to life again after a tense 15 minutes) we passed a large nomadic encampment. This particular one had a huge herd of camels – there must have been over 500. I commented to Alam that it must be a hard life for these nomadic people – far from the comforts and conveniences of civilization.
"They are very rich." Alam corrected me. Their wealth is determined by the size of their herd, he explained and they are living the life they chose. Reflecting on this further I thought their lives were indeed rich also in the sense that they had submitted to the desert and learned to live by its rules and thus make their lives here. I was immobilized for 15 minutes and it felt like the desert was closing in on me. It would have been nomads like these that would have eventually become my lifeline.
When you get to Village #16, Ask for Village #5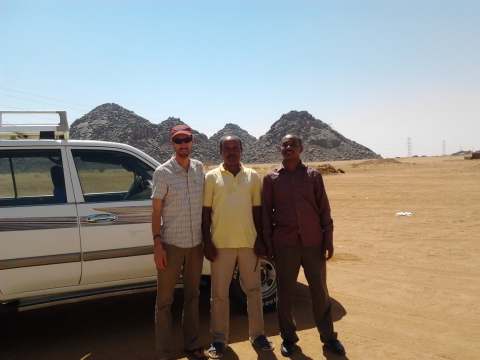 After our desert drama, my scouting trip continued. I took notes and pictures, visited potential campsites in New Halfa and Al Qadaref and things rolled along much like I had hoped. Leaving New Halfa one day, while looking for a shorter route to Al Qadaref, we were told to head for Village #16 and then "when you get to Village #16, ask for village #5." Sometime later after getting stuck in the mud and completely off track around some other numerical village, we were informed by a local farmer that there are in fact two Village #5s and he asked which one were we looking for? At that point we decided to abandon that route altogether. A battle lost, but the overall route is coming together still.
Adventure World Summit Namibia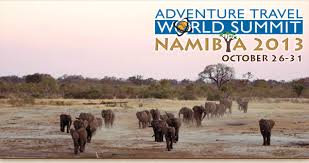 From Sudan, I flew to Namibia to take part in the annual Adventure Travel World Summit run by the Adventure Travel Trade Association. Tour d'Afrique has been a member of this organization for a few years now and we use this as an opportunity to share advice and ideas with others in our industry and to spread the word about our cycling expeditions to the media. What was very clear to me – and this is something that will come as no surprise to you – cycle tourism is the way of the future. It is the leading edge of what can only become a bigger and more mainstream way to travel. Why go somewhere and lie on a beach or be an observer on a package tour? Why not immerse yourself a little deeper and experience a new place up close and at a human speed on a bicycle.
Philadelphia Biking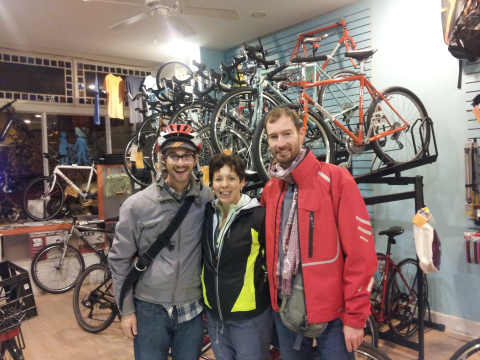 Shortly after returning to our office, I made my way to the Philadelphia Bike Expo – organized by the 2014 Tour d'Afrique communication officer Bina Bikenky (read all about it here). Bina did a fantastic job of organizing the show. I held a screening of our 'Where are you go?' film which was well received by the crowd. While I was there I took a tour with Philly Bike Tours (thanks Josh). This was a fantastic way to get introduced to the city. I highly recommend it for the next time you land in a new city and have a few days to be a tourist – it's a great way to start and to get a feel for the layout of the city. For those of you considering to join our Trans-Europa tour next summer, we use a great city bike tour company in St. Petersburg to get our tour underway and out of the massive city. So your first day of riding is also a historical tour of the city.
All my travels this fall have reminded me that what we are doing here at TDA is something quite unique and I feel very fortunate to be a part of it. My hope is that more people will consider taking their first cycling tour – whether it is around a city, across your state or province, or someday across a continent. Travel and adventure on two wheels won't be what you expected, but it will quite likely will be exciting, unpredictable and memorable.