Blog
REGISTER NOW
LOGIN
SIGN UP FOR OUR NEWSLETTER
End of the Royal Rajasthan Ride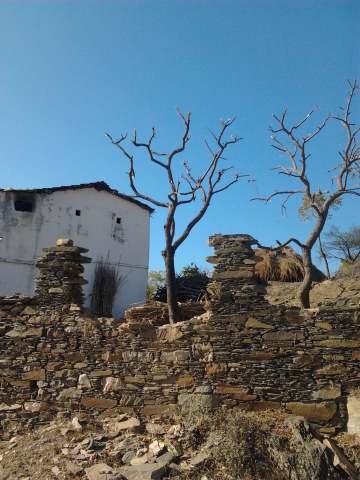 The first section of our tour, known as the Royal Rajasthan Ride, ended with a descent from the hills around Kumbholgarh. Relatively smooth pavement and very little traffic allowed us to take in the sights as we cycled along. If there is one thing that stood out for me as a lasting memory of this stage, it would be the stones. They are scattered across the landscape and form the hills we cycle through. They can also used as the walls for houses, small bridges and sheds. They line the wells and are the basis for the support arm that allows buckets to be lowered into the wells.
But most striking are the stone fences that divide land, corral cows, and zigzag throughout the landscape. Many are made of flat, jagged slabs, maybe granite, stacked tightly together with large pieces surrounded by smaller shards that fill in the gaps and make the wall strong. These walls have a clear method to the way they are arranged and surely its a skill that would take time to perfect. The corners seem to be a perfect 90 degree angle and some seem unnaturally uniform whereas others tend to follow the natural curves of the landscape. Some have mud or mortar that hold them in place while others are made strong only by the skill of the craftsmen – balanced and positioned just so, making them seem to set permanently in place.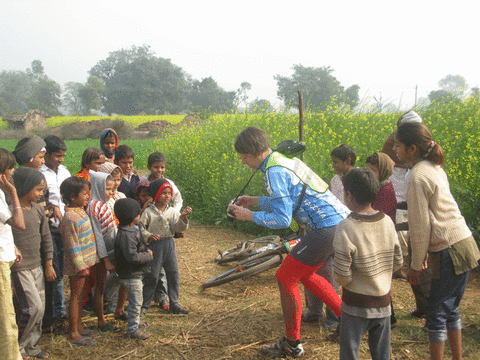 There were lots of kids on our route as well; Some heading to school, others working with their parents hauling large loads of firewood on their heads. The moms would sometimes encourage their children to wave at the passing spectacle (us, of course), others would look sternly and apprehensively at us as we passed. But the kids couldn't resist shouting and waving from roadside, or even from a few hundred metres away in their farm fields – faint voices and tiny waving arms in the distance.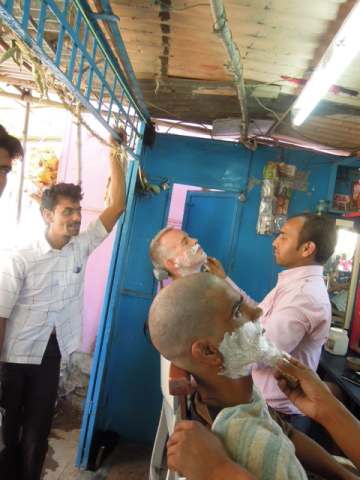 Many riders, now becoming increasingly comfortable in their surroundings, have taken more time along the route to stop for chai, talk to the locals, and even buy a few souvenirs. Paul lead a group into a shop where they all bought mud flaps – an accessory you see on many of the local bikes we pass. Mike, Simon and some others decided a mid day shave was in order.
The next two weeks of riding, known as Temples, Caves, and City Lights section will be quite interesting for me. This is the brand new route that was scouted in December by our Assistant Tour Director, Depi, and will take us to Mumbai via the Ellora Caves. We will enter Mumbai this time not through the dense traffic of the north east, but by way of a ferry from the south (why didn't we think of that before!). Depi has scouted what looks to be a fantastic route with some unexpected highlights (Google Mandu Ship Palace for an idea).
Today, on our rest day here in Udaipur, riders are off exploring the City Palace, and trying to talk their way into visiting the exclusive 5 star Lake Palace Hotel.
Make sure to keep watching #IA2014 – our official tour hashtag on Twitter, Facebook, or Instagram where we are posting some great pictures and the occasional video each day of the tour.
Cycle the final section – Kerala Cruising – at 25% off