Blog
REGISTER NOW
LOGIN
SIGN UP FOR OUR NEWSLETTER
The 2023 Hippie Trail: Cycling The Royal Rajasthan Ride From Agra To Udaipur
From the very beginning, the first section of the Hippie Trail, the Royal Rajasthan Ride from Agra to Udaipur, was rather remarkable. Of course, the region is home to some of India's most spectacular cities, forts and monuments but there is just so much more to see and experience, lurking just under the surface.
On the original scouting trip through the area in 2010, we wrote that, "We have passed through creepy voodoo villages populated with strange monkey men, odd earthen idols, a one-eyed dog and weird locals. This should be an interesting trip…" In fact, one rider said in our video of Rajasthan from 2019, "It is so different to any other country I've ever experienced….every five feet there is something else happening."
On the first edition of the tour in 2011 (then called the Indian Adventure), Founder Henry Gold wrote about the presence of cows, sacred and otherwise, near the desert town of Pushkar.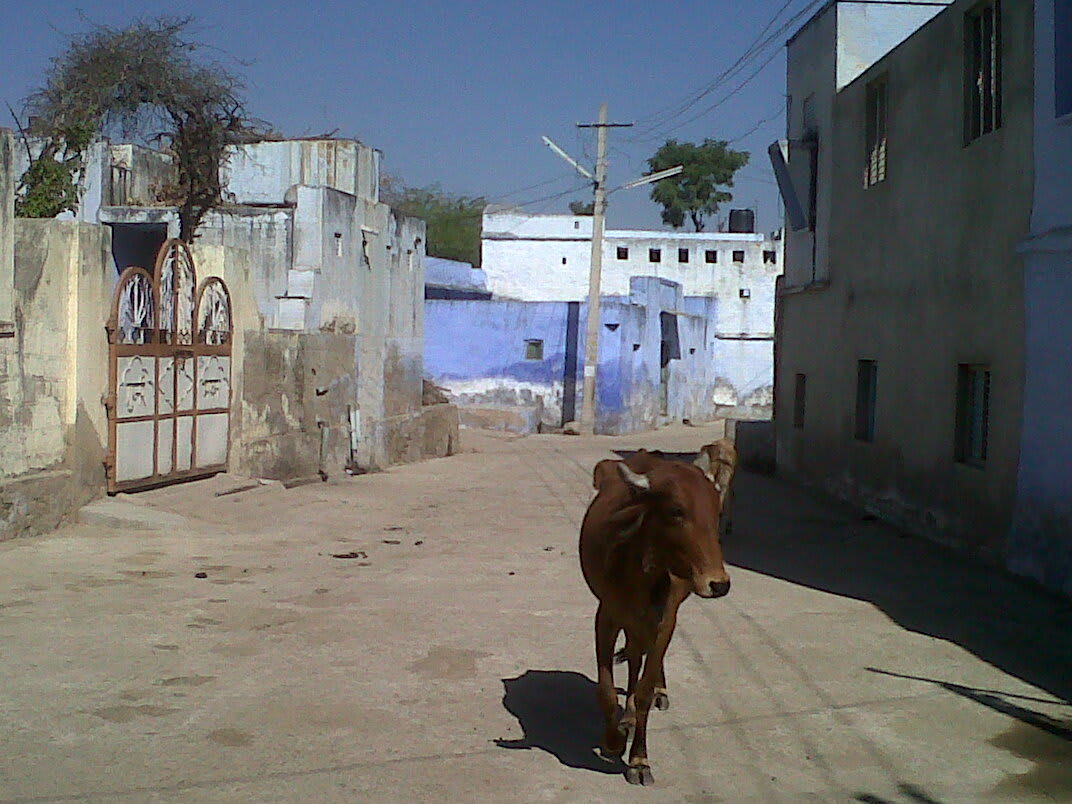 "So there I was standing about 15 feet in front of the ghat contemplating the view and trying to decide whether I should ask for some prayers on my behalf when suddenly I feel this hit in my stomach that knocks me a couple of feet back. Stunned I look around. In front of me there is a young cow who has simply walked from my left side and butted me with her head. A full force butt."
The following year, the riders were treated to a night in a seriously 'off the beaten track' property that we had accidentally discovered on the original scout of the route in 2010.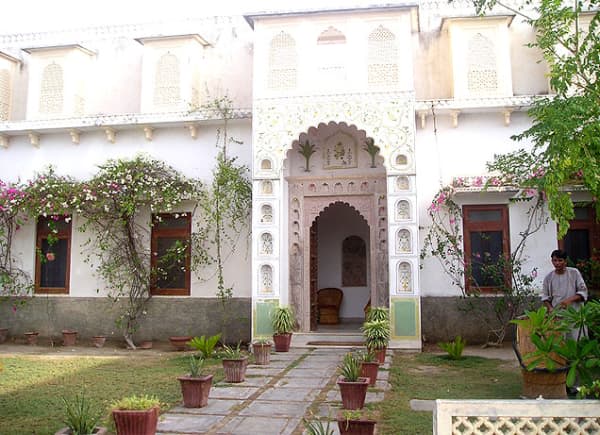 "Our first night out of Jodhpur was at Fort Dhamli, a quaint little property of 10 rooms set in the small village of Dhamli. It's run by Inder – a well spoken guy with an engaging smile who pulled out all the stops for our group. Fort Dhamli, and the village Dhamli don't appear on our GPS or our maps. It's off the main road, and it's a gem that many a traveler likely miss out on. The rooms all face into the courtyard which is just large enough for some mandarin orange trees, a few benches and his dog (didn't catch it's name)."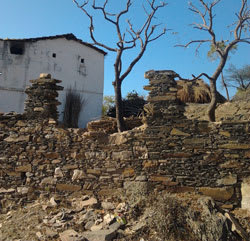 In 2014, staffer Shanny Hill took a 'stoney' look at a feature of the local landscape that only cyclists would likely notice.
"Most striking are the stone fences that divide land, corral cows, and zigzag throughout the landscape. Many are made of flat, jagged slabs, maybe granite, stacked tightly together with large pieces surrounded by smaller shards that fill in the gaps and make the wall strong. These walls have a clear method to the way they are arranged and surely its a skill that would take time to perfect."
On the next tour in 2016, the cyclists were 'discovered' by the locals, much to the delight of the locals and participants alike!
"Our routes have taken our wheels "off the beaten track" through villages where locals excitedly greeted us and were stupefied to learn what the "Engrish" were doing on their cycles. Cycling Delhi to Goa? Amazing! Our local guides taught us the proper way to greet the people of Rajasthan and cyclists elicited big smiles from children and adults alike screaming "Ram Ram" while passing through tiny villages where tourists never go."
Hungry? Rajasthan is know for its unique and delicious cuisine. In 2019, the riders were treated to quite a meal one night.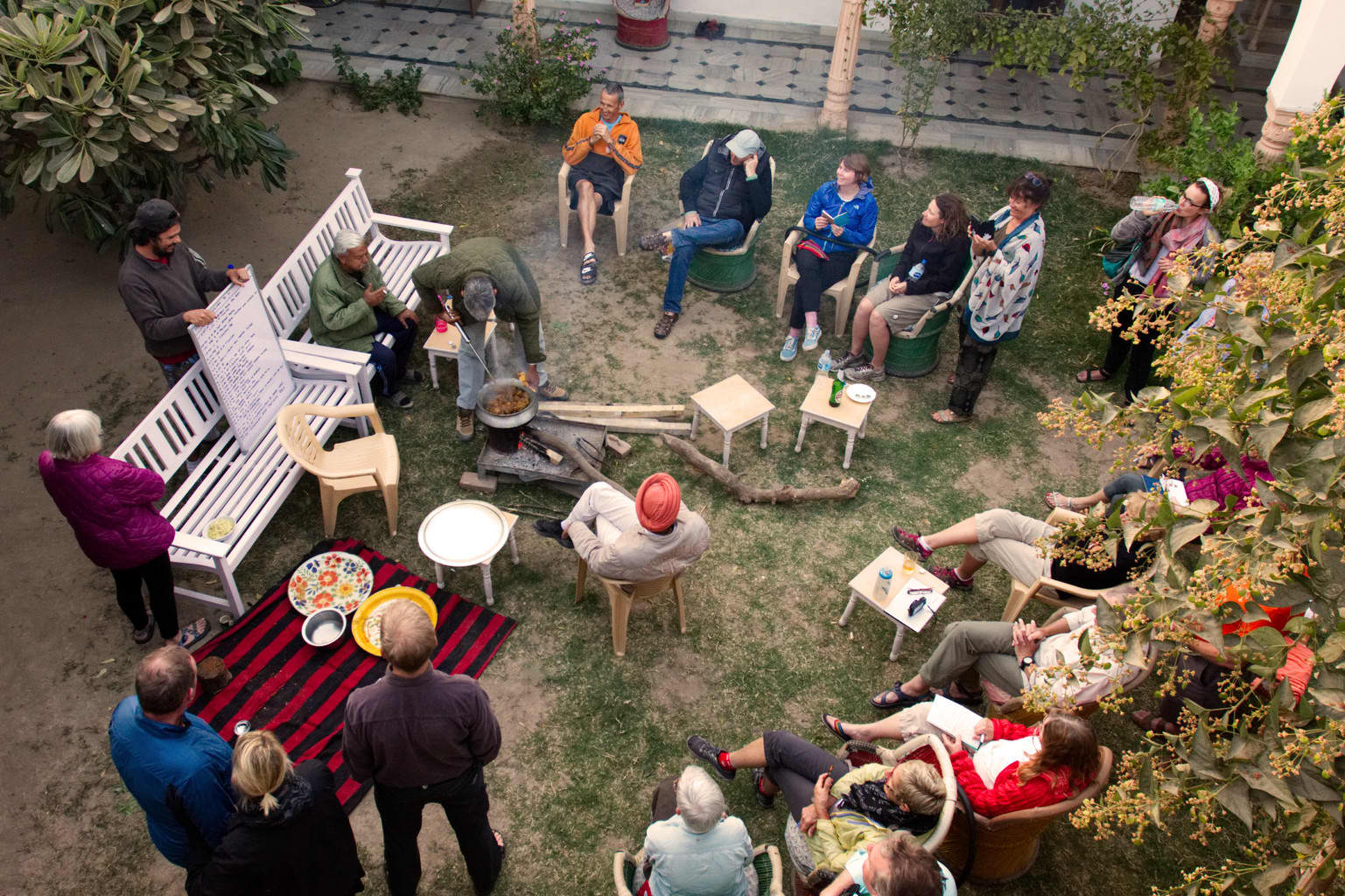 "Our host went out hunting at dawn to bag a wild boar for our group dinner. He hired two experts, who accurately prepared the meat, spent the entire afternoon carefully feeding the fire under the copper pot and continuously stirred the stew so it would be ready and tender for dinner."
Discover India, a country like no other, on the 2023 Hippie Trail. Limited spaces are still available.
RELATED
TOUR
Hippie Trail
"Turn on, tune in, Drop out" It was 1967 - the Summer of Love - and Timothy Leary had this advice for his young followers at the Human Be-In taking...