Blog
REGISTER NOW
LOGIN
SIGN UP FOR OUR NEWSLETTER
First Week in Malawi
The Malawi Gin section is underway and there is a lot to absorb in just over a week. On our first day in Malawi we got a glimpse of beautiful Lake Malawi. We were able to recharge in paradise during our rest day in Chitimba Beach. The shores of Lake Malawi remind me of the beaches in Zanzibar since the lake is so vast with turquoise waves and sand stretching for miles. The internet was quite intermittent at Chitimba Beach, which I was grateful for, as it gave me the opportunity to spend the rest day relaxing and reading my book. We took a few minutes to get a group photo of those riding the tour on Brooks saddles. We were only missing two which is pretty good for gathering folks on a rest day!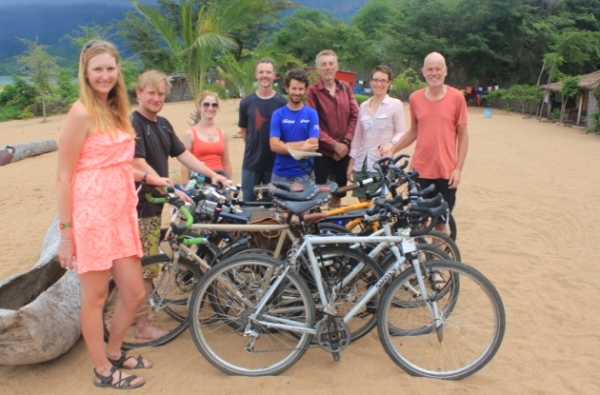 The people in Malawi have been quite friendly and helpful. During my ride the other day I stopped to wait for Justin and a guy ran over from his post at his makeshift bike shop hut. He had brought me a floor pump, thinking I was having a mechanical issue. In addition to the locals greeting us as we pass, they are all on bikes too. They are carrying chickens, people, crops….you name it; they can haul it by bike. There are way more bikes than cars, and although it is chaotic at times, it is awesome!
Malawi is known for their woodcarvings and other crafts and it's been quite difficult to resist shopping every day. I've already bought a bunch of bracelets, a chair, some gifts for family back home and a custom carving of the Bilenky head badge. The chair was a bit of a process as I needed to make sure it would fit in my locker. The design I liked best was on a chair that was too big so they made another one for me after coming and measuring my locker. I am praying the chair makes it home in one piece…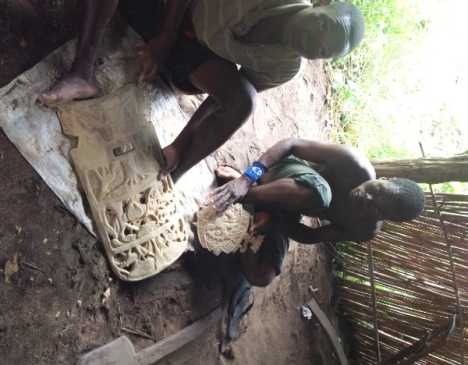 It was quite the shopping experience as these guys like negotiating more so than any other African country so far. They invite you into their "office" which is just where they keep all their carved chairs and discuss what they think you should pay and whether you have items to trade. They were looking for clothes, iPhones, shoes, batteries and beer. I threw in a Sea to Summit towel in hot pink to get the price down a bit. They were thrilled. I told them I couldn't spend any more money on trinkets since the food at the Chitimba Beach camp was a little pricey. Their solution: they would make me boxed lunches for the next several days so I could spend more on their woodcarvings. Those guys had extensive sales and marketing strategies to go along with their unbelievable carving skills.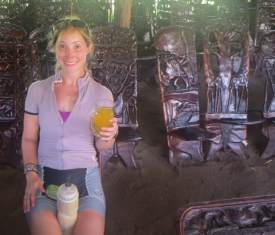 They woodcarvers borrowed Justin's jersey so they could copy the logo for the head badge and when I went to pick up the carvings one of the guys was wearing the jersey. Justin also had pendant made in the shape of Africa with the TDA route carved in. Again, Justin lent them his TDA t-shirt so they could reference the route. This time a different guy came back wearing Justin's shirt and doing a little dance. Although the Malawi "shopping mall" was a little crazy, it was lots of fun interacting with them and seeing them create the souvenirs I'd be taking home.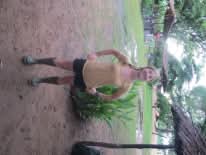 The rains have continued and so has my wearing of Noah's rubber boots. I will probably employ the fashionable footwear until we hit the drier regions. We are heading into a 4 day riding stretch that will take us into Lilongwe and will mark the end of Malawi Gin. The countries are really starting to fly by!