Blog
REGISTER NOW
LOGIN
SIGN UP FOR OUR NEWSLETTER
Elephant Poo, Dung Beetles & Blue Skies: A look back at the Elephant Highway.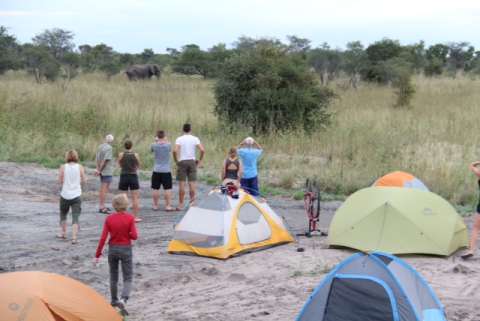 I loved riding through Botswana! The end. But seriously, the Elephant Highway was one of my favorite sections. It doesn't get any better than smooth roads, blue skies and elephant sightings. OK, maybe big cats would have made it better, but that's about it. Ian Wright did see a sereval on the day we rode through the Makgadikgadi Pans National Park. They must have known he is a veterinarian and it was safe to check him out. Some people were missing the hills but the flatness didn't bother me as my SRAM shifter cracked in Maun and I was forced to get used to bar end shifters again. Needless to say, I didn't shift as often and the flat roads made that possible. We could have gotten through on fixed gears during this section! That's a time trial for another year…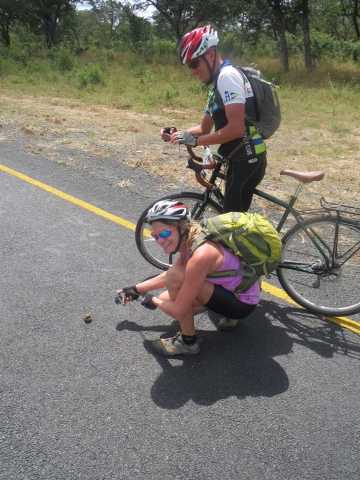 Catherine Daly was disappointed to not see an elephant at the start of the section so she focused on other observations. "Because I didn't see an elephant the first day, I took a picture of elephant poo instead. It was huge." There have been an abundance of dung beetles and Justin, Scott, Birgit and I were fortunate (?) enough to see one rolling some poop across the road. They really do that. It was completely gross and totally interesting.
This section was a milestone as we completed the longest stage of the tour – 208 km! For many of us it was the longest day ever ridden. Due to the long mileage days the riders started doing a variety of things to pass the time. Mike Jakeman described how Sonia Davies started doing the YMCA song and dance from the seat of her bicycle but had changed the letters to "TDA". I would have loved hearing her sing that in her Australian accent. And apparently Sally-Anne Dunn had a song as well – with original lyrics – for every time she saw a cow. She must have been singing it non-stop as the cattle population definitely outnumbered the people.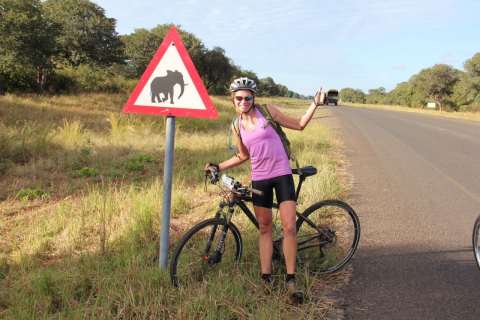 In Windhoek we said farewell to Jos, Isabella, Susan, Robert, Tobias and Oliver but we also welcomed a few new riders. Two are siblings of the staff; Hannah's twin sister Amy is riding with us to Cape Town as well as Alex's brother. I am sad to say goodbye to the Elephant Highway but I'm not sorry to see the cane cricket in the rear view. Everyone is really looking forward to the change in landscape and cycling terrain in Namibia. It's hard to believe we only have a little over 2 weeks left and just one more border to cross.
View more photos of this section here & here.
Registration is now open for the 2105 Tour d'Afrique – Full Tour or the Elephant Highway section.