Blog
REGISTER NOW
LOGIN
SIGN UP FOR OUR NEWSLETTER
Cycling in Java – Is it the most difficult multi-day ride ever?
"From now on 'Faire La Java' will have a different meaning for me." – Gerald Corniel
We have arrived in wonderful, wonderful Bali and Java is, as they say, is in the rear-view mirror. So now it is time for a few last thoughts before we discover more challenges.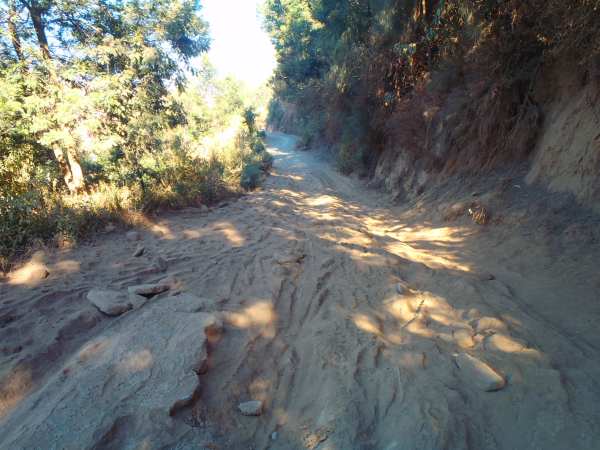 Last January after my initial scout of Java I wrote in a blog Breaking Boundaries:
"Participants on our expeditions – the .01% of cycling 'tourers' – the ones who like to go where other cyclists fear to tread, the ones who like breaking barriers, the ones for who climbing a thousand metres or two on their daily ride is just a small challenge – will be amply rewarded. The islands of Indonesia are nothing like we have cycled before. Nowhere else will you ever experience fifty shades of green every hour of the day, day after day! Nowhere else will you see such rich bio-diversity brought forth by this archipelago of equatorial islands. Nowhere else can you experience this amazing variety of beaches and volcanoes. So, if you like a challenge, if you dream of cycling through an incredible mix of cultures spread amongst more than 17,000 islands and communicating in 300 languages, if you want to push your own boundaries, Trans-Oceania is the trip for you."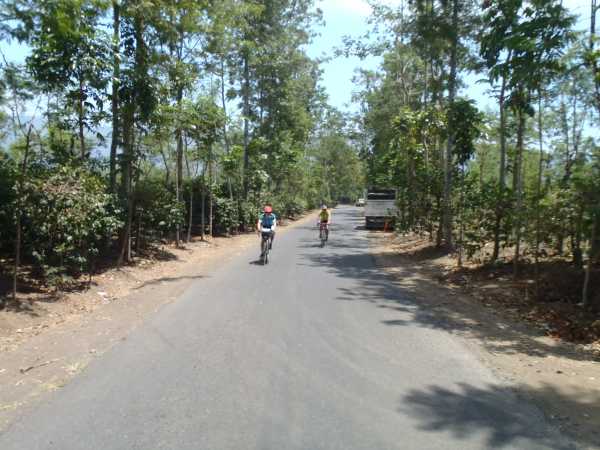 If you have been following both my blog and those of our participants' you will by now most likely agree with the above paragraph. Without any doubt we are the first organized tour that cycled across Sumatra and Java. (We may even be the first cyclists ever to do such a challenging route of Indonesia.) But that is not the main achievement. The achievement is the way we have done it. Starting on the north-east side of Sumatra, we pedaled up into mountain ranges, spent a few days riding through them and then spun south to the beaches on the Indian Ocean before heading back up into the hills again. Avoiding main roads and traffic meant at times cycling through all kinds of paths, rice fields and isolated villages: 17 days of cycling, 2,130km in the saddle and 21,357m in elevation gain – an average of 125km and 1,256m up each day.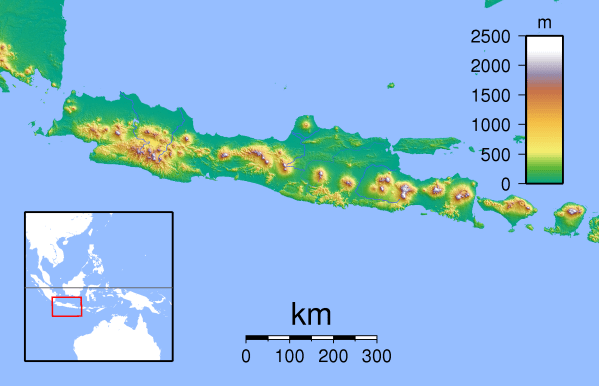 Then Java. Take a look at this map and connect the volcanoes and you will get a pretty good sense of our route. You may have read in magazines and web sites about the ten toughest climbs in the world; you my have seen other lists of the top ten challenging rides; but I doubt that there is as tough a challenge as cycling the way we have done it. We have pedaled in a line almost running through the middle of Java province; from one volcano to the next; sometimes skirting along the mountain on roads with crazy gradients; sometimes climbing close to the top of the volcanoes and once going all the way to the rim of an active volcano. Java's results: 17 days of cycling, 1,845km in distance and 28,484m of elevation gain or, on average, 109km and 1,676m up per day. In Sumatra and Java then, we cycled a total of 34 days, a distance of 3,975km, an altitude gain of 49,841m or an average 117km and 1,466m up per day. And always, every day – beautiful unexpected scenery, friendly welcoming locals, a diverse countryside and some lovely (and some not so lovely) hotels.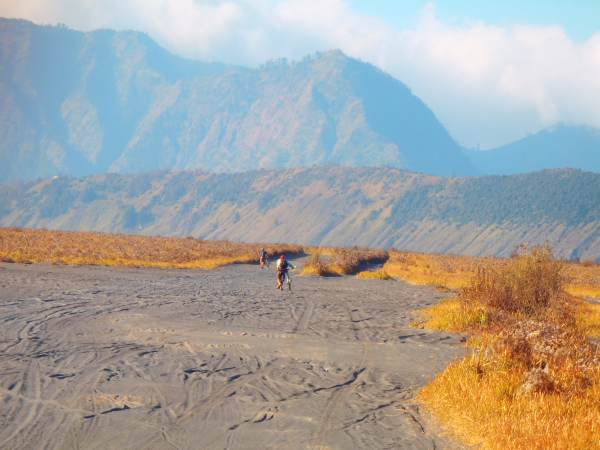 Is there a tougher 34 days of cycling? There well may be but I am not aware of it. But then I am just a simple guy who, with a small group of others, thinks up some delightful cycling routes. Then we go and do them. It is now up to the rest of you to come and check it out.
So hear this, all you adventure riders around the world! You may have done the Alps, the Pyrenees and the Andes. You may even have done all of the existing top ten rides. You may have EFI'd Africa, the Silk Route or South America, conquered La Ruta Maya – the Doomsday ride, laughed at The Gorge and the rest of the climbs in Ethiopia. Now come and test yourself on the wonderful volcanic peaks of Java and the crazy gradients it will throw at you.
In the 1930s in Paris a slang expression developed – 'Faire Le Java' – which meant having fun, a holiday. Ask Gerald what 'Faire le Java' means to him now.