Blog
REGISTER NOW
LOGIN
SIGN UP FOR OUR NEWSLETTER
The other people.
Today, like every other day, starts with the clanging of pots. Tom has turned on the burners, he's up so early. Maybe he never sleeps. Boil water, big pot, small pot. Someone has been hiding toffees everywhere. I eat one. It's not poison. Wash wash. Big pot small pot.
Lunch leaves with Francine and she helps Liam set up the station; she knows the drill with three tours under the belt. Manfred helps, wash wash. German lessons on the way to lunch up the massive hill, French lessons when we arrive.
Get to camp. Big pot small pot, chop chop. The unofficial racers arrive, in no particular order. The winner always cheerful and the followers seemingly unfased. Today, three friends are joining us for dinner, alumni from the Silk Route 2014. That made 7 of us. So what for dinner? Uzbek style stuffed peppers with Pilaf. Rushtam and his sidekicks Bek and Raphael, our guides through Uzbekistan on that very tour, thought us this classic Central Asian dish.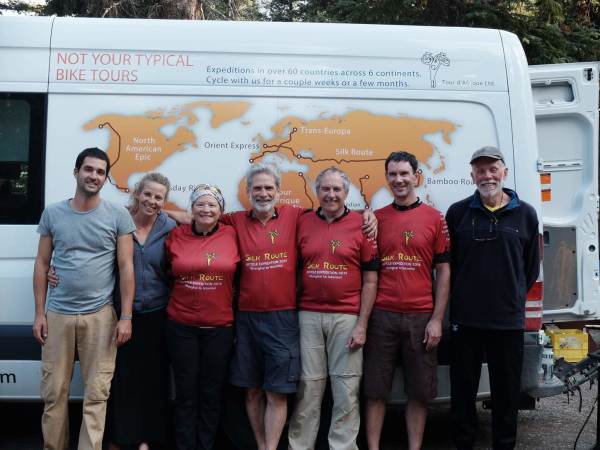 Your are going to need: One pepper per person, and some extra. A big cabbage for every ten people. Lots of mince. Rice or oats or pasta (something that swells). Dill, lots of dill. Onions and tomatoes – tinned or fresh. Put whole cabbage in water to boil. Mix raw mince, diced onions, tomato (bit of sugar), something that swells, salt and pepper and dill in a bowl with your hands. Neatly remove the top of the pepper and stuff the mince mix inside. Pack the peppers whole up in a pot, cover in cold water and boil. Take the cabbage out of the hot water and let it cool. Once it has cooled remove the leaves and pack them one side. Now take a small hand full of the mince mix, put it inside a cabbage leaf. Roll it up and tuck the corners in so it looks like a big spring roll. Repeat till you run out of mince. Place them tightly in a pot, cover with water and boil. The dish comes with rice. If you wanna be fancy, fry carrots, dried apricots and dried prunes in butter and mix with the cooked rice. For salad: cut tomato cucumber and onions up in big chunks and serve with lemon wedges. This salad gets served with everything in Central Asia. Finally, serve the stuffed peppers and cabbage straight out of the waters and garnish with more fresh dill.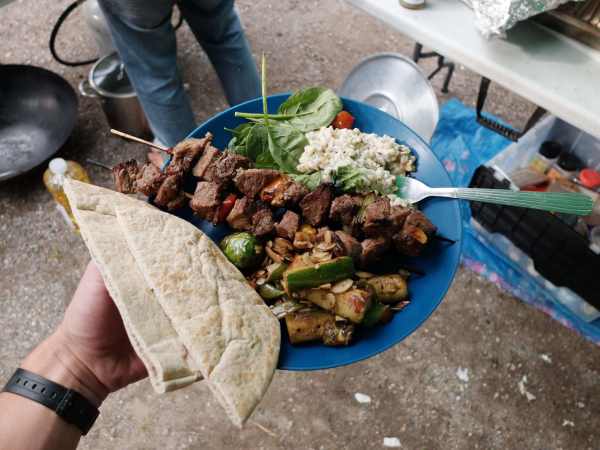 On TDA trips we often meet solo cycle tourists. We invite them over for lunch or dinner and everyone shares stories or information of the road ahead or behind of us. I look and them and wonder, what is the difference between them and us. I think it's the other people. You can travel the world and see amazing things but when you get back home your friends and family can't relate. They ask some questions and seem interested and their life goes back to normal. We do this together to share it with someone, that makes it real. Some times old alumni meet up with a travelling tour almost like a recovering addict hoping for a taste of what is was like, why they did it in the first place. These are always pleasant encounters and I like the sense of nostalgia in the ex-TDAers. Well, all the chickens are in their coup and the truck is packed away. The clanging of pots announces the end of another day.
Yanez is the chef on the 2015 North American Epic cycling tour and expedition.