Blog
REGISTER NOW
LOGIN
SIGN UP FOR OUR NEWSLETTER
A Windy Welcome to La Paz
Britten reports from the South American Epic bicycle expedition:
La Paz is a wild place. Cradled in a valley, the city desperately clings to the steep walls anchored purely by makeshift ingenuity. Just beyond are some of the most impressive mountains of the Andes – sky-high Illimani looms over the southeast and Huayna Potosi over the north. Their names are eponymous with countless hotels, restaurants, and plazas; not to mention the recipients of ceremonial offerings by local people as they are some of the more sacred peaks around.
During the economic crisis in the 70's, there was a mass migration to the city as hundreds of nearby mines shut down. Most families packed up and took roots in what is now one of the largest indigenous cities in the world, El Alto. Situated above La Paz, its inhabitants are notoriously rebellious and spiteful ever since they were violently forced to scale the hills and build what was essentially an enormous slum. Poor but driven by a strong sense of solidarity, they successfully carved out an existence as the area continued to grow with an influx of displaced labourers.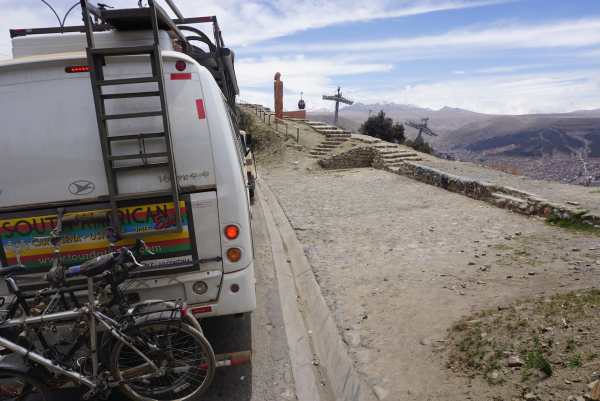 Ever since the city was forged, Alteños (as they're called) have used their position above La Paz as a political weapon to cut off the flow of goods and transportation going into the country's capital by simply blockading the main road. There was no exception for us as we made our way after failing to find a safe and logistically feasible alternative.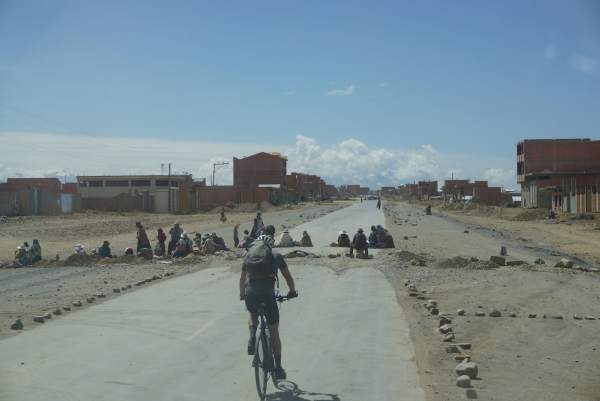 As we approached the blockade, we noticed a line of women, dressed in their traditional cholita clothing, simply sitting down. No vehicles could pass. Bikes, however, were allowed. So as the riders weaved their way through, our trucks were forced to find a different route. A route that, after multiple hours, became one of the most convoluted detours of the trip thus far. Off the main road, there are dozens of unmarked dirt roads that wind in and around dusty adobe homes. After failing for an hour to find a route that would skip the blockade and reconnect us with the highway, we found a local taxi who knew the area much better but even with his guidance, our wild goose chase only continued.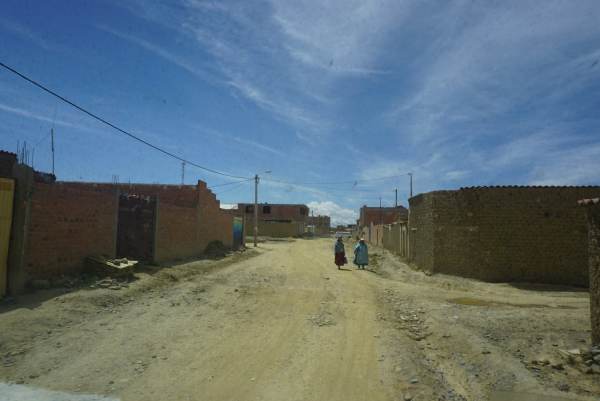 Our bikes and vehicles caked with a thick layer of dust, we finally managed to pop out beyond the blockade and reunite with the rest of the group before descending into La Paz. Unlike any city in South America, the unique blend of culture, history, and mountain scenery make it a definite highlight.