Blog
REGISTER NOW
LOGIN
SIGN UP FOR OUR NEWSLETTER
Colourful Northern Argentina
The riders and staff of the South American Epic are now on a day off in Santiago. Here is a look back on their time just recently finished traversing northern Argentina.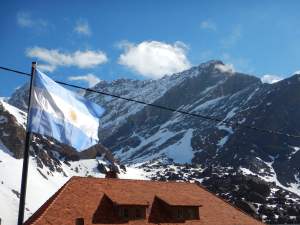 After Bolivia entering Argentina was like entering the land of milk and honey. Plenty and a huge variety of food, wines, beers. And suddenly the landscape changed as well. Being back in a rocky area brought a lot of variety and entertainment to our rides. Between Salta and Cafayate the Garganta del Diablo (The Devil's Throat) in the Quebrada de las Conchas – 75km long and in some parts very narrow part of the valley of the Rio Guachipas – gave us some good photo motifs for our scavenger hunt and was the start of many spectacular rock formations and mountains in Argentina. Coming down from the Andes in the beginning of Argentina brought the warm weather again. Soon swim suits and shorts were unpacked and every opportunity to jump in a river or natural pool was used.
On our way towards Santiago de Chile we had to cross the Andes again. After San Juan the weather got colder and colder again. We came across our first snowflakes on the climb between Pedernal and Uspallata. The weather made it impossible to camp, not because of the cold or snow, but because our campsite was in the middle of an electrical storm. After our campsite had been flooded we decided to head into Uspallata a day early, which gave us plenty of time to explore this little town. Some of us went on a hike or bike ride to the Mountain of the Seven Colours – a beautiful mountain with all shades of green, pink, grey, red and yellow. Walking the 9km there and the consequential blisters were definitely worth it.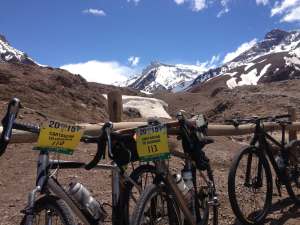 Exiting Uspallata it was only another 65km to the Chilean boarder. But those 65km were some of the most spectacular and entertaining kilometers of trip. Climbing out of Uspallata we passed famous Inca Bridge, an impressive and colourful natural arch over the Vacas River. Only 10km later we rode passed the entry of the Aconcagua Provincial Park. The lucky ones amongst us  saw the tip of the Cerro Aconcagua – at 6960m it's the highest mountain outside of Asia – before it disappeared in the clouds.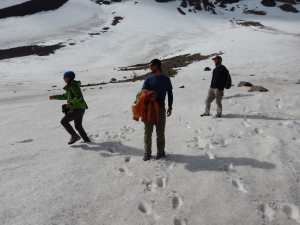 Because of a snow storm only two days before, we passed the night in a hostel in Las Cuevas, our last night in northern Argentina. Being hosted by a very nice family who even prepared our meals gave us plenty of time to spend in the snow, exploring, sledding and having snowball fights. After another night of excellent wine and food in Argentina it was time to say goodbye – for now. The next day we passed the boarder into Chile. Bye bye Argentina – see you in a month.