Blog
REGISTER NOW
LOGIN
SIGN UP FOR OUR NEWSLETTER
TDA Super Alumni Profile: Lloyd Strong
This is the fourth post in our series profiling some of our Super Alumni, riders who have cycled many expeditions and kilometres with us over the past years. Check out the previous posts on Svend Paulsen & Chris Wille & Brett Lanham.
Tell us a bit about your background, where you grew up and live, what your working career is/was, and what got you started into cycling.
I am retired from the General Motors Transmission Plant in my home town of Windsor Ontario. My career there was cut short by a severe motorcycle accident that resulted in breaking dang near every bone in my body. After 6 months in traction, rehab began and, eventually, it was suggested that cycling could be good for me. I bought a bicycle from a shop in the neighbourhood and began to ride around the block. Each time out I improved and increased my distance to visiting friends in the neighbourhood. With time I found myself going further and further. After a few years, a friend showed the travel section of the Detroit Free Press in which there was a story about the Palm Pedal across lower Michigan. It was a weeklong family oriented ride with low mileage that goes from Lake Michigan to Lake Erie. I was intrigued and signed on the following year. It was well organized and I had a lot of fun, so much so that I decided I could do this forever. I have never looked back. The Palm ride will be forever known as my "sweetheart cycling tour" because it was there I got bit bad by the touring bug. And that's basically how I came into having such a burning desire to see the world via a bicycle.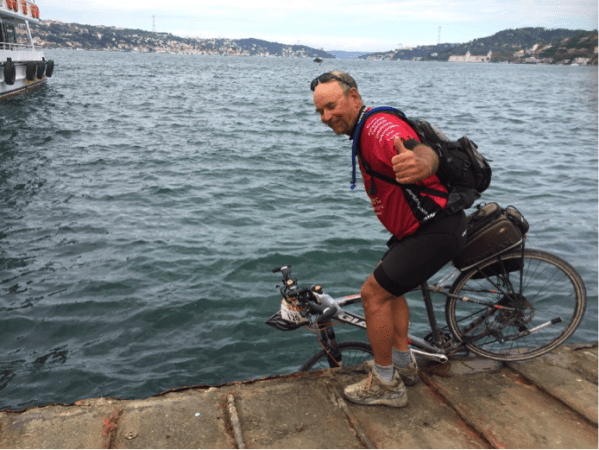 Around the world completed.
What prompted you to decide to start doing long distance cycle touring? Were you apprehensive before you started ?
Now it needs to be said that I used to get grounded when I was a kid, and down in the basement was an old black and white TV with tin foil flags on the antenna that I could get to work. If the wind was in the right direction, I could pick up a channel with a travel show hosted by George Pierrot. He would go on about far flung places where he and his guests have been. So it's kind of funny how things work out. A year later or so after the Palm and a few USA state tours, a good friend of mine, introduced me to Cycle Canada and I signed up for the Tour du Canada. The following year I met Kathleen Dempsey on Cycle America's Coast to Coast tour. She told me about TDA and how she was planning to take on their signature ride, the Tour d'Afrique. Once again I was really intrigued; truth be told, it was one of those pivotal conversations that gave me a whole new curiosity. Up to this point in my life I really hadn't been off our North American continent either. Admittedly, cycling in your native country is pretty easy to a point. Oh sure, the climbs and the weather can be rough at times, but we speak the language, and can find just about anything we want in North America. To me that kind of leads to a boring comfort. Don't get me wrong, it takes a lot of effort and wherewithal to cycle anywhere and it's still great to do these trips. However you really bump up the thrill level when you leave your comfort zone for a whole new experience. I was really apprehensive about going off continent the first time and I still get that way after all these years. There is a certain thrill you get when you experience a new culture, new foods, meet new people and of course the new scenery! Cycling has a way of putting you out there in such a way that you enjoy your "new playground."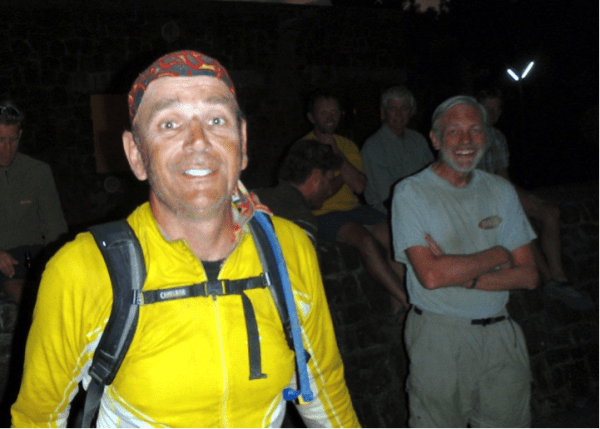 Hero's Welcome at the Goha Hotel in Gondar, Ethiopia
What places/moments have been the highlights of your cycle touring career?
Without a doubt my favourite cycling tour is the Tour d'Afrique. Africa is a special continent with so many diverse countries and people that it truly was a pleasure to discover. Whenever I am asked about this tour all my answers evolve into more questions and amazing and long winded tales. In Africa I had unbelievable luck, both good and bad. I saw the Pyramids, swam in the Nile, and floated down the Zambezi. I saw more beautiful birds than I can count, and flowering trees that I'd never seen before. The local people are genuinely interested in you and where you lived.
One of my fondest days on the TDA was the uphill stage into Gondar. I had been in the saddle almost 12 hours when I reached the top of the final climb and received a "hero's welcome." Miles had given me the coldest drink I ever had about 4 kms from the finish and I was cheered on by Brian as I ascended the last switch back. Fellow riders helped me set up tent and guided me to the showers.
A few days later my frame cracked but I soldiered on to Addis where I purchased another bike from a departing sectional rider. For the last half of the tour I had worms crawling around in my back. It took four bicycles for me to get to the finish line in Cape Town and yet I still finished the tour as an official "EFI" rider! And I ended up on the front page of the Afrikaans "Die Burger" newspaper to boot! Mind you I also have the dubious honour of being the slowest cyclist ever to achieve EFI. What an honour… even the Paris-Brest-Paris cycling event has their "Lantern Rouge!" Memories of a lifetime !
The single greatest moment of my cycling career was no doubt the day I completed my quest of riding around the world in a linear fashion. On the last day of Silk Route I dipped my tire in the Bosphorus Strait on the Asia side of Istanbul; almost right across from where I had celebrated in similar fashion on the European side at the end of the Orient Express. I have made a practice to dip my tire in a major body of water on all my epic adventures, even if it meant arriving early to make it happen and cycling my way back to a start line.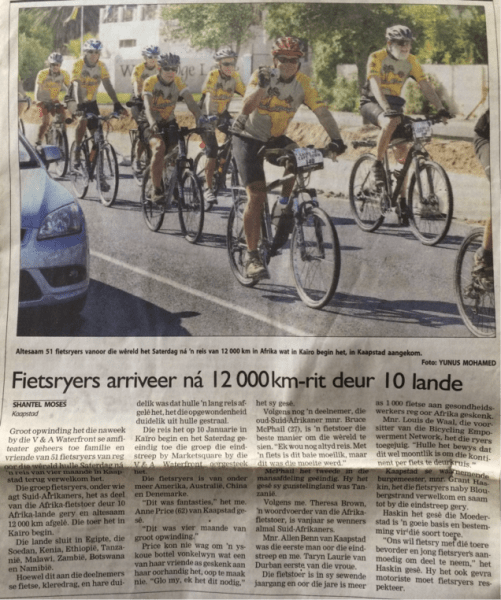 Do you have any pro tips for new cycle tourists?
Tips? Hah! I've got a lot of them…. Do your homework before you leave, make sure your gear is good. Things will break down and odds are you won't find "Bob's Bush Hut of Bicycle Parts" in the next town so be prepared. Riding around home is nothing compared to the roads and adventure you will be on, your bike will take a beating … and so will you! Depending on your skill level, you will, if you have an open mind and heart, experience more than you ever imagined. You will push yourself to higher limits, laugh more than ever have, and even shed a tear. Trust in yourself, you are stronger than you think and don't be afraid to help a cyclist in trouble. Roll with the setbacks and go with the flow…. it's an "adventure". Enjoy your new friends, be there for them, and they will be there for you because we are all in it together. You may never ever see them again, but you will never forget them. And when it all starts to fall apart, a few words come to mind that a friend of mine, Rodney, told me to say out loud… "But I'm on holiday!!"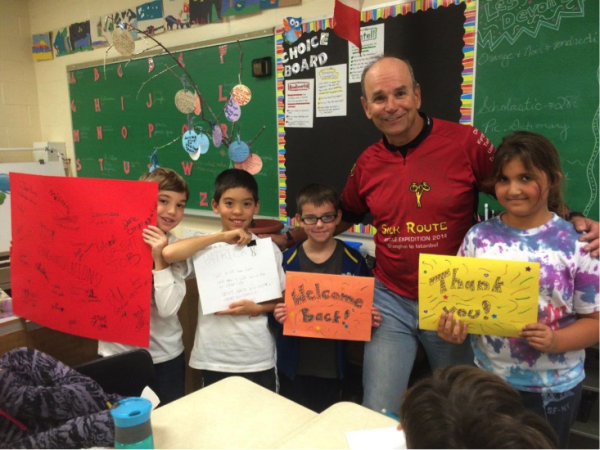 Planting the Seeds of Adventure
What life lessons has cycling given you?
Life lessons from cycling… most goals in life are achieved the same way as cycling the toughest climb or in the nastiest weather… one pedal stroke at a time with gentle pressure relentlessly applied!
Anything else you would like to add?
I didn't realize that I was going to be so long winded, but that's the way it goes, lol! Normally I keep my adventures to myself, however on occasion I have been talked into spinning tales of adventure to young girls and boys at a grade 4 class. Eyes get as big as saucers when I go on about animals I've seen and places I've been on a bicycle. I end up signing every scrap of paper with "don't let your dream be a dream, make it happen."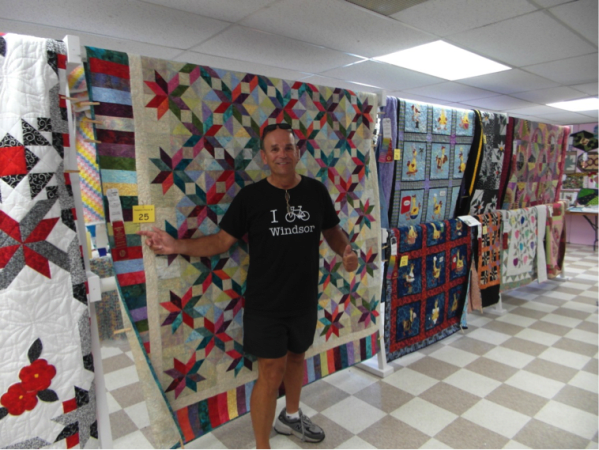 1st Place at the Harrow Fair
What else do I do when I'm not on a bicycle ? I am a quilter. I like to make quilts and enter them at the Harrow Fair. Now it costs $7.00 to enter and first place is worth $6.00! … BUT the competition is very stiff. While I will never get rich doing this, the memories of making and giving away these quilts are priceless … just like my adventures … and I will have lots to talk about when I ripen to 100 and become a centurion.
In the meantime I plan on crossing my 5th continent … TDA's South American Epic in 2017, and if we should meet it is bound to be fun. While I do have a bad Coca Cola habit, cold or warmish it doesn't matter, it's a guarantee that I will hold up my end of the conversation! Hope to see you there!