Blog
REGISTER NOW
LOGIN
SIGN UP FOR OUR NEWSLETTER
TDA Super Alumni Profile: Chris Wille
This is the third post in our series profiling some of our Super Alumni, riders who have cycled many expeditions and kilometres with us over the past years. Check out the previous posts on Svend Paulsen & Brett Lanham.
Chris is one of our most dedicated customers and strongest cyclists, having ridden EFI (every fucking inch) of the Tour d'Afrique, Orient Express, Silk Route, Trans-Oceania and the South American Epic. He also gives back to cycling and Africa in a big way, as the co-Director of Bicycles for Humanity chapter in Victoria, British Columbia, which to date has sent more than 3500 donated bikes to Namibia, Uganda and Malawi. Chris was also previously featured in one of our blog posts.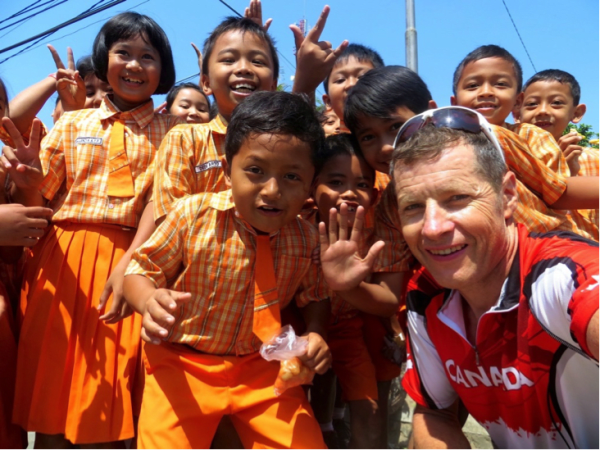 Tell us a bit about your background, where you grew up and live, what your working career is/was, and what got you started into cycling.
I'm a native of Victoria, BC, Canada. I had a busy, challenging 30 year career running a successful Automotive Repair shop in Victoria. Working 6 days a week, dealing with the public was high stress- Cycling & Triathlons became my release, like therapy. The longer the better. Triathlons went from Sprint distance to Olympic to 1/2 Iron to full Ironman. Cycling progressed from short local rides to multiday rides/tours, loved it, progressed from there. My late Father had a hunger and passion for travel that I seem to have inherited.
Tell us about your favourite cycling tour bike.
After cycling the Tour d'Afrique in 2008 & seeing first hand how well the Specialized Tri Cross bikes held up under the roughest of conditions, I bought one. Still riding it 7 years, 5 continents and 40,500 kilometres later. Very durable and comfortable. Not the fanciest of bikes, but very robust. It gets much love and a full overhaul between trips.
What prompted you to decide to start doing long distance cycle touring? Were you apprehensive before you started?
While working back in the early 2000's I googled "Long distance cycle tours", and discovered the TDA. At first I thought the participants were nuts – who rides 12,000 kms in 4 months across Africa? In time I realized that it was "ordinary people doing extraordinary things." So I signed up for the 2008 TDA Africa ride when I was totally burned out from work and needed a change. Cycling across Africa was truly magical, and I became hooked on the Eat-Sleep-Ride nomadic lifestyle. There is no finer way to see and experience a continent and its cultures, its peoples, than from the best seat in the house, that of a simple bicycle. Yes I was nervous/apprehensive, but the TDA and its amazing staff make cycling easy – no logistics to worry about. Not to mention the camaraderie and fun sharing the journey with fellow riders from all over the globe. The sudden tragic passing away of several close family and friends also made it clear that life is short – there are no guarantees – so get out there and experience it while you can!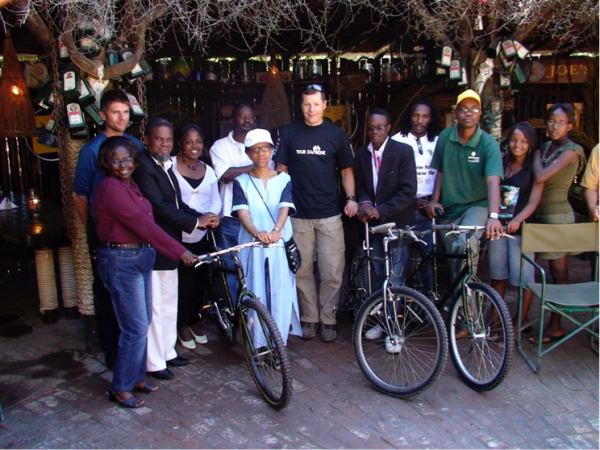 What places/moments have been the highlights of your cycle touring career?
There are so many I could write a book on the incredible experiences I've had. Cycling through the ancient history of Egypt, the Sahara desert, the wildlife of Tanzania, climbing Kilimanjaro, the marathon ride across China on the Silk Route … Riding the Pamir Highway and across Iran, magical Indonesia, spinning across the Red centre of Australia. The magnificent climbs and thrilling descents in Colombia, the Amazon river basin in Ecuador, the Salar del Uyuni (world's largest salt flats, exploring ancient Inca sites in Peru, Machu Picchu, and the incredibly beautiful challenging roads of Patagonia in Argentina and Chile. Meeting the people and experiencing the food and cultures has been amazing- from homesteads in Yurts at 3500 meters in the Pamirs to being surrounded by curious onlookers at camps in Ethiopia, to sharing meals with Iranian families – I am so lucky! One meets the most interesting, amazing, inspiring like-minded people on these trips and I now have great friends literally all over the world.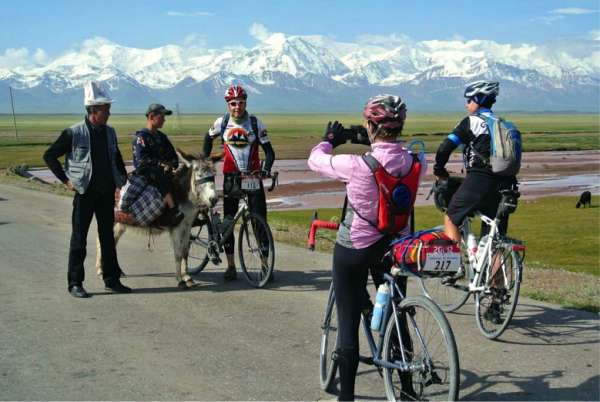 How many kms (more or less) have you cycled with TDA?
5 Tours, 4 Epics, 52,914 kms + one cross Canada Tour with Cycle Canada = 60,414 kms and one lap around the world.
Beyond cycling, what other amazing travel adventures have you had?
When I turned 50 a few years ago I decided to have 2 quests. The first was to cycle around the world, one continent at a time, and the second was to run a marathon on each of the world's 7 continents. Happy to say that upon rolling into Ushuaia at the end of the SA Epic, my round the world cycling quest was fulfilled. I'm so incredibly lucky to have cycled coast to coast, or North South across 6 of the world's 7 continents. As for the marathons, have been super lucky to have run the incredible Kilimanjaro Marathon in Africa, an amazing marathon in Antarctica, the Great Wall marathon in China, and the Tuscany Eco-Marathon in Italy. Now I just have to run a marathon in South America and Oceania to complete that quest. I also dabble in mountaineering and have climbed many of the mountains on Vancouver Island and across the Pacific Northwest.
What life lessons has cycling given you?
There seems to be an inverse ratio of wealth to happiness – people we have come across on various continents that live very humble lives with next to nothing appear to be very happy. Wealthy people with the latest greatest everything much less so – more stressed, edgy, prone to road rage, etc. One needs only a bike, some food and a route to follow, preferably with orange flagging here and there, to be truly happy and content.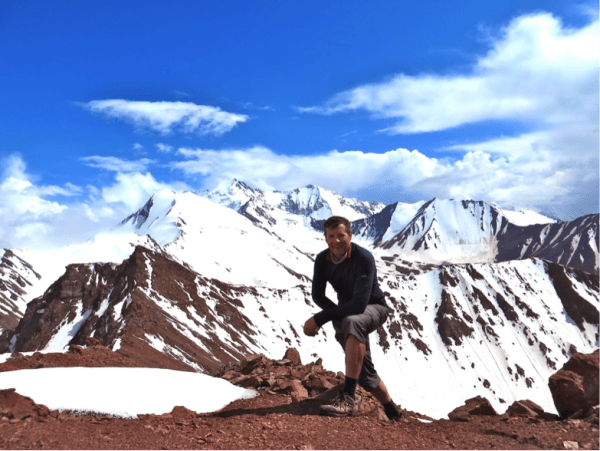 Do you have any pro tips for new cycle tourists?
The hardest part of a big cycling adventure is making the commitment and signing up. Be it a few weeks, a month or a whole tour, you really don't start truly living until you are totally out of your comfort zone. It's a big world out there so go exploring when you are in camp, there is so much more to see and experience after the days ride and it's very enriching to immerse oneself in the local culture, wherever in the world they happen to be. Take it one day at a time, by the time a week goes by you won't know what day of the week it is, and it won't matter – a cycle tour has its own pleasant rhythm. Ordinary people doing extraordinary things!