Blog
REGISTER NOW
LOGIN
SIGN UP FOR OUR NEWSLETTER
15 Unique Features of our Cross Canada Cycling Tour
Over the 15 years we have been running cycling tours – now in over 60 countries around the globe – we have developed a certain style. All cycle tours are a little different, and each group of cyclists has a different culture. But we wanted to list the unique features that our company brings to cycle touring and specifically what is unique and different about our brand new route across Canada (see our official announcement here and full list of what's included is found here).
To get the full details including price, dates, and distances, click here.
1. Starts in Haida Gwaii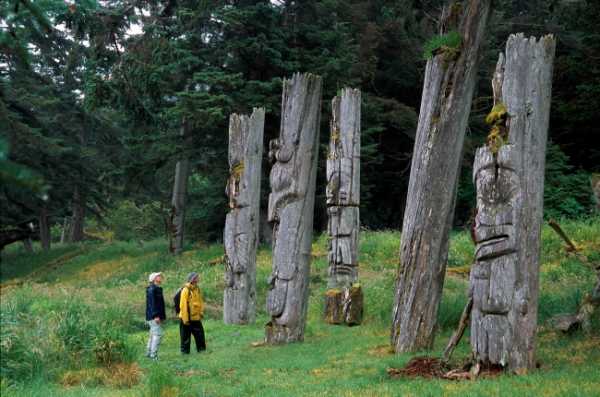 photo credit: Destination BC/Tom Ryan
Most cross Canada cyclists, whether solo or with a group, start their journey in Victoria or Vancouver.  We chose Haida Gwaii because of its First Nations culture and it's stunning forests and coastline.  It's a rare chance to visit the archipelago, often called Canada's Galapagos, but it's only getting more popular, so come with us to see it in all its pristine beauty.
Flights to Haida Gwaii depart daily from Vancouver and Prince Rupert.
2. Using over 1,000 km of the Trans-Canada Trail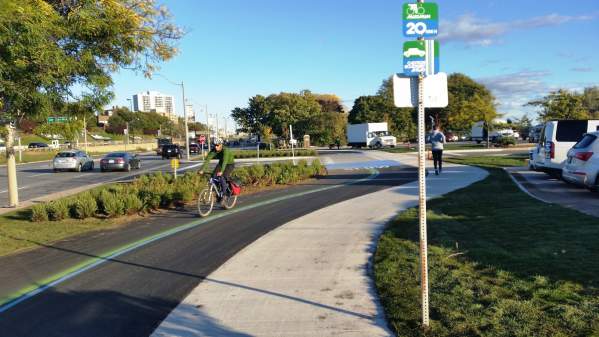 Timed to be completed for Canada's 150th birthday, the Trans-Canada Trail is the longest trail network in the world. We will utilize this whenever it is most feasible and the trail is paved or well groomed and maintained. But on the sections more suited for hikers, we opt for paved public roads instead.
3. Thirty Eight nights in Hotels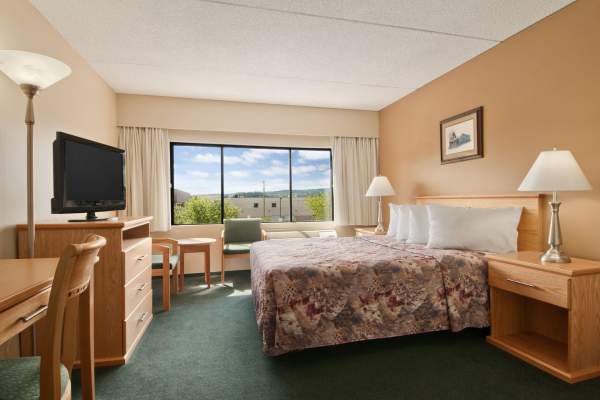 The Canadian outdoors is well suited to camping. No doubt about that. But we all love a warm shower and a soft bed after a few nights in our tents. Every night of our rest days are in hotels with hotel breakfasts included. We also start and finish the tour with hotels in Haida Gwaii and St. John's.
We chose clean, simple 2 and 3 star hotels that are as close to our route as possible. These range from unique, locally run inns, to well known chain hotels.
(Based on double occupancy rooms, single supplement price available).
4. Experienced Expedition Chef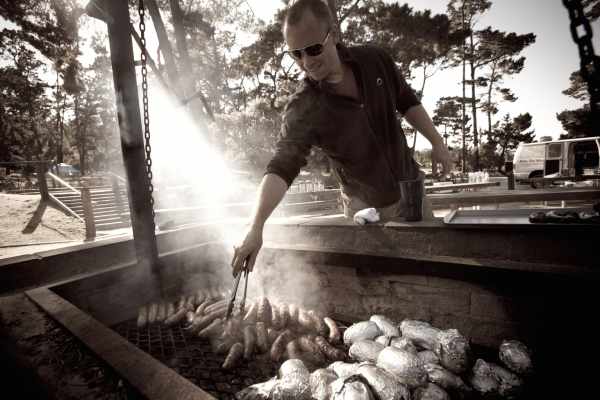 "Great places, wonderful scenery and awesome food everyday." – past participant Rinda Hunt-Davis (South Africa)
On all our cycling tours we pride ourselves in preparing fresh, and above average food for our hungry cyclists. This tour is no exception. We can accommodate a whole range of dietary restrictions, and hire either professional chefs or highly experienced expedition cooks.
We serve nutritious, delicious food in portions that suit the appetites of hungry cyclists.
5. The Benefit of a Skilled Bike Mechanic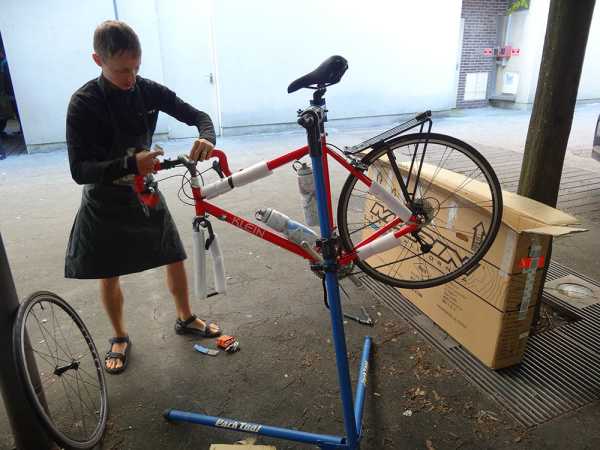 From your first day assembling your bicycle, to emergency repairs, and routine adjustments, the bike mechanic is always one of the most popular people on our tours. Each evening after your ride they will have 'bike shop hours' to care for your mysterious bike noises, and make any other needed adjustments.
6. Detailed Direction and a Marked Route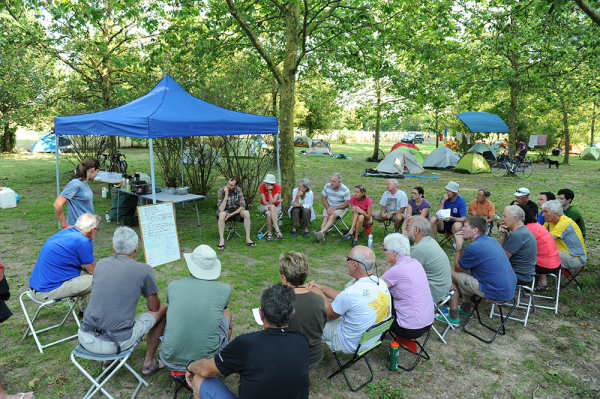 Your tour leader will have a briefing with all the riders each evening to review the next day's route. The turn by turn directions are written on a whiteboard for you to note down. The next day he or she will mark the route with bright flagging tape (biodegradable of course) at key intersections to ensure you find your way.
7. Roadside Lunches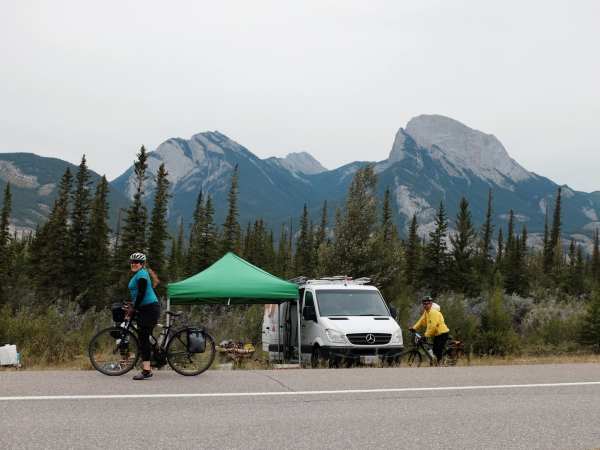 Each riding day, just past the midway point of the day's distance, you will find our van roadside. Sandwiches, fruit, and water to refill your bottles await. It's also a chance to sit on a chair a little larger than your bike seat and review the challenges of that morning's ride with your fellow riders.
8. Sweep Rider, and Vehicle Support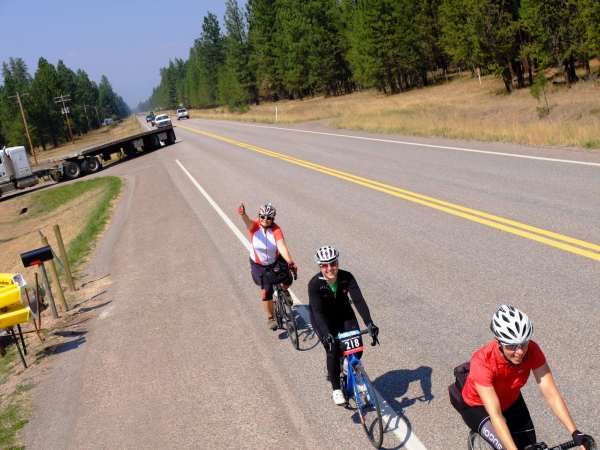 You can ride at your own pace, safe in the knowledge that there is a staff on a bike riding somewhere behind you. Our 'sweep' rider is there to make sure all the riders stay on track and to alert the vehicles if someone is too tired to continue.
9. Scenic Roads, Safety First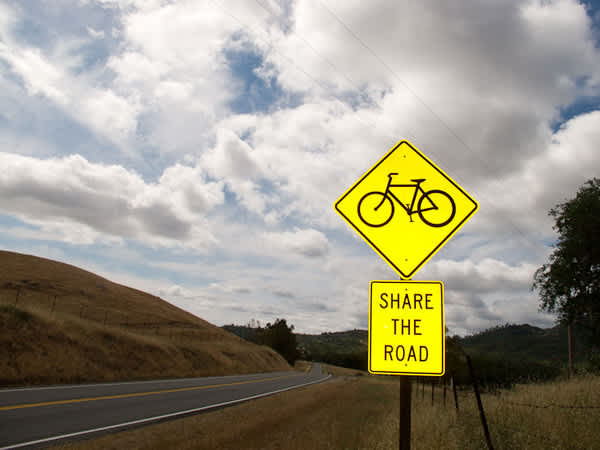 We are spending the months before the tour starts doing a thorough review of the route. We will send a team to scout the route and record turn by turn directions. We always err on the side of safety, and so wherever possible we limit the amount of time spent on the Trans-Canada Highway, and more time spent on the Trans-Canada Trails and other secondary roads.
10. A Challenging, but Doable Daily Distance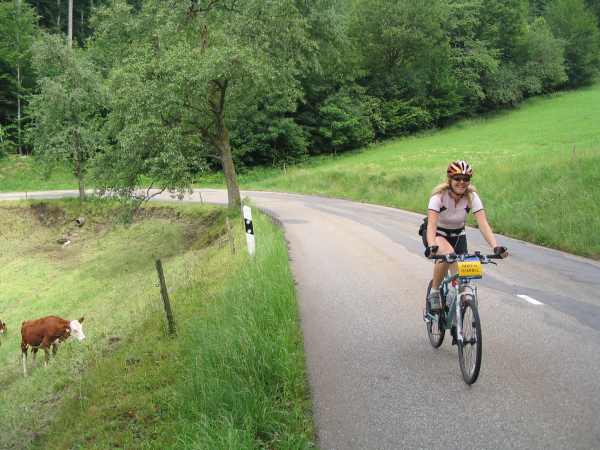 Similar to our tours in Europe, we set the average daily distance so that on many days you will roll into camp with lots of time to relax, clean up, and explore the surrounding towns and scenery. We average 110 km each day – allowing time to relax and explore after your riding day is done. Our longest stage is 175 km in the flat and well paved Prairies.
11. Coastal Loop of the Stunning Gaspé Peninsula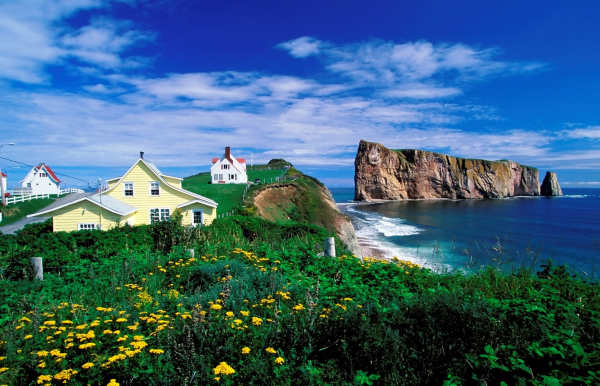 Though less of a direct route, this arc around the Gaspé Peninsula allows us to avoid the main New Brunswick route. Gaspé is rugged and wild but the hospitality and home cooking of the region's small villages will make you feel at home. You can explore Canada's tallest lighthouse at Cap des Rosiers, or do some birding at Forillon National Park.
Further along the peninsula will take us to Percé and one of the country's iconic sights – Percé Rock pictured above.
12. Renowned Cabot Trail route around Cape Breton Island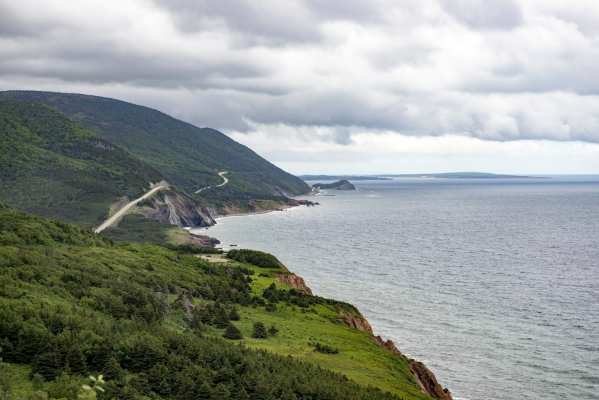 Not to be missed, the Cabot Trail has been routinely listed as a top destination for cycle tourists. It would be a shame to cycle across Canada and miss out on one of its most iconic rides.
13. Local Heritage Celebration Meals Included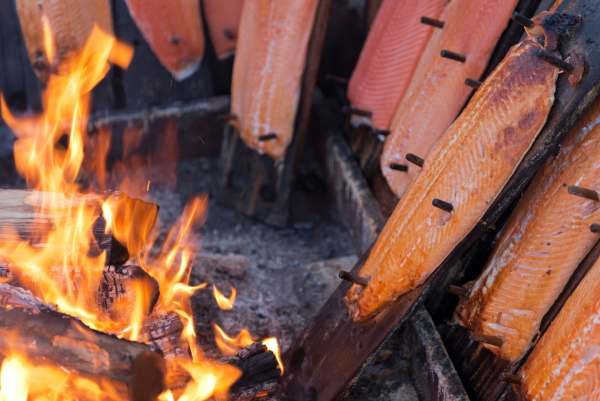 Over the course of the tour we will have six local heritage celebration meals. The first will be our very first camp dinner, where we will celebrate the Salmon, a central part of the local Haida culture. We'll cook it over the fire right by the Pacific Ocean.
The following five heritage dinners will be at restaurants that emphasize local ingredients and culinary traditions. So you can expect some Alberta beef in Calgary, Bison and Bannock in Winnipeg, French market cuisine in Montreal, a Lobster menu in Charlottetown and some amazing Cod in St. Johns. Don't fret if you're vegetarian, we'll take care of you with amazing local options as well.
14. Canadian Experiences Included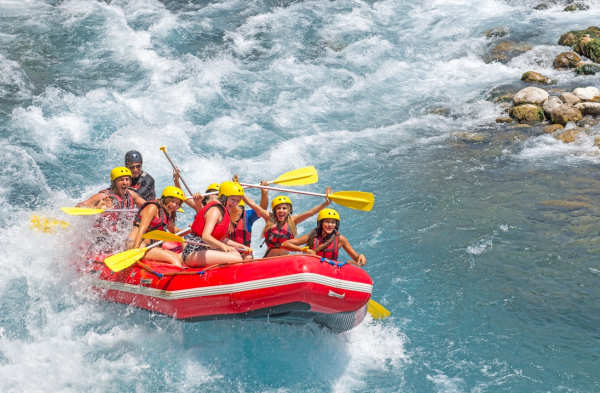 We know it can be hard to investigate all the places we will be traveling through before the tour starts, so since this is our home country we thought we would throw in a few don't-miss highlights… on us.
Haida Gwaii museum in Skidegate, where you can learn about the diverse and unique Haida culture.
A white water rafting trip for everyone on the Athabasca River in Jasper.
A visit to the Museum of Human Rights in Winnipeg.
Craft Brewery tour at Steam Whistle Brewing – Toronto's original craft brewery, located next door to the CN Tower, and the Rogers Centre.
A trip to the Acadian Heritage Village in Caraquet to experience what life was like in traditional Acadian times.
A walking tour of Charlottetown including the Confederation building – the birthplace of what we now call Canada.
15. It's Organized by a Bunch of Canadians
The majority of our team lives and works in Canada. We are excited to share all the unique characteristics of our own country for a change. Our series of trans-continental tours have taken us all over the world, but Canada remains our home. We bring together our experience that made us the leading long distance tour operator and selected the Best Adventure Travel Company by the Independent newspaper in 2015. Check out our Meet the Staff page here.
Registration is now open for the 2017 Oh, Canada! cycling expedition. We hope you will join us next summer.