Blog
REGISTER NOW
LOGIN
SIGN UP FOR OUR NEWSLETTER
First Scholarship Student Prepares for Central American Cycling Adventure
"I don't have a bucket list but my list of goals is a mile long". These are the words of 19 year old Samira Jamily, who was recently selected to participate in our cycling tour in Central America. One of our previous participants, Briton Michael Howard, decided to sponsor five young riders to go on a cycling tour with our company and Samira is the first person to be awarded this scholarship. Young, talented and full of zeal, Samira Jamily was born in Islamabad, Pakistan. She is fearless and full of confidence and is excited to be cycling on the Ruta Maya.
Samira was raised in Canada and joined Charlie's Freewheels when she was 16. Charlie's is a Toronto non-profit that has a build-a-bike program for youth in the Moss Park and Regent Park area of Toronto. Samira enthusiastically tells stories about how she learned the skills needed to build her own bike and describes the confidence she gained as part of the build-a-bike program. Learning the techniques needed to assemble bicycles gave her skills that she is happy to share with others.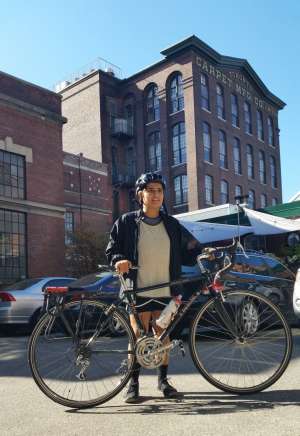 She is quite conscious of the scale of the challenge in front of her and describes not really knowing what to think at this point. When asked what she fears the most, she immediately replies 'Bugs!' Samira also expressed her fear of being too slow, "I am afraid of being left behind by other people and what if I lose my way."
Samira was not able to believe her good fortune when she discovered this scholarship and was actually wondering if it was real or not. Nowadays, she is focusing on buying supplies, training and getting her bike ready for the Ruta Maya.
Samira is quite helpful. She not only assists her peers but also trains newcomers at Charlie's where she volunteers her time. After the Ruta Maya, Samira will return to her studies at Ryerson University where she is majoring in Biomedical Sciences.
The zeal that Samira has for cycling will definitely create opportunities for her in the near future. The team at TDA Global Cycling wishes Samira the best of luck on her cycling adventure in Central America.