Blog
REGISTER NOW
LOGIN
SIGN UP FOR OUR NEWSLETTER
Dirt, Thorns and Lolly Water: Desert Sands and the Countdown to Our Next Beer
Desert Sands, arguably the most challenging section of this year's Tour d'Afrique, has drawn to a close at the Sudan-Ethiopian border. The riders arrived at camp Thursday February 9 after six long and gruelling riding days from Khartoum, three of which were on very corrugated, uneven, sandy and often misleading dirt tracks with lots of little thorns that like to wriggle their way into your tyres (and lots of little kids who like to rearrange the flagging tape or remove it altogether!).
It's not just the dirt roads and corrugation that made Desert Sands so challenging – the heat became almost unbearable, the number of Coke stops dwindled, hot water became the only way to refresh yourself apart from the occasional Pepsi, 7-Up, or other brand of "lolly water", thorns that are just long enough to penetrate your flip-flops and pierce your foot became a reality, people became over-exhausted, meaning our tour medic was overwhelmed with clinic visits, and generally tensions were running very high.
Oh yeah, and the lack of beer didn't help either!
Nevertheless, people pushed on, remained patient when things didn't go as planned, and kept pedalling towards that FINISH flag on the side of the road each day. On our final night of camping before heading back to Khartoum, Kiwi riders Paul and Wendy acknowledged everyone's determination and remarkable efforts with a variety of awards they presented after Rider Meeting.
These awards included the "Best Worst Hair Day", "Most Consistent Rider", and the "Spit the Dummy Award", which from here on in will be passed along to whichever rider absolutely loses it and has an angry episode at any given moment – the title is currently held by a certain South African woman on tour for a "frustrated" moment in the Sudanese desert where a bike may or may not have been thrown and then it may or may not have been kicked a few times as it sat on the side of the road while her husband tried to calm her down…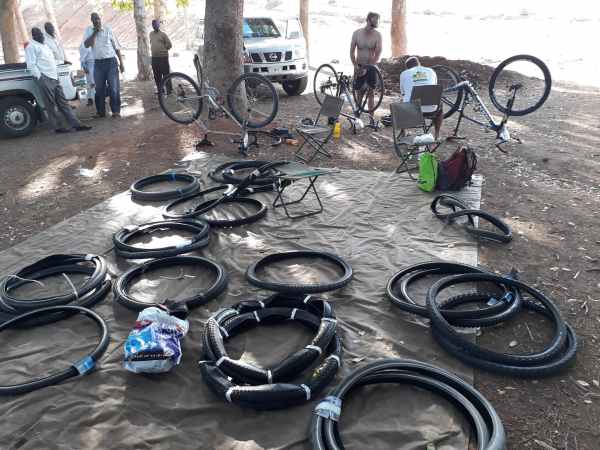 The next day, we all jumped on a big, comfortable, air-conditioned bus (exactly the kind of bus we'd all grown to hate so much as they whizzed past us by the dozens during our first few days in Sudan, blasting us with sand and nearly knocking us off our bikes as we battled the strong headwinds and lack of shoulders on the road!) and drove back to Khartoum for our various flights to Nairobi.
Not only is it nice to be in a familiar place – not a common sensation during the four months spent travelling with the Tour d'Afrique – but it's also extremely comforting to be in a city where the locals treat you as one of their own.
If you ask the riders on tour about some of the standout characteristics of Sudan they've noticed during the last 2.5 weeks, the most common comment is how warm, friendly and hospitable the Sudanese people are.
We've had numerous instances of riders leaving important items behind such as smartphones, GoPro's, bike accessories and purses, only to have them promptly returned by a Sudanese local who inexplicably managed to track us down and give back the item.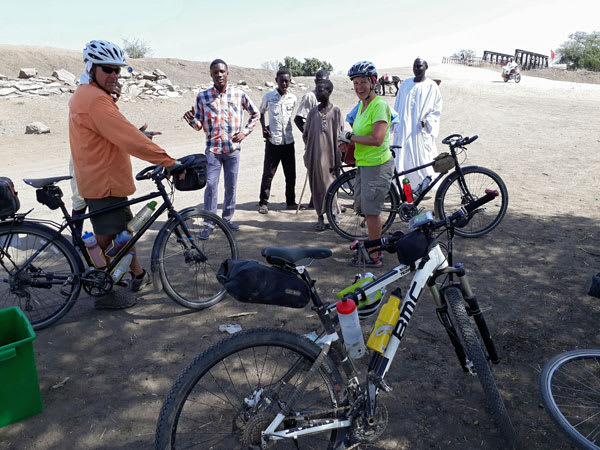 It's normal for our crew members to pull up at a small town with a shopping list of things like tomatoes, cucumbers, bread, water to refill water tanks, diesel, only to have a group of locals ask what we need, split off in different directions, and each return with everything we needed.
When (not if, when!) your vehicle gets stuck in one of the many ditches along the dirt roads, as the dinner truck inevitably does each year at some point, it's never too long before the drivers of other vehicles passing by jump out with shovels, ropes, and various other items to help pull the truck free.
And when you stand in one of the countless small villages dotted along the Desert Sands section trying your best not to stand out (which is hard when you're a six-foot-something white guy wearing a green t-shirt) as you wait for the riders to pass through so you can direct them through town, the locals are quick to come greet you with chai tea and a chair to sit on.
Sudan is truly a place of huge smiles, where it is still normal to honk and wave at people as you pass them on the road, nod your head and introduce yourself to passers-by on the street, and shake hands with the shop owner you just bought a Pepsi off.
Any preconception you might've had that this person is going to try and sell you something after some standard chit-chat (as is normal in many bartering countries) quickly disappears as you realize these people genuinely just want to talk to you about who you are, where you are from, and ask if there is anything they can help you with while you are a guest in their village.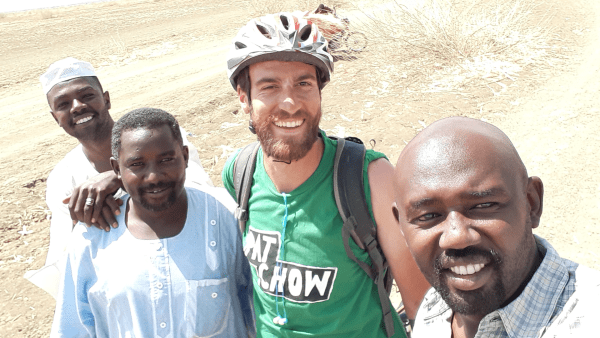 The warm hospitality of the Sudanese people will be sorely missed by all of us here on the 2017 Tour d'Afrique.
Just a quick note on the progress of the racing snakes – our young Zimbabwean rider Charles took home "Section Winner" for the Pharaoh's Delight section from Cairo to Khartoum which concluded last week, with Austrian rider Alex winning the section in the female category. Congratulations to English rider Mark for winning Desert Sands, and to Alex for being the quickest female rider.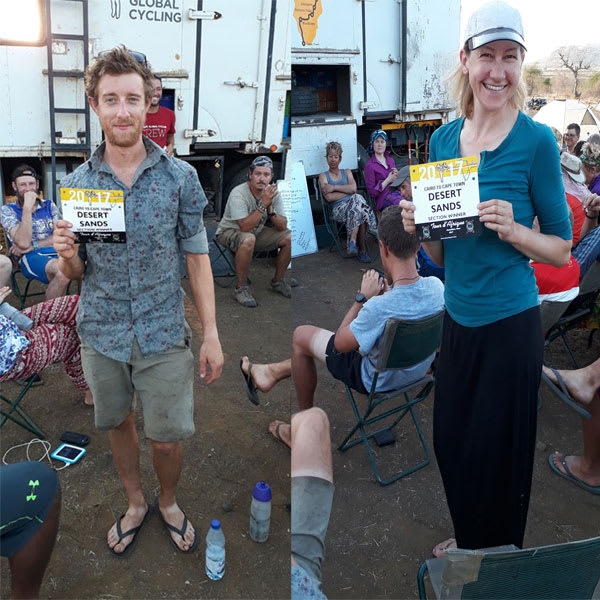 However, since departing Khartoum for the Ethiopian border there has been a shift in the dynamic of the group. Not only do we have Bernd back – our tough-as-nails German rider who unfortunately came off his bike and injured himself on Day 3 of the tour, flew home, and has now re-joined the tour in very good spirits – but also one of our Kiwi riders Murray has stepped up his game big-time for the Desert Sands section, always amongst the first handful of riders to arrive at camp each afternoon.
There has been a rotating cast of "Stage Winner" recipients on these last six riding days, and everyone is excited to see what happens when we have 16 new riders join the group in Nairobi for the next section of the tour.