Blog
REGISTER NOW
LOGIN
SIGN UP FOR OUR NEWSLETTER
"It is not a donkey and it is not horse. Maybe it's a mule."
"Everything has its beauty, but not everyone sees it." – Confucius
"It is not a donkey and it is not horse. Maybe it's a mule." – Gizaw Shibru, Bamboo Road e-bike tester
It was 25 years ago when I attended a bicycle show in Taiwan and came across an e-bike. Being an electrical engineer, I was eager to try it. Mind you, that e-bike was simply a car battery with a motor but it did run on stored electricity. I cycled around the hall and when I got off it, I said to myself this is the future.
A quarter of a century later, if you are a cyclist you have most likely noticed that your neighbourhood bicycle store is probably showcasing one or another kind of e-bike. It is the latest craze; the one that the industry hopes will bring in some dollars. On the other hand, if you are a long distance cyclist, you probably shudder at the thought of using an e-bike on a tour.
My curiosity in e-bikes goes beyond my professional background. The interest is also from my perspective as the owner of TDA Global Cycling. TDA is known around the world as the company that creates extraordinary long distance tours. The New York Times has called us 'Specialist in long-distance trips'. So I have been asking myself, "Is there a room for e-bikes on TDA tours, and if so, how? Is an e-bike an option on existing tours, or should e-bikes have tours of their own?"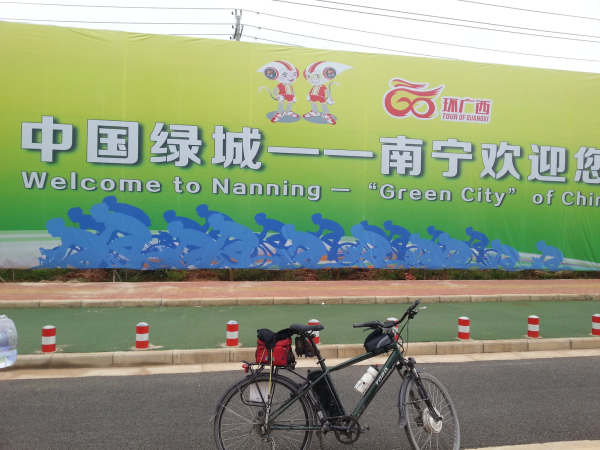 Perhaps the way to start is to figure out what the motivation is to use e-bikes on long distance trips. After all, it is obvious why e-bikes can play an important role in commuting and transporting cargo as I have explained in an article focused on Africa. But why use bikes to cross continents or even on shorter tours like the Bamboo Road, the Pub Ride, Orient Express or other tours now in the planning stages?
There is another reason that is not so obvious, but that I have witnessed myself. Long distance cycling and touring is conceptually intimidating to many people. We all know that. E-bikes are much less so. And as I have witnessed, an individual came on the Bamboo Road with an e-bike, and after a month he announced that his next trip with TDA would be on a regular bike. He realized that he can do it without an 'e' assist.
The purists, including some in our office, will say categorically – no! NO E-BIKES!!! But as Bob Dylan sings, "The times they are a changing". "Resistance is Futile" declared no less an authority than Joe Murray, former mountain biking National US Champion in an article in the 200th issue of Dirt Rag magazine. So with all this in mind, I decided to look for an e-bike to use as a test from Shanghai to Hanoi, a distance of 2,710km. I contacted a manufacturer, Ezeebike, who last year was ranked by the Australian bike magazine RideOn, as the best e-bike in the touring category.
To my great pleasure, the owner of Ezeebike, WaiWon Ching (lead photo), responded within half an hour, and we started a conversation. This resulted with myself, Gizaw – a cycling novice from Ethiopia – and WaiWon being at the start line of the Bamboo Road this past September 23rd. For the next 5 weeks, I and several others experimented, tested, played and generally just used the e-bikes. Gizaw and I cycled each day – including our longest ride of 180 km – with the battery we charged each night in a hotel.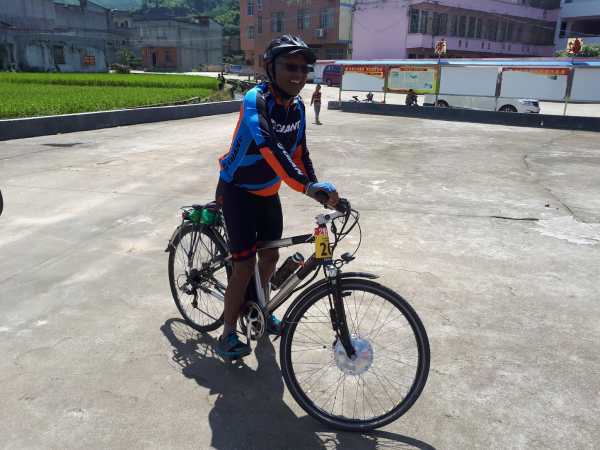 There are of course differences cycling with an e-bike as compared to a traditional touring, hybrid or road bike. The one main thing is that an e-bike is heavier than any bike you have used or lifted, and that can be an issue if you want to put the bike on the roof of a van for example. Being heavier than any regular bike also means it handles a bit differently. E-bikes can also be an issue if, for example, you forgot to charge the battery and it runs out in the middle of the day. That can mean pushing a heavy bike up the hill.
Otherwise, the bike is easy to use,  and great for hills as you do not get tired at all, and it takes little time to get to the top. The e-bike is fun in the same way a motorcycle is fun, meaning you can give yourself a push anytime you need or want. But the main benefit, in my opinion, is that the e-bike allows anyone who wants to have an adventure, to be out there, and to enjoy cycling life and its benefits, be it improved health (yes, latest research shows that even e-biking is beneficial for health), camaraderie, or the joy that comes with seeing new places and having unexpected encounters with strangers all over the world.
The experiment was a success, so where do we go from here? Stay tuned and you will find out.
P.S. If you would be interested in a long distance e-bike tour, or have opinions about the rise of e-bikes, let us know in the comment section below.