Blog
REGISTER NOW
LOGIN
SIGN UP FOR OUR NEWSLETTER
Converting A Bicycle Into An E-bike In Thailand
Sheelagh Daly is the Content Creator on the 2022 Bamboo Road Cycling Tour. She sends this report from southern Thailand highlighting the ingenuity, resourcefulness and unique abilities of our staff to solve unexpected problems quickly.
When things don't go as planned on tour, some creative thinking is required. After spending a month riding through Vietnam and Cambodia on the 2022 Bamboo Road, it seemed rider Karl Siebert wouldn't be able to continue on through Thailand and Malaysia as planned. "I had a medical incident," explains Karl "that meant that I couldn't cycle anymore. But because of the brilliance and left-field thinking of the Tour Leader, Andreas, and the bike mechanic, Max, they've come up with the perfect solution. They said, 'if you can't ride a normal bike, what about an e-bike?' They're going to convert my normal bicycle into an e-bicycle, and I'll be able to continue the tour."
DETERMINING COMPATIBILITY
Once Karl got the go-ahead from his doctor, Andreas and Max needed to ensure converting a Surly Long Haul Trucker into an e-bike, while in Thailand, would be possible. "It helps that [Karl] is on a steel frame, which will generally take bolts for the heavy battery better," says Andreas. "And he has lots of clearance for the motor itself because it's a standard frame, and it's a threaded bottom bracket shell, which is required. If it were a carbon frame or a press-fit bottom bracket, it wouldn't be possible. And also because he's not going to get a throttle on the bike, it doesn't need as many things for the brake sensors, which you would require if you had throttle."
HICCUPS IN THE PLAN
Converting a standard bicycle into an e-bike is something Max has done over a hundred times. But, it's a more difficult plan to execute with a small backpack of tools on the front porch of a hotel in Thailand, rather than in a bike shop back home. The first step was to track down the necessary motor and battery. Andreas found one online from a bike shop in Bangkok that could be transported by bus to the town of Ranong, where the tour was on a rest day. The goods were in hand, but would it be possible to install them? As the conversion process began, Max discovered the mounting points on the downtube weren't in the needed position to hold the battery in place. So it was determined instead that the battery would go on the rear rack. In order to do so though, a drill was required. One was kindly loaned by the hotel's mechanic team, but it didn't have the right size drill bits. After a run to the local hardware store, the battery was securely installed onto the rear rack.
BACK ON THE ROAD
Following a good day's work, all the necessary components were installed, and Karl's traditional touring bike had made the transition into an e-bike. "It's brilliant," says Karl. "It's something I never would have thought of. It's out of left-field and I'm super excited and really happy. Really incredibly happy that I can continue the trip. It's just the best news." It's the first time a conversion like this has been done on a bike in the middle of a TDA tour, so the setup will continue to be monitored in the coming days and weeks. And of course it's of the utmost importance that Karl continue to feel healthy, safe and well. But we're hopeful that a little creativity, a skilled mechanic, and a hint of good luck, will keep Karl on route to Singapore.
RELATED
TOUR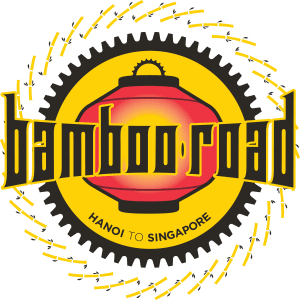 Bamboo Road
Many of us have criss-crossed the countries of South-East Asia on a 'shoestring' over the years, returning home with fond memories. Now we invite...