Blog
REGISTER NOW
LOGIN
SIGN UP FOR OUR NEWSLETTER
36 Hours in Ljubljana: A Cyclist's Guide
This is the seventh in our ongoing series of blogs highlighting the cities along the route of our Trans-Europa cycling tour. Each year we have brought our cyclists to these cities and have learned a few new useful tips for those who might be considering heading there. So whether you are thinking to join our tour or plan on cycling there yourself, we hope this information will be helpful.
Ljubljana
"In the Slovenian capital, a car-free centre, historic architecture, lots of green space and riverbanks lined with cafes, pubs and boutiques." – Alex Crevar, NYT, October 5, 2017
Infrastructure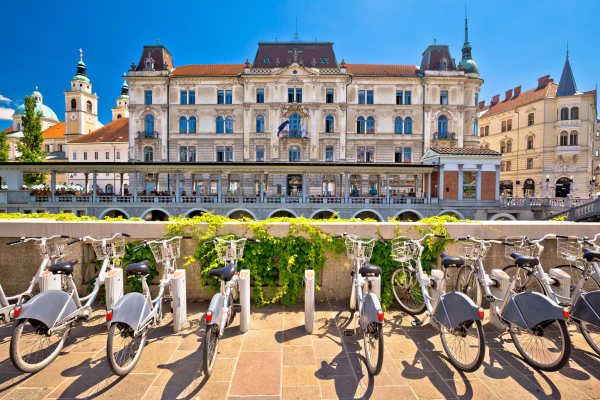 Ljubljana is ranked in 8th place on the latest Copenhagenize Bicycle Friendly Cities Index, moving up from 13th place in 2013. The city has approximately 230 kilometres of well-maintained cycling paths. Cycling is also allowed in the opposite direction of traffic on 70 select one-way streets and also in the pedestrian zone in the city centre. It has also created 4 thematic cycling routes – the Waterside Path runs from the Fužine Castle on the embankments of Ljubljanica through the Štepanjsko naselje and Kodeljevo districts, the city centre (Petkovšek Embankment, Prešern Square, Congress Square and New Square) and ends at the Špica embankment. The Plečnik Path, connects Plečnik's heritage in Trnovo, Žale and Tivoli, and the Forest Path runs around the foot of Rožnik Hill connecting Tivoli Park with Mostec Park. The fourth route, the Path of Remembrance and Comradeship, follows a gravel  trail around Ljubljana and is lined with beautiful shade trees.
In case your bike needs TLC or a day off, Ljubljana, like many cities around the world has a bike share program – BicikeLJ. The 38 stations are set up every 300 – 500 m. It cost €1 to register and the first hour is free.
Ljubljana is also conveniently situated on the popular EuroVelo cycling route – #9 The Baltic – Adriatic Cycling Route.
Community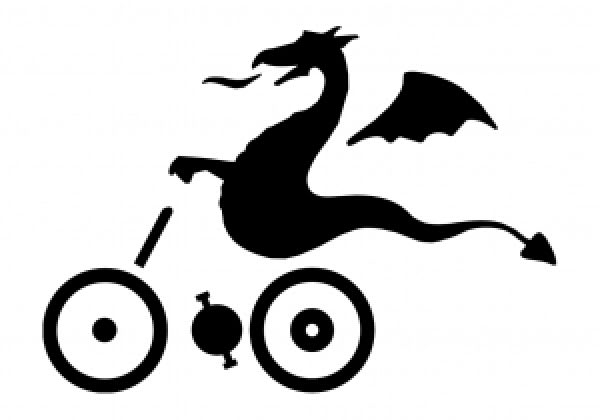 The Ljubljana Cyclists Network is an NGO based primarily on volunteer work, whose goal is a gradual but radical change in the perception of urban traffic – with cycling as one of the most important components – as well as tangible legal and infrastructural steps toward a sustainable and less polluted and friendlier environment.
Support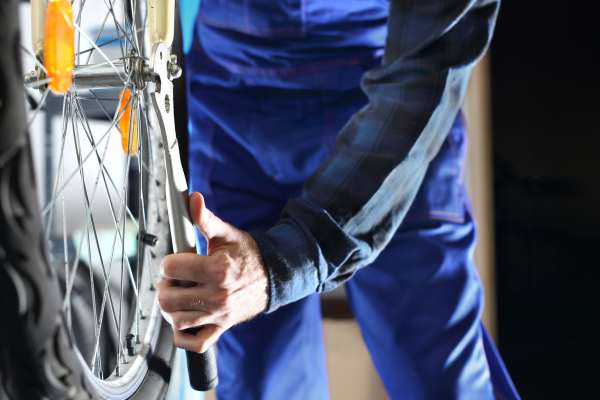 Is your bicycle sounding a little off? Ljubljana has a number of quality bike repair shops. Try Victor Market but keep in mind they, as well as other local repair shops, are closed on the weekends.
>>Learn more about our Trans-Europa bicycle tour that includes a rest day in Ljubljana
Sightseeing
The best way to experience Ljubljana, or anywhere else for that matter, is with a bicycle tour. Enjoy a city tour with Watermelon Ljubljana By Bike or maybe get up early to experience Ljubljana Bike Tour's Sunrise and Bird Singing Tour – "experience the flat Ljubljana marshes area where we will, with a bit of luck, observe birds and animals in a natural park. After exercise food always tastes even better and this will be the  right time to grab a traditional Slovenian snack." Those looking for a little more challenge can tackle Roundabout's selection of  Mountain Bike Tours, ranging from 1 1/2 hours to 3 days.
Rest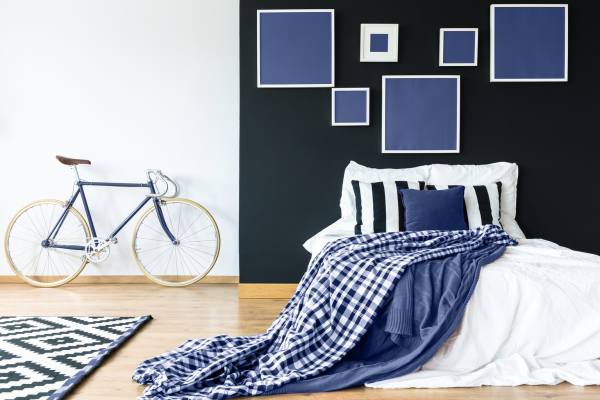 Ljubljana, as befits the 2016 European Green Capital, has a number of bike friendly hotels. Check out the City Hotel which offers a free 3 hour bicycle rental to its guests.
A completely different option is the Bicycle Apartment which offers a bicycle themed decor and free bikes to use around the city.
Campers can head to the Ljubljana Resort located about 6 km north of the city centre. It features camping, mobile homes, a hotel and a swimming pool.
Eat, drink, relax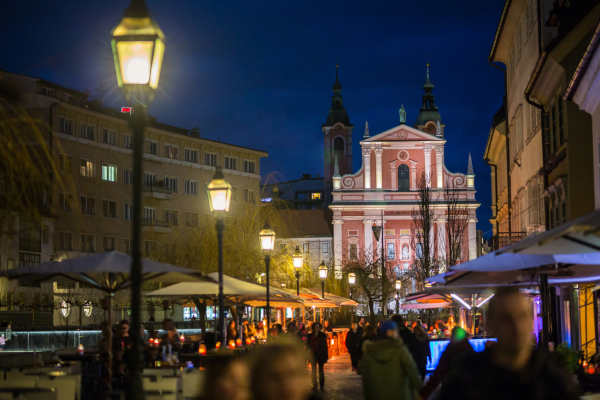 After cycling past many of Ljubljana's beautiful sights, it is time to grab a bite to eat. If you find yourself in town on a sunny Friday, make sure you pedal down to the Odprta Kuhna (Open Kitchen). Hundreds of stalls offer cheap food samples from some of the city's very best establishments as well as stalls selling many cuisines that you might not otherwise find in the city. A phalanx of beer and wine stalls adds to the convivial atmosphere.
To wash down your culinary treats head to Union Pivnica, located in the cavernous former worker's canteen of the Union brewery, one of Slovenia's two major breweries. It offers 10 different draft beers, including one brewed exclusively for the pub each week. Still hungry? Try a couple of their delicious beer sausages. Alternatively, try Dvorni Bar to sample some of Slovenia's unknown and under appreciated wines.
Hidden Gem
If you are cycling in the hills east of Ljubljana be sure to keep your eyes peeled for Trojane Doughnuts. Based on the recipe of Rajka Konjšek, the former owner of the inn Pri Konjšku na Trojanah, who began making doughnuts in 1961, these treats are famous across Slovenia and will give riders the energy to tackle the region's rolling hills. Large numbers of local cyclists stop in on their training/group rides.
The Trans-Europa in Ljubljana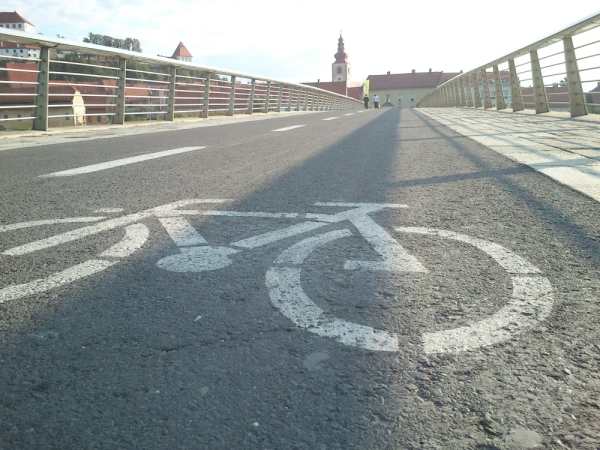 The riders of the Trans-Europa cycle into Ljubljana from the east after a quick 60 km ride from Prebold and stay at the City Hotel. The riders head out of the city to the south in a convoy for 3.5 km before turning west towards Italy and their next rest day in Venice. Be sure to check out our 'Cyclist's Guide for Venice' coming next week.
For more information on Ljubljana, please see 36 Hours in Ljubljana, Slovenia – New York Times
Experience Ljubljana on the 2018 Trans-Europa Cycling Expedition.