Blog
REGISTER NOW
LOGIN
SIGN UP FOR OUR NEWSLETTER
Our new website
We are excited to show you our new website. A long time in the works, we hope that this new design will do a better job of sharing the feeling of completing one of our amazing cycling tours. It is, for the most part, a visual update. There are, however, some important changes and new additions we would like to highlight.
New Tour Finder
The Tour Finder has been completely redesigned. It now uses filters, which you are likely familiar with from other websites. You can filter the list of tours by Continent, Tour Type, Duration, Accommodation type, Difficulty, Far Out Factor, and Year. Take a look and find the tour that's right for you! The Tour Calendar remains as before.

Tour Types
We've also sorted our tours into three types (Touring, Adventure, and Expedition), to provide a quick and easy way to differentiate between our wide array of offerings.
Touring is our less extreme option with lower daily distances. Adventure covers a bit more distance per day, and travels to some more far flung destinations. Expedition includes our most grueling routes with more kilometers, climbing and less access to basic amenities en route. Read more about Tour Types here, but feel free to start with whichever tour interests you most – regardless of the tour type.
More Details on Tour Sections
The new tour pages list the number of hotel and camp nights just as before – but now this information is provided for each individual tour section as well.
Currency Converter
This has been a much requested feature – the ability to set a currency of your choice. Wherever a tour entry fee is displayed, you will see a question mark ? next to it. Click on that, and you will be able to select from USD, CAD, EUR, GBP, AUD, NZD, ZAR. The currency converter is also accessible in the footer at the bottom of every page. The setting you choose here will apply across the site. Just keep in mind that this is for informational purposes only – all tours are priced in either USD or EUR – if paying in a different currency, payment must be made using the official daily exchange rate at time of payment.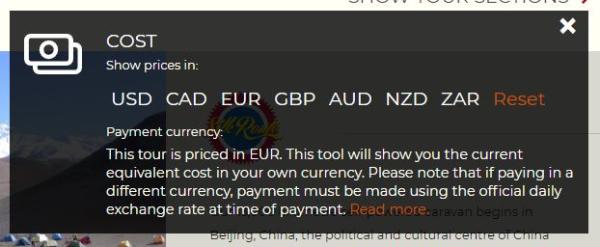 Updated Visual Design
Easier to read blogs
The blog layout has been revised to be easier to read, and to allow for greater visual impact.
Larger photos
Across the site, but on the tour pages and blog in particular, photos have been enlarged as much as possible. Photos are the easiest way to share the amazing places we go, and this change will do them more justice.
Easier navigation
The menu is now persistent at the top of your window. It will disappear when you are scrolling down, and re-appear when you scroll up. This will prevent the tedious need to scroll all the way back up to the top to get to a new page.
Faster loading
The entire re-design has also been aimed at improving loading times across the site, to get you where you want to go sooner!
Downloadable tour schedules
Another much requested feature. Now, each tour page has an option to download the detailed itinerary. Simply enter your email address, and you will be sent the detailed day by day schedule of that tour.

Tour leader bios
We've updated the Our Team page with new biographies of our tour leaders and office staff. We recognize the importance of having a great leader on your tour, and we hope that these bios will give you as much confidence in them as we already have!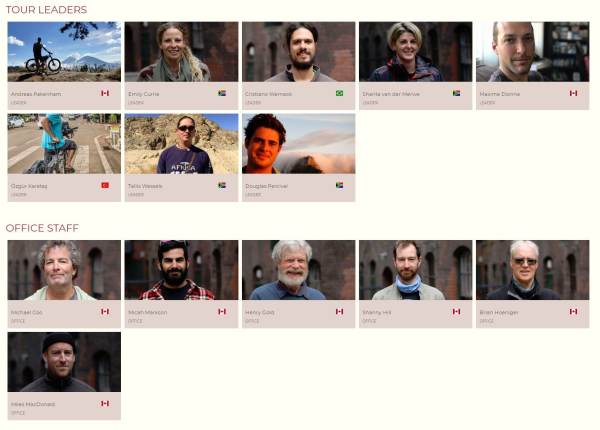 Enjoy!
Please click, browse, and get acquainted with the new site. If you can't find something where it used to be, or have any other issues or feedback, please let us know.