Blog
REGISTER NOW
LOGIN
SIGN UP FOR OUR NEWSLETTER
Parts 7 & 8 of our 8-Part Video Series – Cycling Cairo to Cape Town
"Listen, about four and a half clicks down the road, there's two elephant bulls. One on either side of the road. Don't hang about, just keep cruising on."
Just another day on the Tour d'Afrique riders enter Botswana on the infamous Elephant Highway.
Part 7 – Victoria Falls, Zambia to Windhoek, Namibia
The sightings of the lumbering beasts keeps riders sharp on the otherwise flat straight roads skirting the Kalahari Desert.
After camping near the Makgadikgadi Pans Game Reserve they arrive at northern Botswana's largest town, Maun. The cycling then continues along the Trans-Kalahari Highway, including "the Longest day" at 208 km, towards the border of Namibia, a country whose stunning arid landscapes are one of the world's best kept secrets.
Part 8 – Windhoek, Namibia to Cape Town, South Africa
From the capital of Namibia they head further west into the unique lunar-like landscape. On mostly gravel roads they are reminded that this trip is not yet done and challenges remain.
Entering South Africa it becomes increasingly hard to not start looking ahead to the finish and what comes next after Cape Town.
"When we reached South Africa… this is the last week… We felt the emotion in the last stretch."
And soon enough Table Mountain appears in the distance and like that it's done. Four months and over 11,000 km in Africa.
Hats off to filmmaker Laundon Peacock for putting this series together. Through broken lenses, illness, limited internet/electricity, and bad weather he was able to produce something that we feel gives everyone a great insight into what it's like to cycle the Tour d'Afrique.
RELATED
TOUR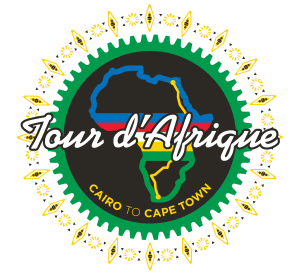 Tour d'Afrique
Our original trans-continental journey and flagship expedition crosses Africa from north to south and covers almost 8700 km in just over 3 months...