Blog
REGISTER NOW
LOGIN
SIGN UP FOR OUR NEWSLETTER
Choosing a bike for a supported cycle tour
HOW TO PREPARE: An 8 part series to get you ready for your first TDA tour. Click here to read more.
The most common question our customers ask before a tour is, "What bike should I bring?"
We've created a video with some advice on choosing a bike for one of our tours. However, these tips also apply to anyone planning for a supported cycle tour of a week or longer. Go ahead and click play, or read on below for more details.
Things to consider
There is an almost infinite list of things to consider when choosing a bike, especially one that you'll be riding all day, day after day, for weeks or months in a row. We've broken down these decisions as follows:
Bicycle type
Durability
Tire clearance
Gearing
Bike fit
Saddle
Handlebars
Pedals
Suspension
Carrying your gear
Recommended bikes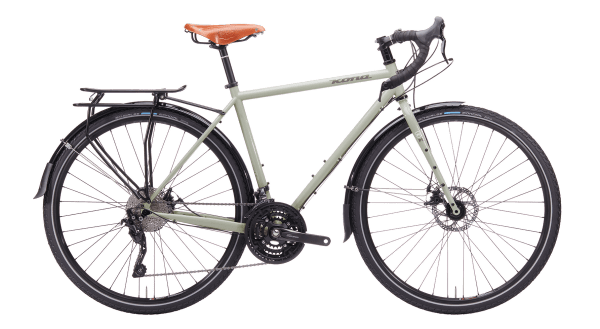 Types of bikes
A 'touring bike' is not the only option. The type of bike you choose will partly depend on what type of handlebars you like.
Bikes with drop bars
A 'touring bike' is, as expected, one of the most common choices. These bikes are designed to cover long distances, to be very durable, and to carry lots of gear. On a supported cycle tour, while you won't use the full extent of these capabilities, a touring bike is always a good choice.
The next kind of bike is what we call a cyclocross or gravel bike. There are differences between these two categories, but overall are somewhat comparable. These may appear at first to be similar to a touring bike, but are typically designed a bit more for speed than for comfort and durability. They are a good choice for anyone used to riding a road bike, but who needs something a bit burlier for a tour.
Note that we do not recommend narrow tire road racing bikes for any of our tours.
Bikes with flat bars
People often don't think of hybrids as a good choice for touring. They are certainly not designed to the same level of durability and capability of touring bikes, but for supported cycle tours, they can be a good choice. A hybrid with a flat bar is a good choice for anyone who likes a comfortable, upright position, or who 'just wants a bike'. They are also often available with front suspension.
A hardtail mountain bike can also be a good option. It is a particularly good choice for any tour where extended portions of the route will be on dirt roads. And for paved sections, you can easily switch back to a thinner set of tires to regain some speed.
Three key elements of bike selection
1. Durability / frame material
Steel frames are well known for their excellent durability, and smooth ride quality. This is our preferred frame material.
Aluminum frames are also a good choice. While they are lighter than steel, they also are typically less durable and a bit less comfortable.
We do not recommend carbon frames for touring. Although newer carbon frames are less delicate than they used to be, they are still more susceptible to damage from smaller things like falling over onto a rock, being carried in vehicles, and so on. In our experience, touring with a carbon bike tends to become a source of stress and worry for the rider. Having said that, a minority of TDA riders do use them, and you can do so if you accept these risks.
2. Tire Clearance
For the vast majority of our tours, we recommend bikes with clearance for at least 40mm wide tires. Even for tours on paved roads, you never know when you'll come across a detour, broken pavement, or construction, and you'll appreciate the extra comfort.
On some tours you may want to bring two different sets of tires for varying road conditions. This can be a thinner set around 35mm wide, and 40mm (or wider if your frame will allow it) for dirt sections.
3. Gearing
On a long bike tour, it's very important to have gears easy enough to allow you to spin up hills. The gears that you might be comfortable using at home, when you tend to have a few days to recover after a ride, may not feel the same when you've been riding five or more days in a row.
Many bikes actually come with gear ratios designed for racing, and others now have only a single front chainring. Whether you go for something with a triple crankset, or a double with a wide range cassette, it is essential that the easiest gear is one you'll be comfortable in on the steepest climbs, and that the hardest will allow you to pedal along happily whenever you find a nice tailwind. Some bikes with the newest single chainring, 12 speed drivetrains do provide a total gear range comparable to a double or triple crankset – just keep in mind that whit this setup, you will be giving up either a little bit of hill climbing ability, or a little bit of top-end speed in exchange for the mechanical simplicity. Look for the biggest cassette size available – 50, 51, or 52 teeth.
More choices
Now that you've settled on those basics, there are a few other options that, while based on personal preference, are still very important.
Bike fit
Whichever bike you choose, it's a great idea to have a bike fit done at your local shop. During this process they will help you achieve a comfortable riding position by adjusting your saddle, handlebars, etc.
Saddle
There are thousands of types of saddles available, and finding the right one is an entirely personal choice. Your bike shop should be able to help you with this. Most bike shops will have a device which can measure the width of your sit bones, and this will help you learn what width of saddle you should look for.
The most important thing is to make sure you have a saddle that is comfortable, and that you've already spent plenty of time riding on before your trip. Many people will tell you about a particular saddle they have, how much they love it, and how they have used it for years and their bum has never gotten sore. When you hear these stories, keep in mind that everyone's body is different, and the saddle that works for one person may or may not work at all for someone else.
Handlebars
You'll have to choose between flat and drop handlebars. Again, this choice is up to you. We always suggest sticking with what you are already used to riding. People often think that you need to use drop bars for long rides, but that is certainly not the case. Your bike shop may also have other more unique options, as well as various grips, extensions, and so on to add comfort, and to give you more hand positions.

Pedals
You can choose between clip-in or flat pedals. Either choice is perfectly fine, but again you are better off sticking with what you know. If you choose flat pedals, using shoes with a stiff sole will help prevent your feet from getting sore. And if you choose to clip in, make sure that your shoes are also suitable for walking, as any long bike tour will have plenty of off-bike excursions along the way. Road bike pedals are not advised as the clip protrudes too far from the shoe and is susceptible to rapid wear, and makes walking very difficult.
Suspension
For tours on rougher roads, you may want to look at front suspension. If possible, a fork with a lockout is preferable. There are also options for seatposts and stems with suspension built in. But most riders will be happy with just the cushioning provided by their larger tires.
Carrying your gear
On a supported trip, most of your gear will be transported in the tour vehicles. But you still need to carry a few things like extra clothing layers, rain gear, tools, and water. You should always be able to carry at least two water bottles, whether in bottle cages or elsewhere, but on some tours you might even want three or four. For your other gear, there are countless options from bikepacking frame or seat bags, to handlebar bags, or even a rack with a pannier.
Recommended bikes
The following four bikes have been common choices among past TDA riders, and any one of them would be a good choice. But they can be taken as examples – there are plenty of slightly different models, or even similar bikes from other brands, that would also be suitable.
Kona Sutra (touring bike)
Salsa Vaya (gravel bike)
Trek Dual Sport 4 (hybrid bike with front suspension)
Specialized Rockhopper (hardtail mountain bike)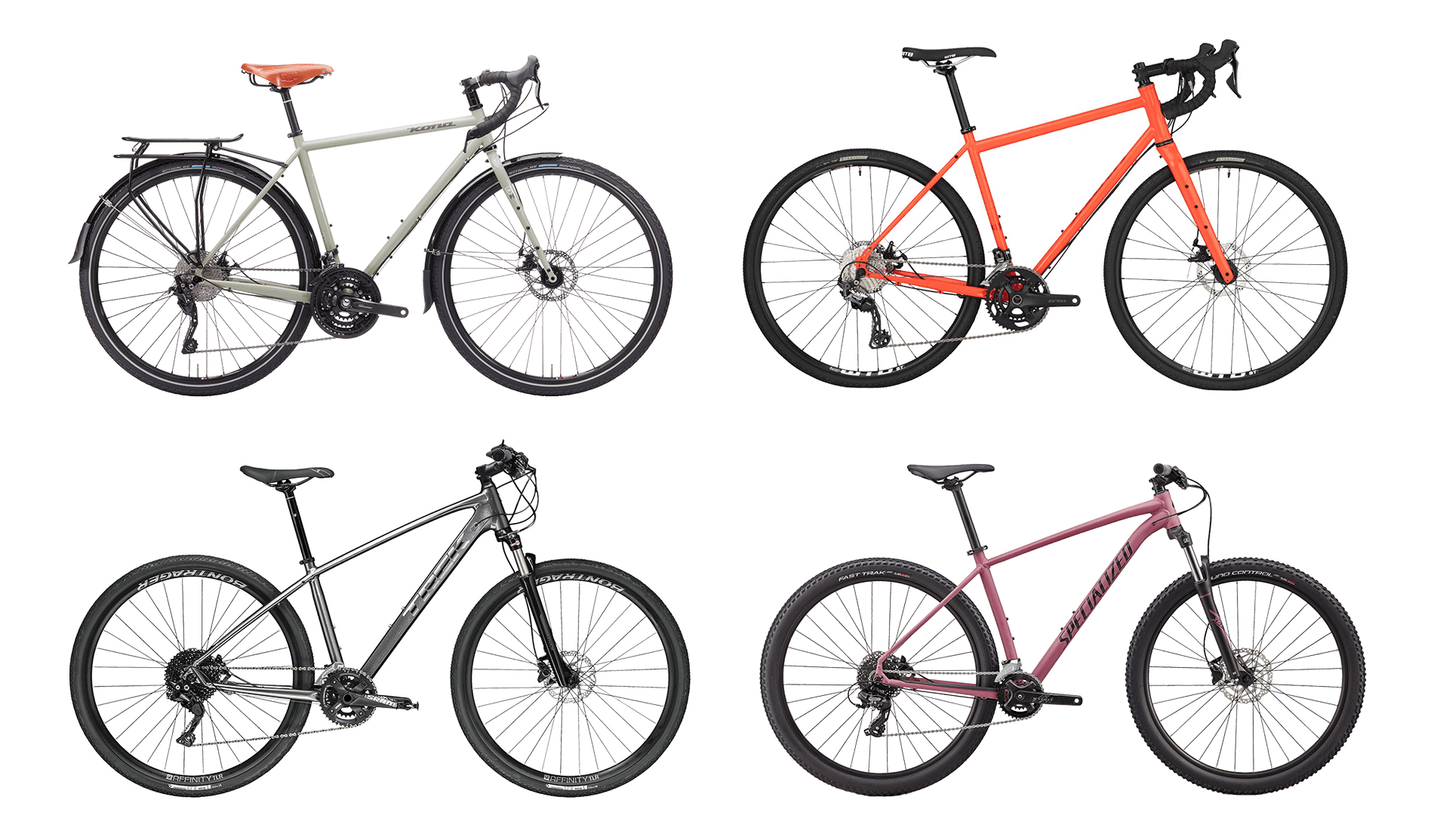 Conclusion
One last thing to consider is the risk of damage or theft during your trip. For those reasons, we prefer bikes that are not too expensive. This will help you relax and not worry about your bike being locked up at night, and let you focus on the ride.
Whatever bike you choose, make sure you have it well in advance of your tour, and get plenty of miles on it too. You don't want any surprises when you set off on your next adventure!
Special thanks to Sweet Pete's Bike Shop for their help in producing this guide.
How to Prepare
An 8 part series to get you ready for your first TDA tour. Click here to read more.