Blog
REGISTER NOW
LOGIN
SIGN UP FOR OUR NEWSLETTER
The best tires for cycle touring: Schwalbe Marathon
HOW TO PREPARE: An 8 part series to get you ready for your first TDA tour. Click here to read more.
After 'What bike should I Bring?', the next most frequently asked question while our clients prepare for a tour is, 'What tires should I use?'. For years, we have simply replied, "Easy, Schwalbe Marathon." There is good reason for this, as you can read about here and here.
Why Schwalbe Marathon?
So what are these reasons? The biggest reason is that these are tires designed specifically for touring. They are not designed to be the lightest, fastest, or smoothest tires on the market. The other main reason is that the tires are made in a vast range of sizes and widths, so you are almost guaranteed to be able to find one in the right size for your bike. And lastly, the simple answer is that since 2003 the Marathon has been by far the most widely used tire across all of our tours, and riders using them have also had by far the best results.
Which Schwalbe Marathon?
Now, if you click over to the Schwalbe website, you will see that there are currently 13 variants of the Marathon lineup. Yikes! So which one do you choose? Out of this lineup, there are three tires that I recommend to most people, depending on their individual circumstances. Read on to find out more.
The Marathon Plus was, for many years, the default choice for many touring cyclists. And today it is still very popular. This tire provides the highest possible level of puncture protection, which Schwalbe calls SmartGuard. This is a "substantial, 5 mm thick layer of flexible, special india rubber." The tread of the tire also uses a harder compound which lasts longer than most other tires. Cycle tourists have been known to ride a set of Marathon Plus tires for 10, 15, or even 20,000km before replacing them. This tire is a good choice for riders who want to have as few flats as possible. This does come at a cost, however. The Marathon Plus tires are both heavy, and stiff. If you are the type of cyclist who doesn't care much about gear and want your bike to 'just work', then this is a good choice. Others, however, may find the Marathon Plus to feel slow, and may notice the increased stiffness on bumpy roads. When I have used these in the past, I would tend to run about 25% less air pressure to compensate for the bumpier ride.
The Marathon Mondial is a bit lighter than the Plus, but also has more knobby tread. They use a thinner protection layer than the Plus, but these are my default recommendation for any cycle tourists who expect to ride on a signficiant amount of dirt roads. The tread is designed with bigger knobs on the edges, and more closely spaced in the center of the tire. This closely spaced section, combined with the more reasonable weight, means that the Mondial rolls slightly faster than the Plus. It means they can also be used for tours on mostly paved roads, where they will provide the assurance that you are prepared for any rough pavement or dirt detours that may appear along the way. This tire is a good choice for the rider who wants a bit of a smoother ride, while also being prepared for any potentially varied road surfaces on their route.
The Marathon Supreme is a much lighter tire than both the Plus and Mondial, and has almost completely slick tread. While the Supreme is again once step down in protection, it is still more puncture resistant than a regular tire. This tire is a good choice for riders who are used to a road bike with thin and light tires, but want just a bit more protection for their tour. This tire is definitely only recommended for tours on paved roads, and with pavement that is mostly in good condition.
Two more options
There are two more tires I would like to add. While these are not as popular as those mentioned above, they are still good choices for certain riders. If you like the serious protection of the Marathon Plus, but need more tread for riding on dirt, take a look at the Marathon Plus Tour. And if you are on a tighter budget, but still need a good all around touring tire, the regular Marathon HS 420 is a good choice.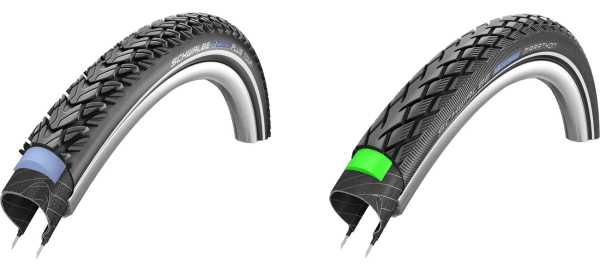 Tire size
So now that you have chosen a tire, what size should you get? Again, this will depend on your circumstances. For most cycle tourists, riding on mostly paved roads, 35c is a good width. Those looking to go faster at the expense of comfort can go down to 32c, but I don't recommend any sizes smaller than that. For tours on a mix of dirt and pavement, 40c is a good choice. And for those riding on very rough dirt roads or trails, the bigger the better! Just be sure to check what size will fit within your bike frame.
I hope that this guide has been helpful. If you have any questions or suggestions, please leave a comment below.
How to Prepare
An 8 part series to get you ready for your first TDA tour. Click here to read more.