Blog
REGISTER NOW
LOGIN
SIGN UP FOR OUR NEWSLETTER
The Bicycles Of The 2020 Tour d'Afrique
While we have recently published an updated 'What bike should I bring?' blog and video, we thought it would also be interesting to examine a cross-section of the actual bikes that our riders have chose. Here are some bikes that the participants are riding on the 2020 Tour d'Afrique.
Drop bar bikes
Lynskey Pro Cross
MEC National
Focus Mares 6.8
Cube Nuroad Exc
Vivente Deccan
Salsa Cutthroat
Specialized AWOL Expert
Flat bar bikes
Trek 4900
Cannondale F-Si Hi-MOD 1
Price Point Guide:
$     under $1,000
$$     $1,000 to $2,000
$$$     $2,000 to $4,000
$$$$     over $4,000
Kit Campbell, Canada
Titanium cyclocross bike with suspension fork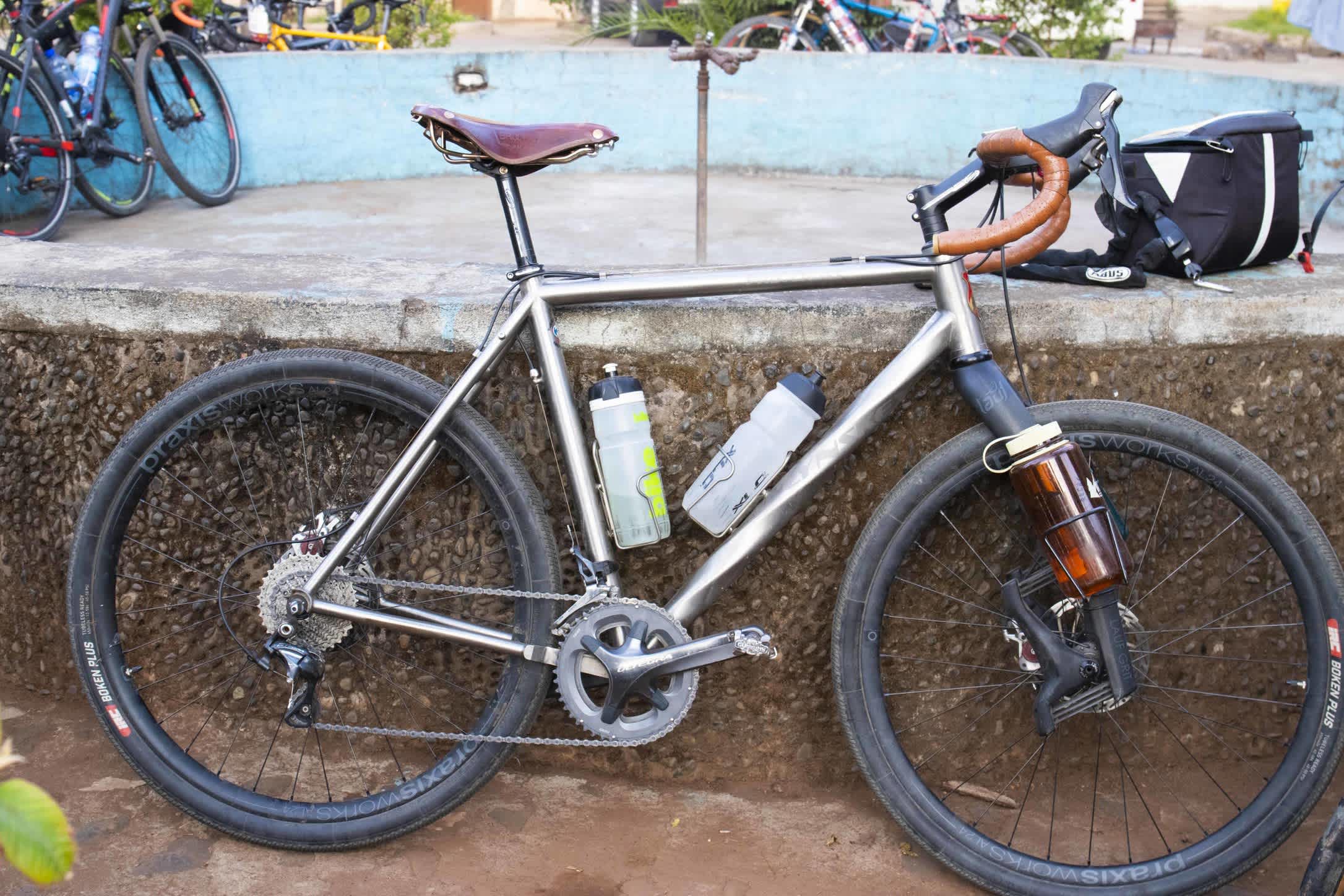 Kit bought the Pro Cross a number of years ago and has done three self-supported bike tours in Europe on the bicycle. He recently added front suspension and decreased his wheel size to accommodate a larger tire in preparation for the trip. He likes that the Lauf suspension fork allows him to ride a cyclocross bike with front suspension. He believes that the added suspension and wider tires have saved him from a couple of bad situations when he had to quickly jump off the road to avoid an oncoming vehicle. Kit also has raised the stem on his bike and likes that this allows him to sit more upright. One thing he sometimes finds frustrating about his set up is that his gearing is more for climbing and doesn't allow him to move as quickly as he would like to on the flat sections.
Specs:
Front Fork: Lauf Grit Carbon Suspension fork
Wheel Size: 650b, fits up to 47mm tire
Titanium frame
Front Gearing: 46/36t
Price Point: $$$$
Rob Keyes, Canada
Steel touring bike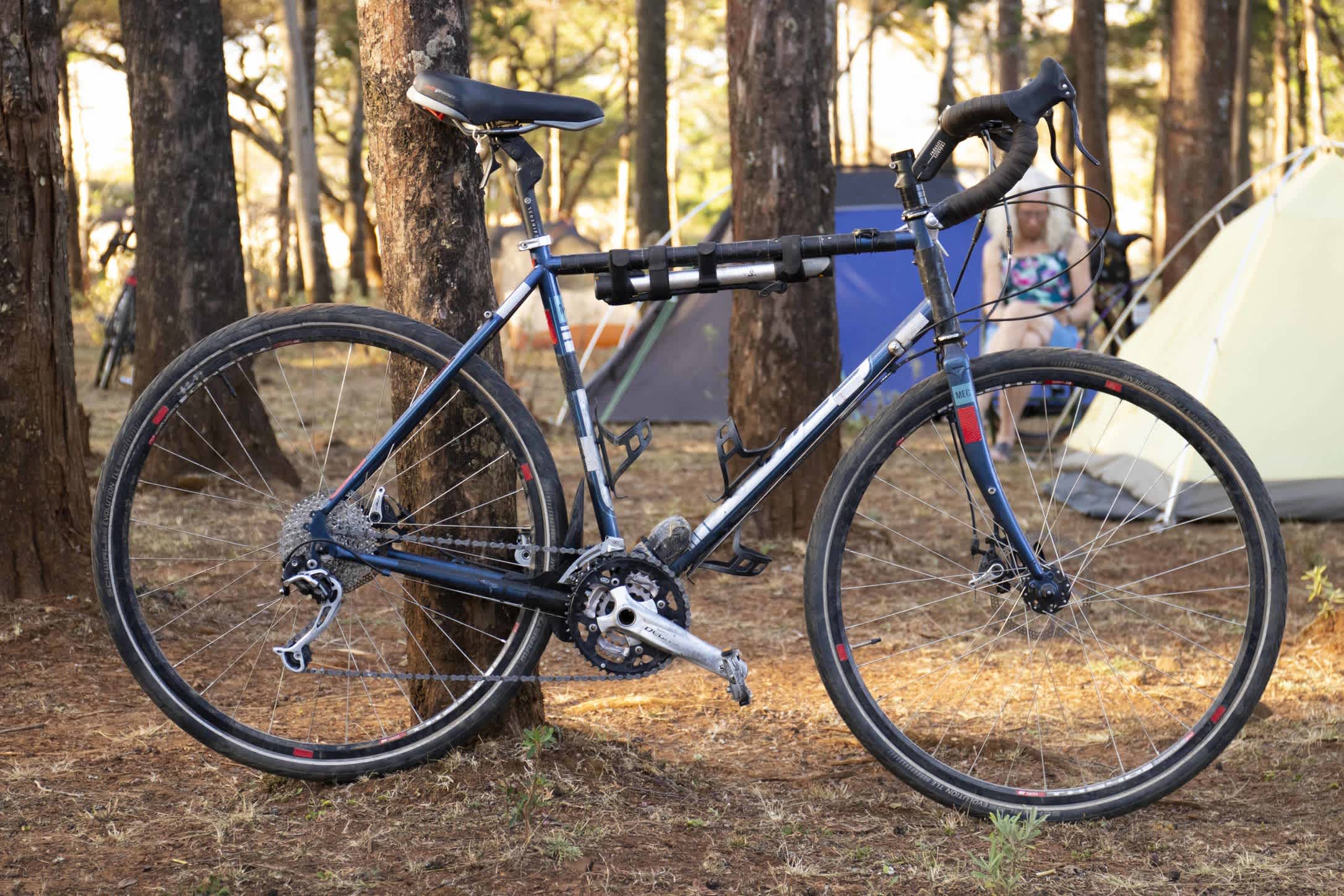 Rob's bike is a steel bike that is in between a cross bike and a touring bike. He considers it to be a touring bike because of its weight, however it has the look and feel of a cross bike. He has previously used this bike on self-supported touring and it has held up very well. He likes having a bike with a steel frame because it is durable and easily maintained. One downside to this though, is that the bike is very heavy. This doesn't seem to be too much of an issue for Rob though, as he is usually the first rider into camp.
Specs:
3 x 9 set-up
Fits up to 48mm tire
Steel frame
Price Point: $$
Brigitta Varadinek, Germany
Aluminum cyclocross bike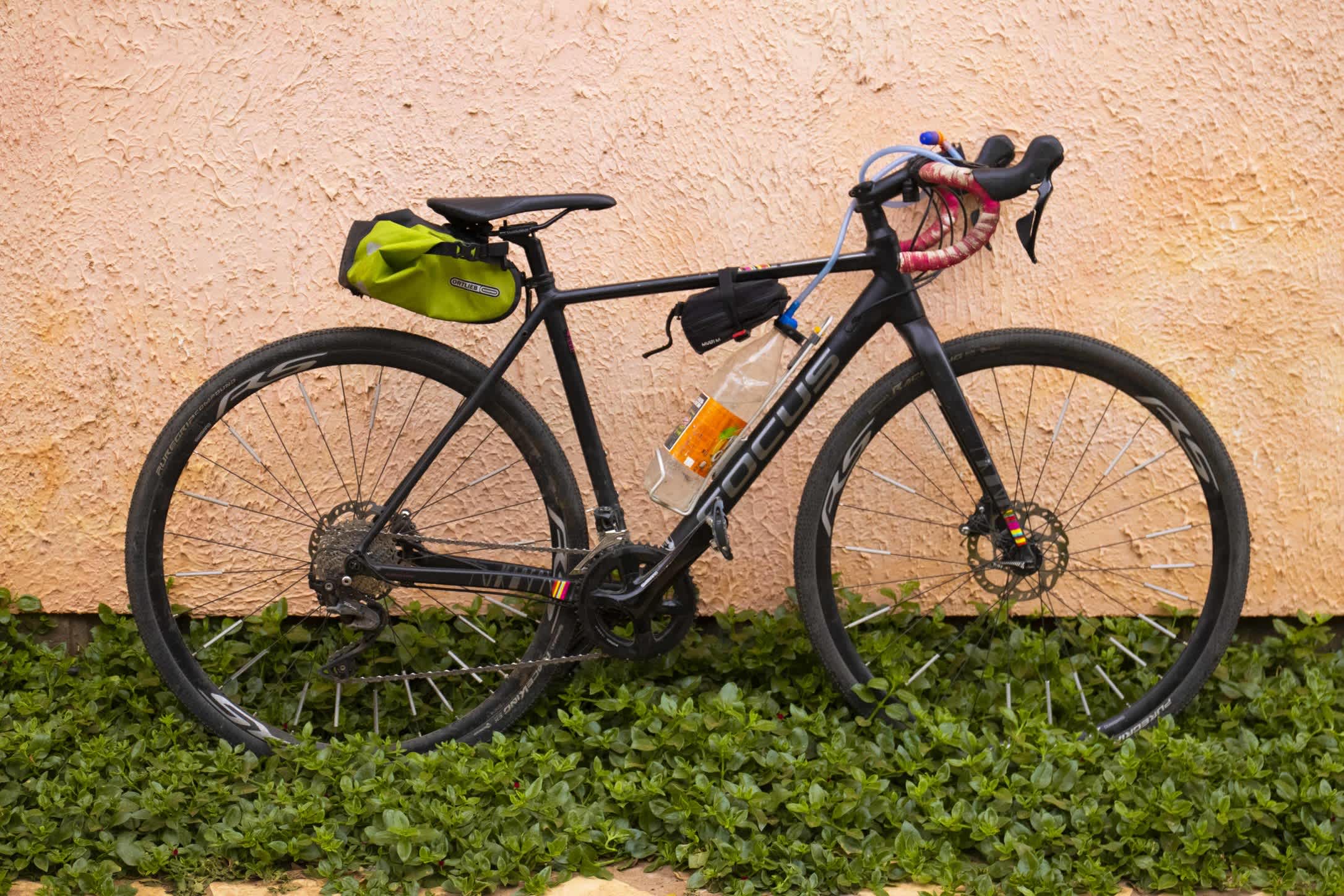 Brigitta bought this cyclocross bike in preparation for the tour. She already had an older road bike and touring bike (with front suspension) but she wanted something a little bit different. Brigitta was looking for something that would be quite quick like a road bike but could fit larger tires. She wanted a bike that would move quicker than her touring bike. Because she is quite small, she didn't have a lot of options at her local bike shops and ended up going with the Focus cyclocross bike. She is happy with her decision. Brigitta likes how fast her bike is on smooth roads and doesn't care so much about not having a front shock. There have been a couple days where the roads were quite rough and admittedly, she would have liked to have one, but over all she is quite happy with her decision. One thing she would change is her gearing set up. The gears that she has on it now make it quite difficult on steep climbs.
Specs:
2 x 10 gear set-up
Price Point: $$
Milan Jansen and Ingrid Vlaar, Holland
Aluminum touring bike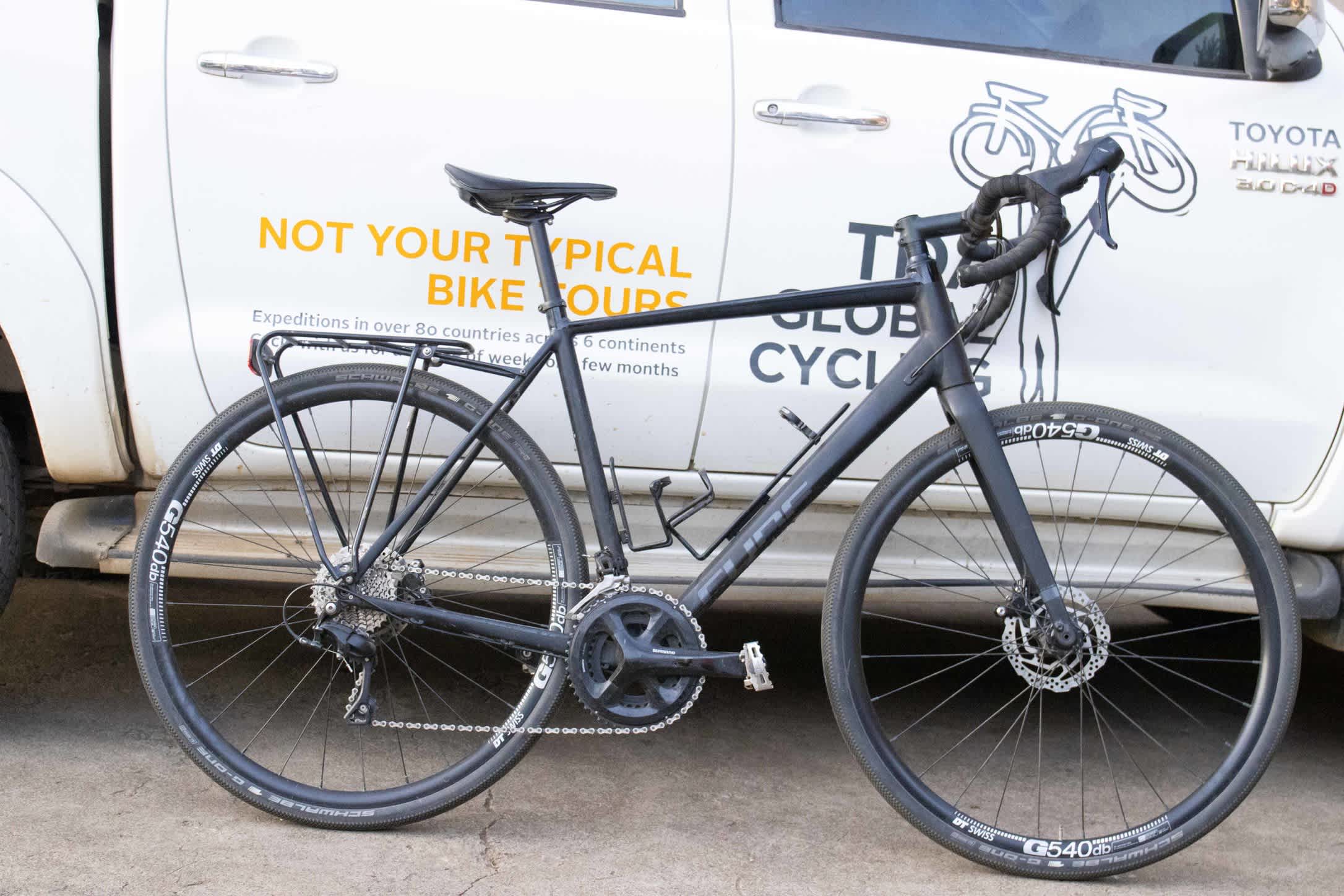 Milan and Ingrid spent a lot of time researching their bikes before they purchased. They wanted a simple bicycle that was light, strong and could handle the long distance and tough conditions. They like that their bike has drop bars and that the bicycle is so light weight (10 kg.). They also went with mechanical disk brakes instead of hydraulic due to their simplicity. One thing they may want to upgrade in the future is their rims. The rims that are on now only allow for a max tire width of 35mm and having different rims would allow them to increase this width. Another thing that Milan has found difficult is the gearing set up. It can make steep climbs challenging because his bike doesn't have a large range. He has had to walk a bit up some of the more intense climbs because of this.
Specs:
2×11
Price Point: $$
Mike Crum, New Zealand
Steel touring bike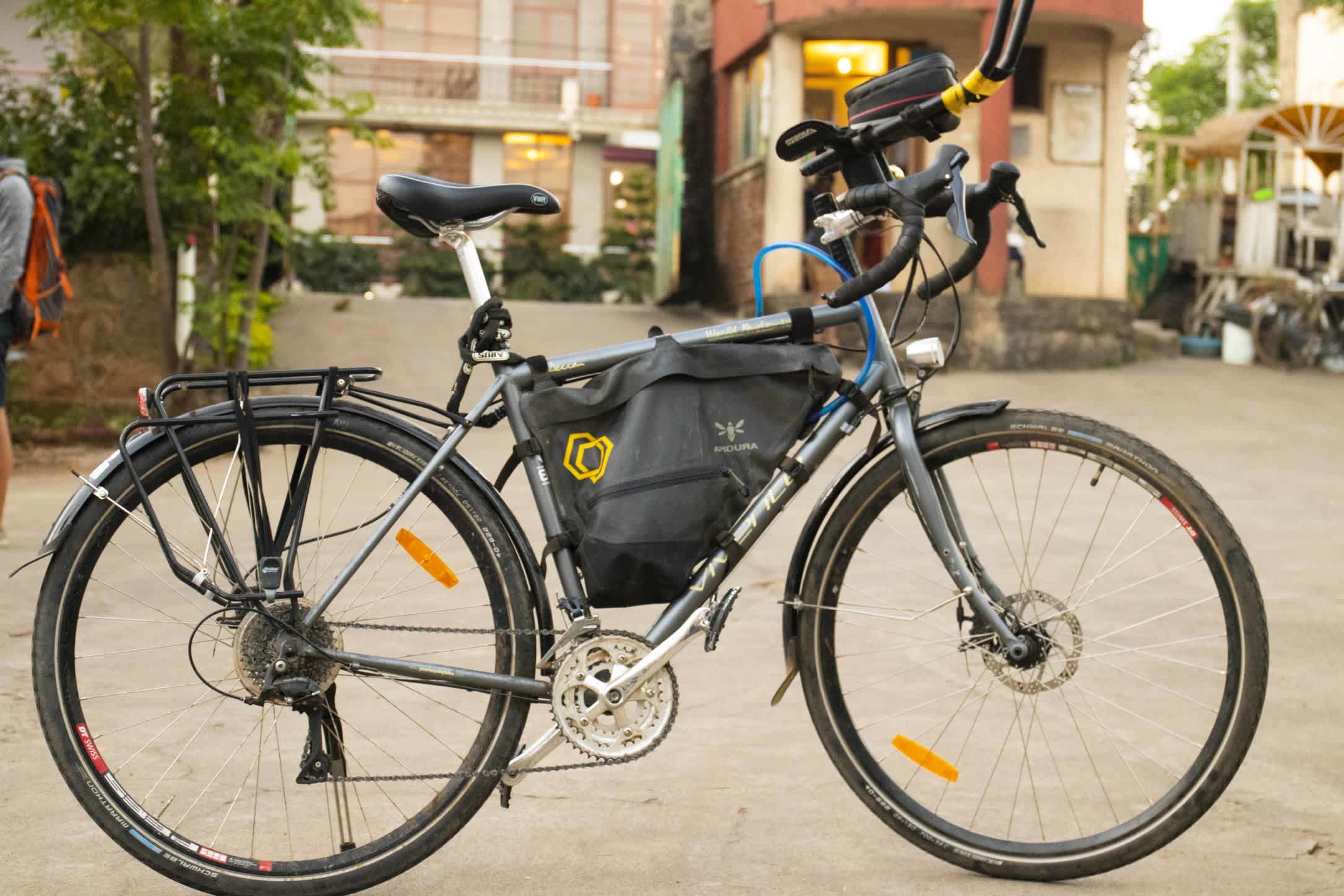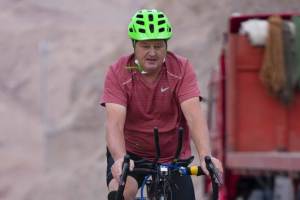 Mike's bike is a steel touring bike made especially for touring trips. It is quite heavy, weighing in at about 18 kg. He likes the bike because it is comfortable to ride, reliable and does well in tough conditions. However, because the bike is so heavy it does make it difficult to travel with. On his flight to Cairo he was charged a substantial amount of money in overweight charges. Mike doesn't mind riding such a heavy bicycle but has found the weight difficult to travel with.
Specs:
3 x 9 gear set up
Price point $$ (with flight: $$$)
Erica Lindquist and Mayumi Story, United States
Carbon gravel bike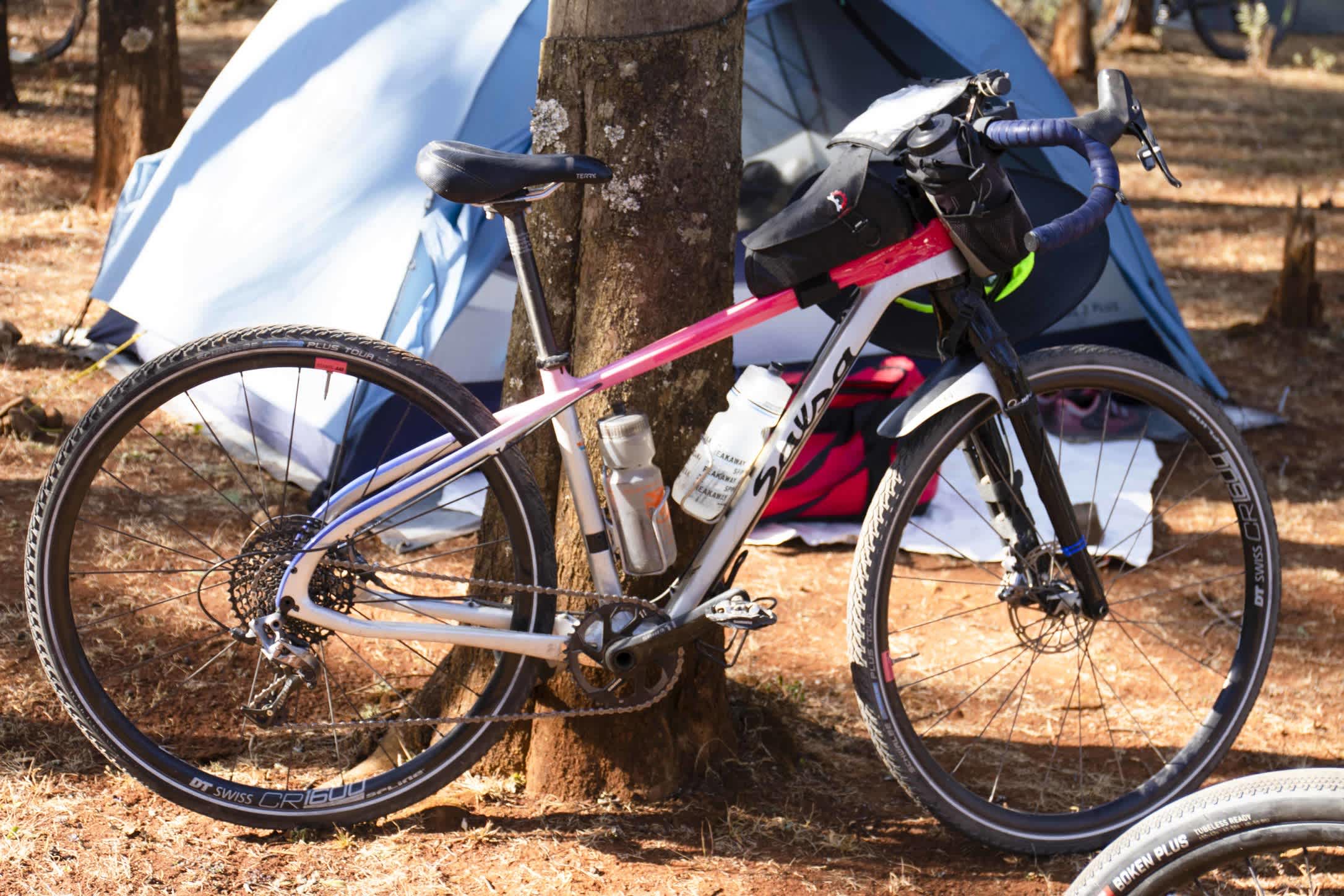 Mayumi and Erica have lightweight touring bikes that they originally purchased to ride the Great Divide, a bike packing race from Banff, Canada to New Mexico, USA. The bikes are typically used for bike packing and handle really well when weighed down with gear. They like how light weight the bikes are and enjoy only having one gear in the front. One thing they may change in the future is riding with a front suspension fork for some of the bumpier roads.
Specs:
1×11, 38t in front
Fits over 50mm tire
Light carbon frame
Price Point: $$$$
Cheryl Yates, Canada
Steel adventure bike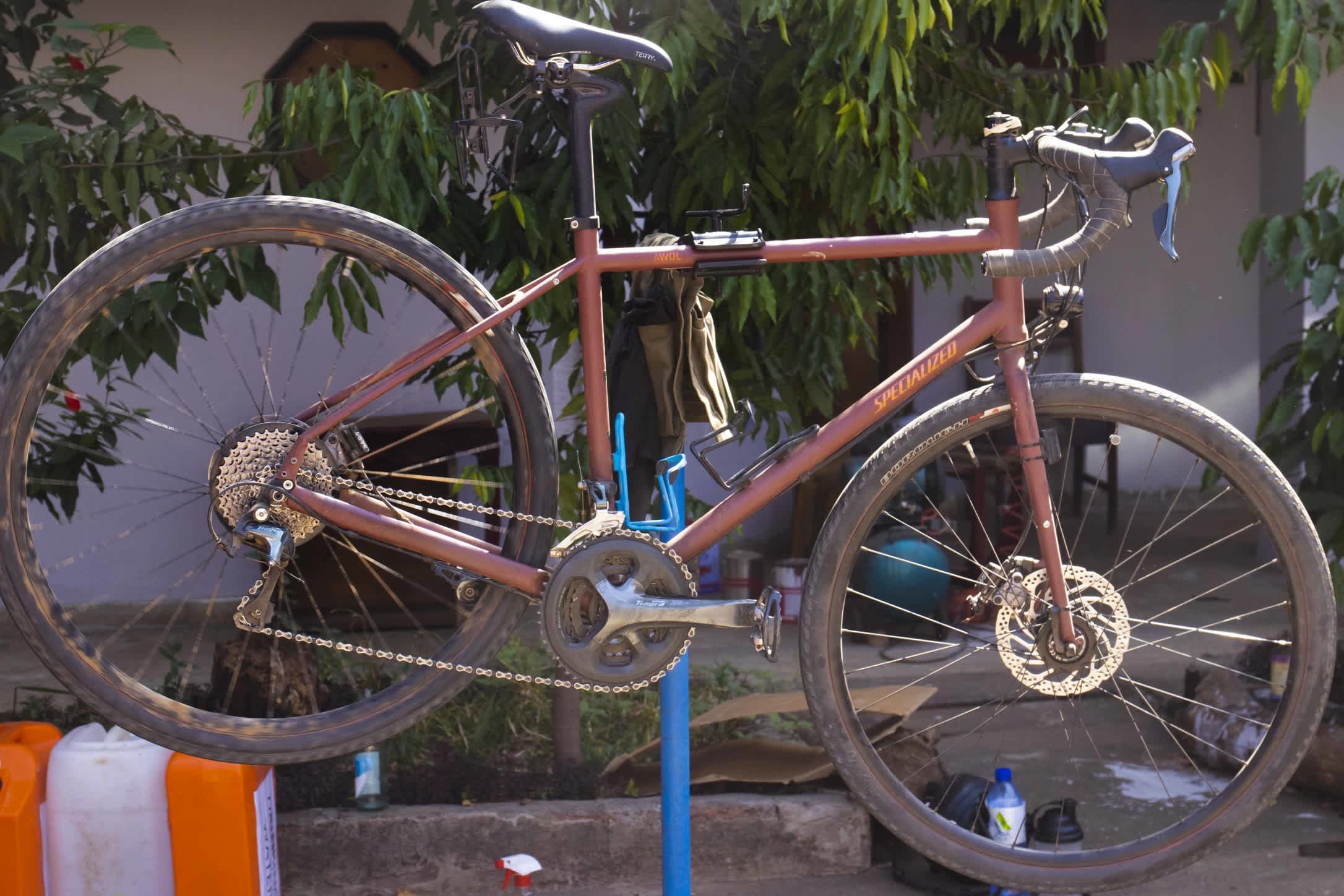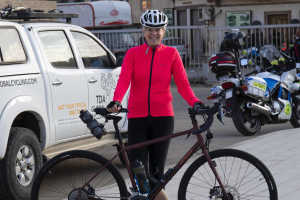 Cheryl bough this bike after a recommendation from her local bike shop. She likes that the bike is solid and a bit heavier. When she is riding, she feels solid and sturdy. She also likes how much gear range she has. In the future, she may gravitate towards a mountain bike set up. Cheryl thinks that she may prefer having straight bars and a shock on the front.
Specs:
Fits up to 50mm tire
3x gear set-up
Price Point: $$$
Greg Giles, United States
Aluminum mountain bike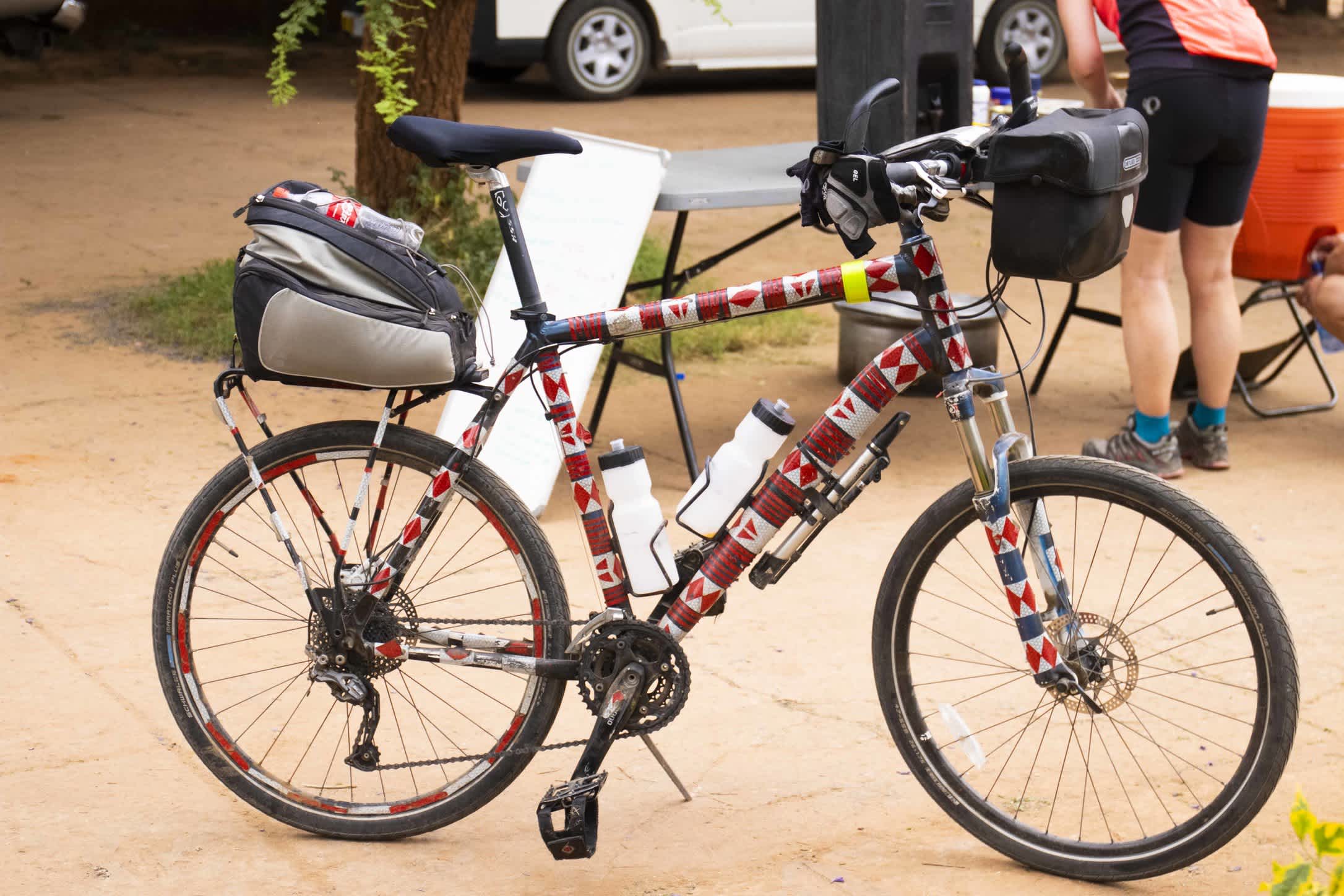 Greg is the kind of guy who only owns one bike at a time. He bought the mountain bike 8 years ago so that he could ride on dirt roads and commute to work. He has since worked in the United States, Tanzania, Ecuador, Romania and Ethiopia. Greg likes how comfortable the bike is. Since he has had the bike for such a long period of time, he has had some time to adapt the bike to his needs. He especially likes the handlebars and grips that he has on it and the fact that the bike has a shock that he can lock out. He likes having a shock for some of the bumpy roads on tour. Greg has given his bike the name, "Frida," after the famous artist Frida Kahlo. He decided on the name after he covered his bike in reflective decals that he got from an 18-wheeler truck dealership. He did this for added safety on the road. After the bike was covered, he decided that since his bike was now so colourful, the name Frida was the perfect match.
Specs:
Wheel size: 26"
3 x 9 gear set-up
Price Point: $$
Francis Heyrman, Belgium
Carbon mountain bike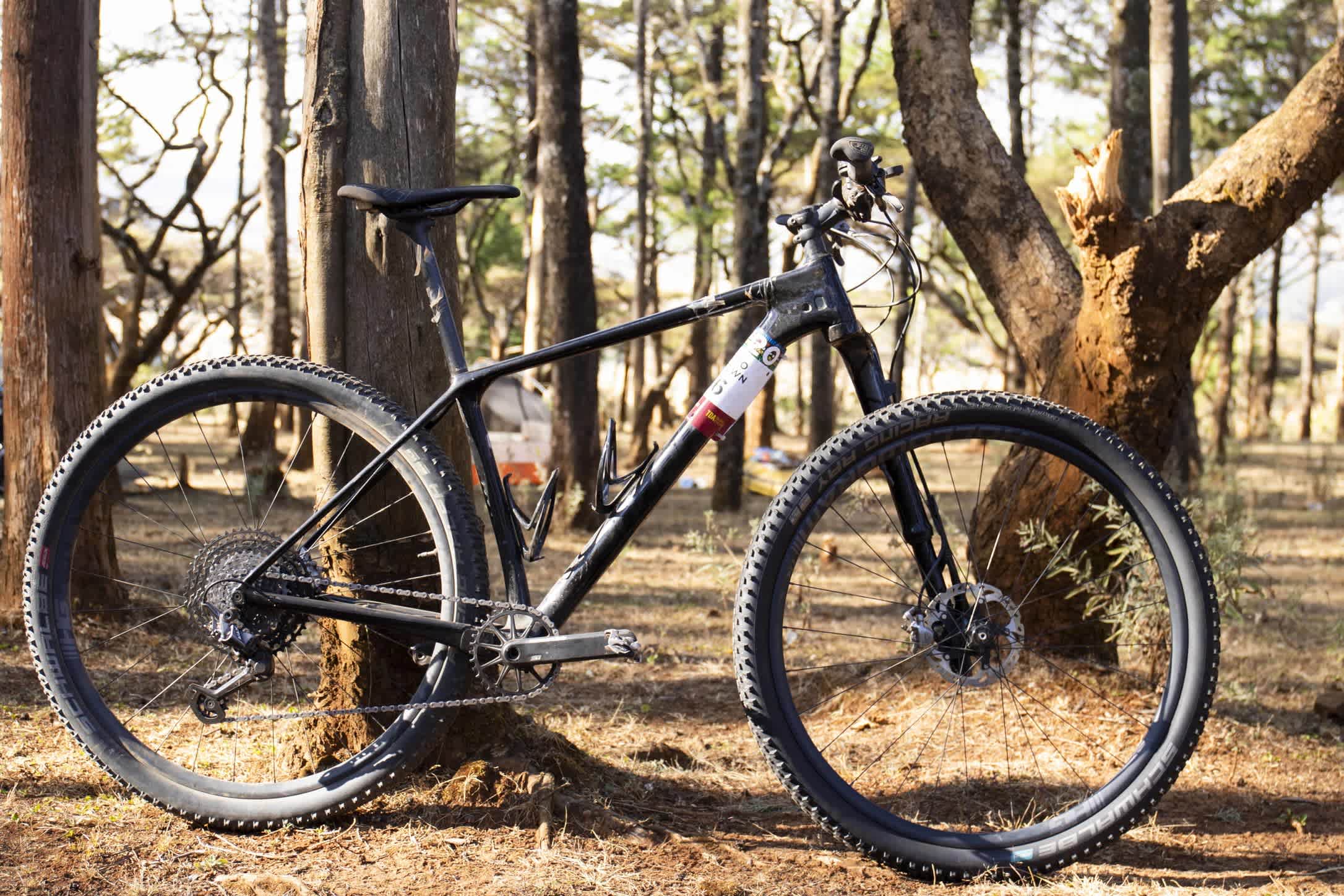 Before the tour, Francis was trying to decide between buying a gravel bike and a mountain bike. He decided to go with a mountain bike because he figured that he would likely get more use out of it after the trip. He is very happy with his decision and likes that the bike is very light and that it handles very well on rough roads. Knowing what he does now he would have brought a pair of slick tires, as most of the roads on the tour are pavement and all he has with him are mountain bike tires.
Price Point: $$$$
RELATED
TOUR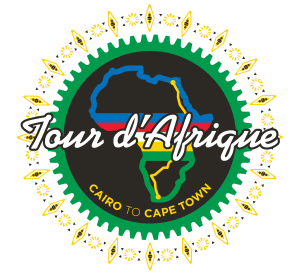 Tour d'Afrique
Our original trans-continental journey and flagship expedition crosses Africa from north to south, covering 10 countries in all. Beginning at the...