Blog
REGISTER NOW
LOGIN
SIGN UP FOR OUR NEWSLETTER
Michael's Canadian Pop-Up Menu: 4 Cycling Courses To Choose From
Please click here to see our current Canadian route, Canada Coast to Coast.
Given the current situation around the world, it looks like cyclists may have to stay closer to home in 2020, at least until the summer or fall. To that end, we have started to plan some 'in-country' trips for our riders, if local health conditions allow. First up, Canada…
Please vote for your favourite course at the end of this blog. That will give us an idea which of these amazing cycling adventures we should start working on.
Amuse-Bouche – Kissing The Cod

This Trans-Atlantic trip would cover all 4 of Canada's Eastern provinces (Nova Scotia, New Brunswick, Prince Edward Island & Newfoundland), taking the cyclists over 1635 kms from Halifax to St John's. There would be 14 days of riding, 4 rest days and 1 travel day on the ferry across the Bay of Fundy from Digby to Saint John.
Highlights
Halifax harbour
Peggy's Cove
Digby scallops
Bay of Fundy
Reversing Falls
PEI beaches
Cabot Trail
Kissing the Cod in St John's
Appetizer – Québec: Je t'aime

This circular tour of the province of Québec begins and ends it in beautiful, cosmopolitain Montreal. The route, covering 2460 kms and including 22 days of cycling and 4 rest days, traverses some of the province's iconic regions – the Eastern Townships, the Gulf of St Lawrence, Gaspé & Lac St Jean.
Highlights
Montreal
Route Verte
Quebec City
St Lawrence River
Whale Watching
Gaspé/Perce Rock
Lac St Jean/Route des Bluets
Entrée – In The Footsteps of the Voyageurs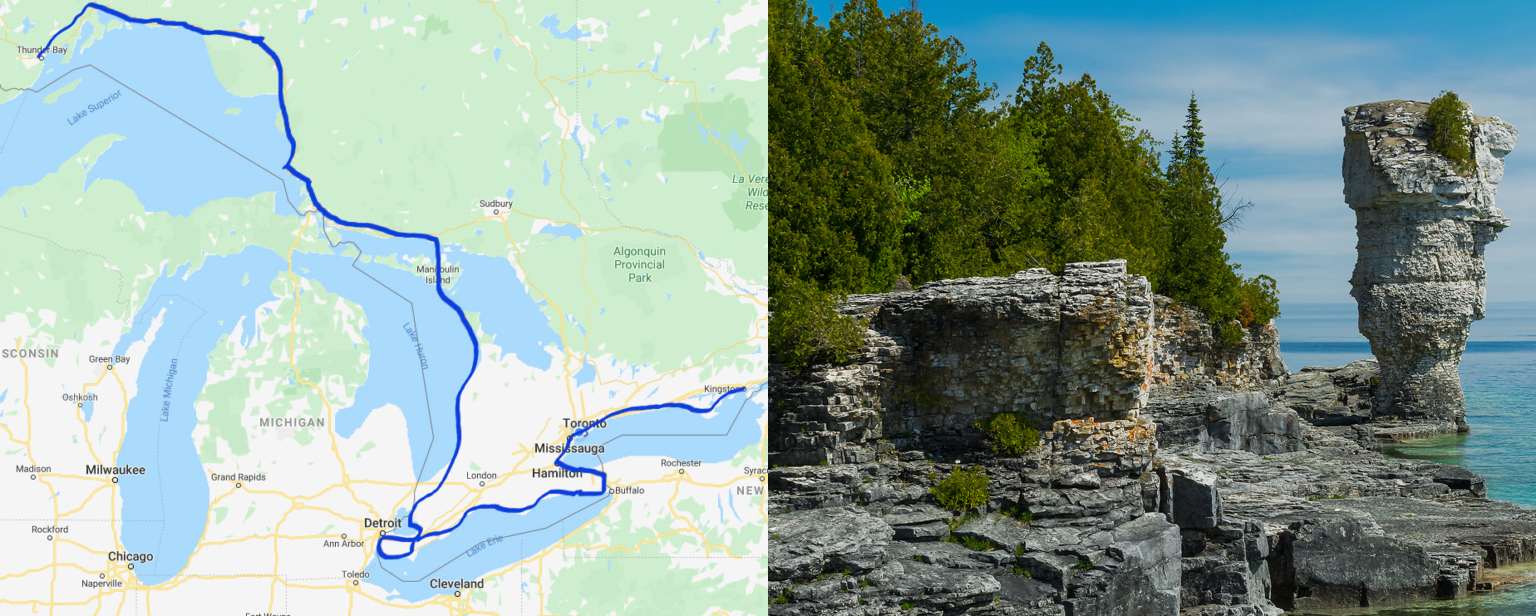 Following one of the main historic routes of Canada's fur-trading Voyageurs, on bicycles instead of in canoes, this cycling adventure will take riders on a 2450 km odyssey from the Limestone City of Kingston to Thunder Bay, the Land of Nanabozho, the Sleeping Giant. There are 23 riding days, 5 rest days & 1 travel day on the ferry from Tobermory to Manitoulin Island.
Highlights
Kingston
Prince Edward County & Lake Erie Vineyards
Toronto
Niagara Falls
4 Great Lakes – Ontario, Erie, Huron & Superior
Tobermory
North shore of Lake Superior
Nanabozho – The Sleeping Giant
Dessert – Beautiful British Columbia

This circular tour of Beautiful British Columbia begins in the province's capital, Victoria and ends 1845 kms later in one of the world's most beautiful cities, Vancouver. The route includes 16 cycling days and 5 rest days. The 2 travel days include a beautiful daylight cruise through the stunning Inside Passage and another day of train travel along the scenic Skeena River from Prince Rupert to Prince George.
Highlights
VictoriaVancouver Island
Inside Passage
Cariboo Highway – BC
InteriorVineyards in the Okanagan
3 days cycling the Kettle Valley Rail Trail (trestles)
Fraser River
Harrison Hot Springs
Vancouver
Please click here to see our current Canadian route, Canada Coast to Coast.
Vote Now