Blog
REGISTER NOW
LOGIN
SIGN UP FOR OUR NEWSLETTER
Tour d'Afrique: Sudan, The Kindness of Strangers
We are unable to run any cycle tours at the moment, but we know our community has lots of great stories to share. We will be posting many of these in the coming weeks as part of our #tdacommunitynews initiative. Keep an eye out for blogs like this below by guest writer and former Tour d'Afrique participant Alice Morrison. You will also be seeing lots of photos, videos and discussions on our social media channels. Enjoy…
Tour d'Afrique was an experience which changed my life. It set me on the path to being and making my living as an Adventurer and Explorer and it gave me my first book, Dodging Elephants. The joy of cycling a continent is still with me, nine years on. I sometimes get flashbacks to the wide skies, leaving at dawn, the baobab trees, or climbing up through the mist to crest a mountain. However, it is the encounters with the people that remain the most vivid. First and foremost, my TDA family. They will always have a warm space in my heart. The camaraderie and kindness and plain fun all light me up when I remember them. Then, it was meeting with the people of Africa along the way.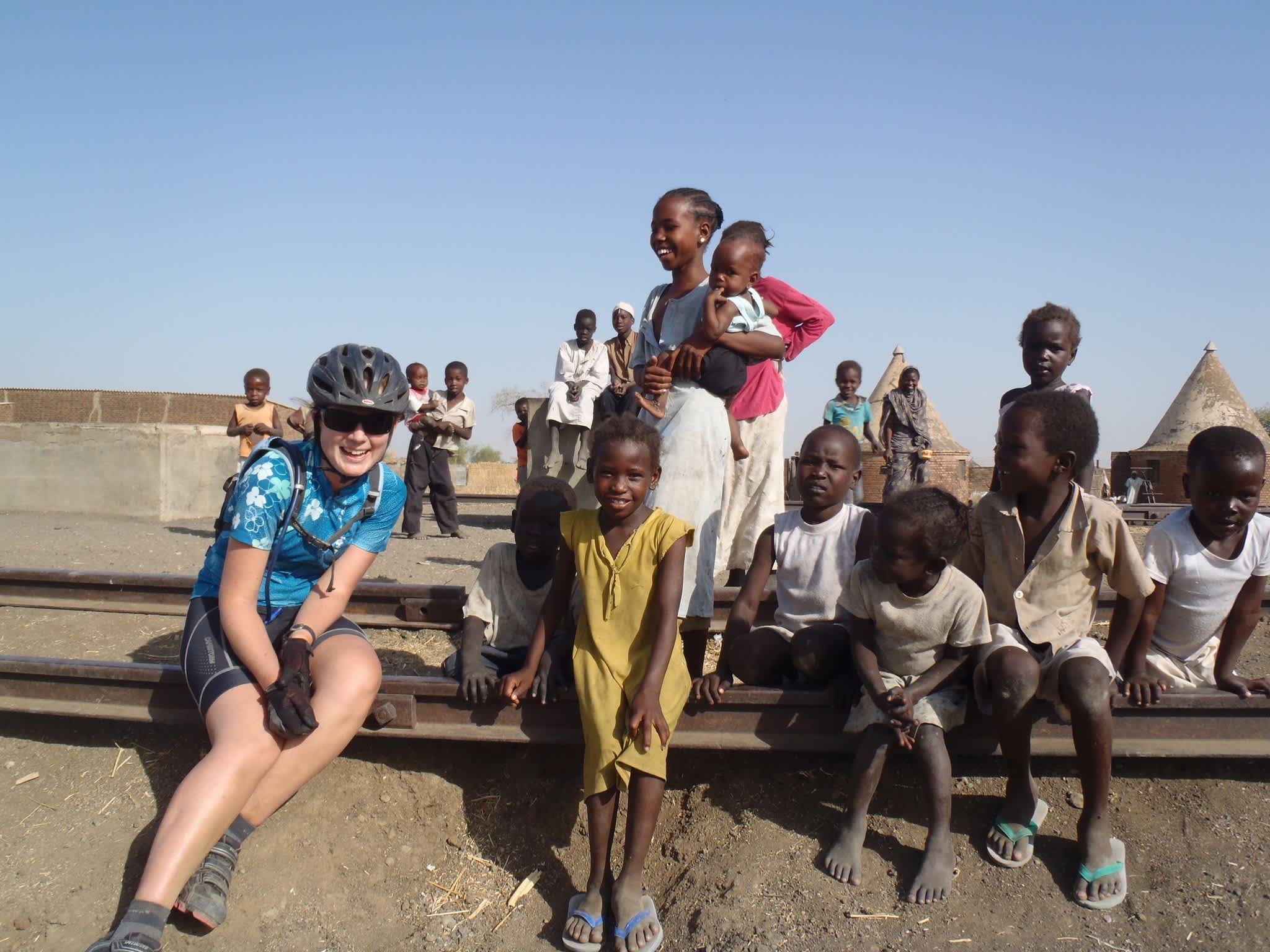 People always ask, 'Which was your favourite country?' and one of the answers to that question is, Sudan, because there, where the people had so little, they gave us so much.
My favourite story about the Sudan, didn't actually happen to me, it happened to our oldest competitor, Bob. Bob is a real English gent, even though he has spent half a lifetime in Australia and claims Ozzie nationality. He was in his late sixties at the time of the Tour and really wiry and fit. He was always charming and a pleasure to be around although like all of us he had his foibles. His particular foible was a penchant for public nudity. I am still scarred by the memory of flinging open my tent flap one evening in Kenya to be confronted by Bob full frontal bathing in a very small bucket of water.
But back to the story. It was one of the really, really hot days in the Sudan when the temperature went over 50 degrees. Not surprisingly, there was no water for washing or cooling down in as we had to save all the supplies for drinking and after 150 kms in the saddle in those temperatures you were desperate to get some water on your skin. We were roughly following the Nile at this stage but were not close enough to go in it.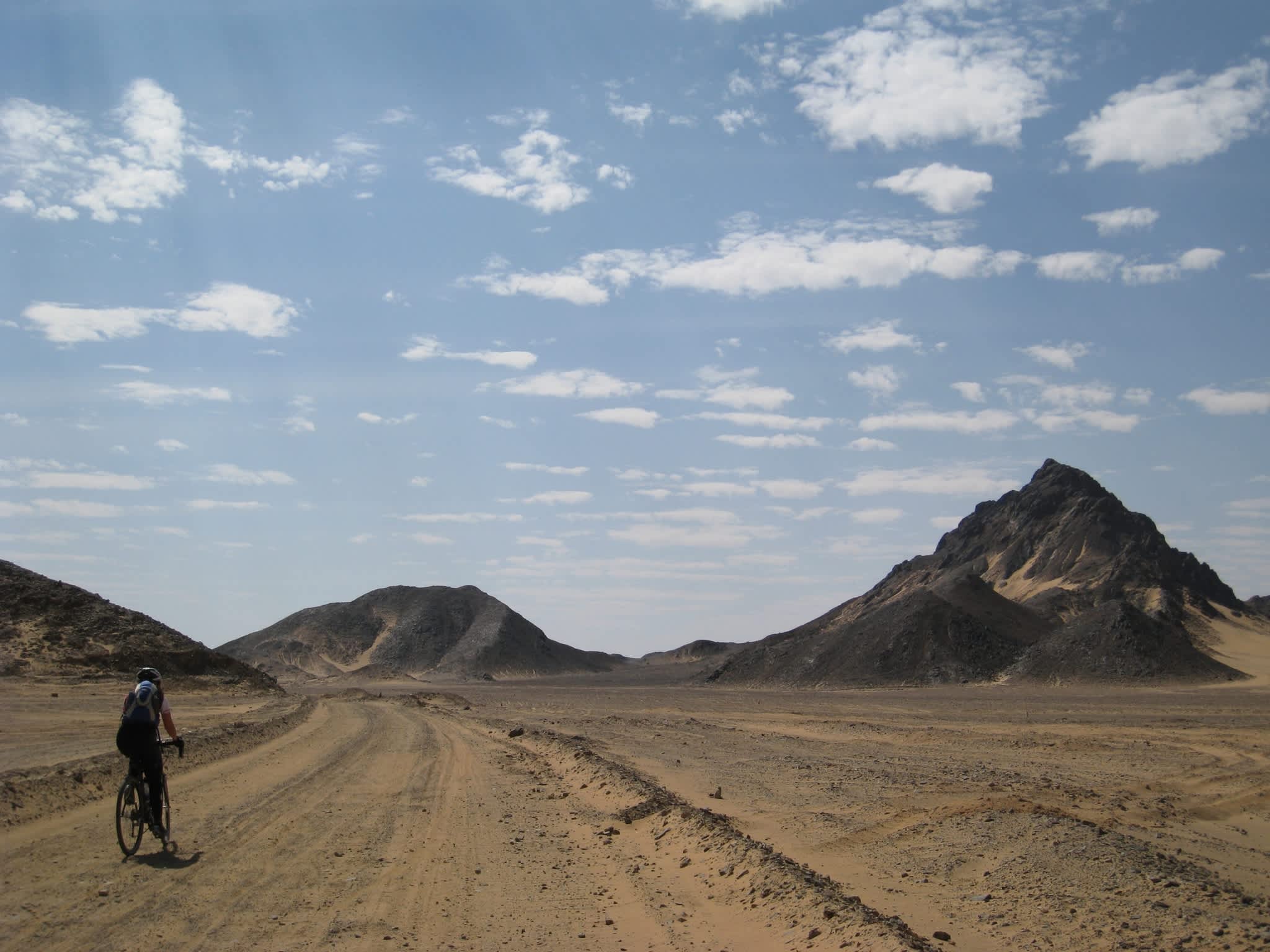 On this particular day, just at the end of the ride, there was a small, muddy canal. Bob had spotted this, and when he got there, chucked his bike onto the bank, pulled off his biking shoes and went straight in. Imagine the pleasure. Bob loved it, he wallowed like a water buffalo and brought his temperature down to, if not cool, at least tepid. Then after half an hour, he got up to go on to the camp a couple of kilometres away, but he had to climb up the muddy bank to get there.
All this time, a man had been watching him, and when he came up out of the canal, in sign language he beckoned to Bob to go to his house which was a bit further along. Bob picked up his shoes and went with him. The man spoke no English, and Bob no Arabic, so Bob wondered what was in store for him. When they got to his house, the man sat Bob down, brought a basin of clean water and washed and dried his feet. He hadn't wanted him to put his shoes on while they were muddy. For me, this sums up everything that is good about humanity and great about the experience of TDA.
If you'd like to read more of Alice's TDA stories, her book, Dodging Elephants is on Amazon in paperback and on Kindle. You can also check out her website or her podcast, Alice in Wanderland.