Blog
REGISTER NOW
LOGIN
SIGN UP FOR OUR NEWSLETTER
5 More Amazing Public Houses on the Pub Ride: Europe
Each night the riders of the Pub Ride Cycling Tour will probably gather together in a local pub and raise a glass to the day's ride. Each one of the cities along the route is blessed with some outstanding and historic watering holes. Part 2 of our new series on the public houses of the Pub Ride begins now…
1 – Café Vlissinghe, Bruges
Bruges is distinguished by its canals, cobbled streets and medieval buildings. Its historic city centre is a UNESCO World Heritage Site and features the 14th-century Stadhuis (City Hall) with an incredibly ornate carved ceiling. Nearby, Markt square contains a 13th-century belfry with a 47-bell carillon and 83m tower with panoramic views. During the 15th century, when the city was at its most powerful, Bruges boasted no less than 54 breweries within its fortified walls. As the city's economic power waned, so did its breweries. After the Great War, the rise in popularity of Pilsner beer and the investment required for its production meant the end for most small-scale breweries. With Bourgogne des Flandres, De Halve Maan and Fort Lapin, Bruges today now has three working breweries. De Halve Maan has been brewing since 1856. We suggest that riders head to Café Vlissinghe, founded way back in 1515. The cafe consists of two joined houses from the late 15th century. The modern history of Vlissinghe begins in 1855, when it was bought by Jacques De Meulemeester, who owned the brewery De Arend in the immediate vicinity of the cafe. Newly created neo-baroque furniture, old arts and paintings create an "old Flemish" interior that not only fits well into the historic building, but also attracts lovers of art in Bruges. Enjoy your beer surrounded by history but be sure to bring cash. No bank or credit cards accepted.
2 – De Beyerd, Breda
Breda was a centre of the food and drink industry and, in fact, Mentos were produced here. It also housed the largest brewery in the Netherlands (Oranjeboom) and had a long, proud history of beer making – in 1628 the Boschstraat brewery 'De Drie Hoefijzers' was founded. In 2004, however, Interbrew, the evil Belgian owner of the Breda brewery, closed it down and shifted production to Leuven in Belgium. To help wash away this stain on breweries everywhere, the cyclists should wander down to De Beyerd, a welcoming micro-brewery with a wonderful restaurant and patio attached. They have re-established the local brewing tradition and now offer 125 kinds of bottled beer and 14 draft taps, of which at least 5 are created in the atmospheric copper brewing kettles in the brewery itself. No Stella available here but you can order some delicious 'bitterballen' or Dutch cheese to celebrate the return of local tradition!
>>Related Post: Watering Holes of the Pub Ride: Time, Gentlemen, Time
3 –  In't Aepjen (In The Monkeys), Amsterdam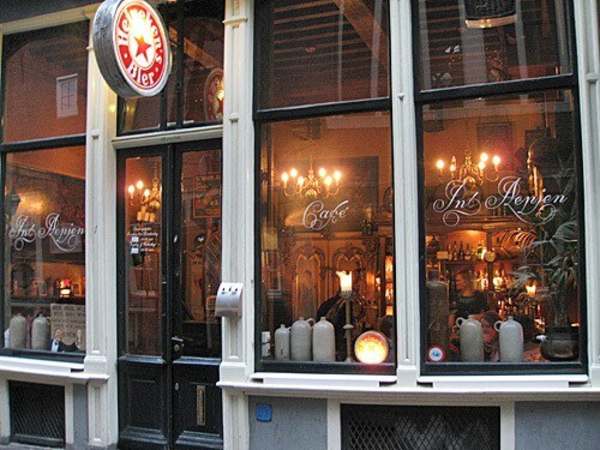 Amsterdam, the capital of the Netherlands has, of course, the Heineken Experience – historical artifacts, product exploration and sampling, and interactive exhibits which employ the latest high-tech multi-media technologies – all housed in the original Heineken Brewery. However, we recommend In't Aepjen (In The Monkeys). The bar occupies the ground floor of one of the city's oldest buildings – dating back to 1519 – and is one of only 2 wooden buildings remaining in the city's centre. The venerable old tavern is decorated with monkeys everywhere you look; carved statues, vintage posters, and oil portraits hanging from the bar. The name refers to a time in the golden age of the Dutch Empire, when sailors returning from such distant colonies as Indonesia, and finding themselves short of guilders, would offer up their newly acquired pets as payment, often literally paying their bills in monkeys. Soon the In't Aepjen was overrun with so many monkeys that customers began to complain of the fleas. The monkeys were given to a regular customer at the tavern, Gerard Westerman, who kept them in his large garden in the east of the city. Westerman's animal garden would eventually become Amsterdam's Artis Zoo, one of Europe's oldest. So stroll on in, sip on a pint and try a splash of locally made jenever (a traditional liquor from which gin evolved) if you want to have a properly traditional Dutch experience. Just check your clothes for fleas on the way out.
4 – Sibersack, Hamburg
Hamburg has more than 40 theatres, 60 museums and 100 music venues and clubs. The city also has many streams, rivers and canals that are crossed by some 2,500 bridges, surprisingly more than London, Amsterdam and Venice put together! In fact, Hamburg has more bridges inside its municipal limits than any other city in the world. And no skyscrapers…not a one. In between crossing canals and visiting museums, the riders can enjoy a variety of culinary delights. They can try an original Hamburg dish like Birnen, Bohnen und Speck (green beans cooked with pears and bacon) or Pannfisch (pan-fried fish with mustard sauce), washed down with an Alsterwasser (in reference to the city's river, the Alster), a type of shandy containing equal parts beer and carbonated lemonade. Hamburg has long been a centre of alternative music and counter culture movements, especially the borough of St. Pauli, which also contains the area of Reeperbahn, Europe's largest red light district and home of strip clubs, brothels, bars and nightclubs. It is here that the riders will discover our recommended watering hole – Zum Silbersack (Silver Sack). It was founded in 1949 by Erna and Friedrich Thomsen. He died in 1958 and Erna decided to continue running the business on her own. It quickly became a cult pub. When she died in 2012 at the age of 88, after 63 years behind the bar, the locals went into mourning and the pub briefly closed down. Fortunately, it was quickly reopened by one of her bar staff. It is rowdy and generally packed to the rafters – a Reeperbahn institution delivering cheap drinks and power ballads until the early hours. With smoky air, sticky floors and no-nonsense service, riders will soon be drinking shots or Astra beer out the bottle and most likely swaying along to 1950s German schlager before they know it.
>>Related Post: The Beers of the Pub Ride: Little-known, Weird, Unexpected and Occasionally Appalling
5 – Mikkeller Bar, Copenhagen
Copenhagen is one of the world's most bike-friendly cities, in fact it was voted #1 in both 2015 & 2017. Since 2015 alone, the City has completed the Havneringen / Harbour Ring bicycle route allowing citizens to cycle along the whole inner harbour, piloted a new traffic light system that detects and prioritizes cyclists, launched digital traffic congestion signs to improve flow through the city, and opened new bicycle superhighway routes. Now, 62 percent of residents ride a bike daily to work or education in the city—just nine percent drive. Riders should keep in mind that alcohol is not cheap and, as a result, most Copenhagen bars only get busy after 21:00, and usually only Friday & Saturday (many even remain closed during the week). There's a good selection of microbreweries and local ales to choose from, including of course the world famous Carlsberg, Tuborg and Mikkeller. Apart from the many local beers, no visit to Copenhagen is complete without trying the Danish liquors Akvavit, Brennivin, Gammel Dansk, Fisk (Fisherman's Friend) and Ga-Jol (liquorice vodka) And so, check out Mikkeller Bar. In 2006 Mikkel Borg Bjergsø was a math and physics teacher who started experimenting with hops, malt and yeast back home in his kitchen in Copenhagen. He then decided to create the best beer bar in the world. The result is a minimalistic artsy bar that takes its influences from the old Danish pubs in the centre of Copenhagen with wooden tables and benches and 20 different beers on tap. Located in the centre of Vesterbro's red light district, it became so popular that other branches have opened up in Barcelona, Reykjavik, San Francisco, San Diego, Bangkok, Seoul and Tokyo.
RELATED
TOUR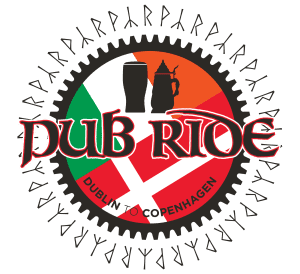 Pub Ride
Over 5 weeks we'll cycle from storied Dublin to the waterfront of Copenhagen. Through Ireland, Scotland, England, France, Belgium, The Netherlands...