Blog
REGISTER NOW
LOGIN
SIGN UP FOR OUR NEWSLETTER
Wildflowers and Ancient Beauty: Springtime in Greece
Kody Block is the Content Creator on the 2023 The Odyssey Cycling Tour. This is his first report.
"The energy you have here, it's something special. It's the place of Apollo, the God of Light, and Helios, the God of Sun. People come here because they want to feel this energy."
Having never been to Greece, my knowledge of this country was quite limited, extending only as far as my general mythology classes would take me. I knew the roots of civilization could be traced back to this region, but I was eager to get to know the people here today and experience the beauty it had to offer.
Cycling 30 km out of Athens, it didn't take long to feel the energy of Apollo and Helios. We were greeted quickly by green rolling hills, vibrant purple, yellow, and red wildflowers, and the warmth of the sun. It was only our first day, but you could feel the excitement in the air as we set up lunch on the Greek hillside, and saw the awe on riders faces as they rolled in.
American rider Michael Becker noted that, "Getting out into the countryside with the vistas and proliferation of wildflowers are just beautiful. One thing I really noticed in the countryside was the ever-changing smells of different flowers and trees. This is Spring, so everything is just coming into bloom. It was a smorgasbord of scents that were so pleasing and would just constantly change with a great variety. It's a beautiful place to ride. The countryside in Greece is just very pleasant." Fellow American Wayne Brown added, "The wildflowers have been vibrant along the sides of the roads, and the vast vistas off in the distance are amazing. Coming through these small towns now, this is what I had imagined Greece would look like."
The rolling hills quickly turned into vast mountains as we headed into Delphi, Greece. This historic town has a view that extends over the Amfissa Grove, the country's largest cultivated olive grove that spills into the Corinthian Gulf. Delphi also served as a spiritual focal point in Ancient Greece, known as the 'Navel of the Earth' for its sanctuaries and oracles situated on the side of Mount Parnassus. These ruins were conveniently located within a 10 minute walk from our hotel, and were visited by both cyclists and staff on our first rest day. Michael Becker shared his experience with Greek history, commenting that, "The buildings and infrastructure that these cultures put together 2,000 – 3,000 years ago is still so evident. Being able to go to the museums, visit these archeological sites, see the ruins, and just the stunning backdrops of some of these temples and what has been built, I find it fascinating."
It is truly fascinating to set foot in a place where civilizations have been situated for thousands of years, especially amongst a vast, mountainous landscape. While ancient history here is an important part of the culture, it also seems that the Greek people today also desire to be known. I sat down with our hotel manager, Zafeiroula, in Delphi, and asked her, if there was anything she'd want people to know about the Greek people today, what would it be?. She gave two Greek words in response, "Filoxenia and Filotimo. The first word can be broken down into two parts – 'Filo' which means 'friend' and 'xenia', which means 'stranger'. The second word can also be broken down into two parts – 'Filo', which means 'friend' and 'timo', which means 'all' and 'loving'. Expanding on these words, she stated, "Greeks are very proud of their history, it's who we are. People know about the sun, they know about the sea, but they don't know about us. We are people who want to meet you. We want you to come to our country. We value it."
RELATED
TOUR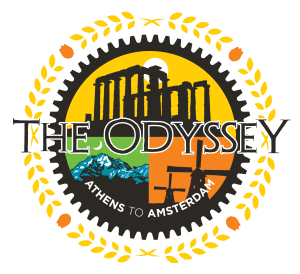 The Odyssey
A 7 week cycling journey from Athens to Amsterdam, from the Acropolis to the Rijksmuseum. You will spin through 10 European countries, enjoying great...