Blog
REGISTER NOW
LOGIN
SIGN UP FOR OUR NEWSLETTER
Fog, Friendship, Freemasons and Kings In Exile – Arctic Spirit
Sime Baricevic was the Content Creator on the 2022 North American Epic for the Arctic Spirit section. This is his final report.
'Wondering where the lions are'. Great song, but I never clearly understood what the real meaning of its lyrics were. I searched the depths of the internet to find the answer but to no avail. Bruce Cockburn, the famous Canadian singer/songwriter, really left it open to interpretation it seems.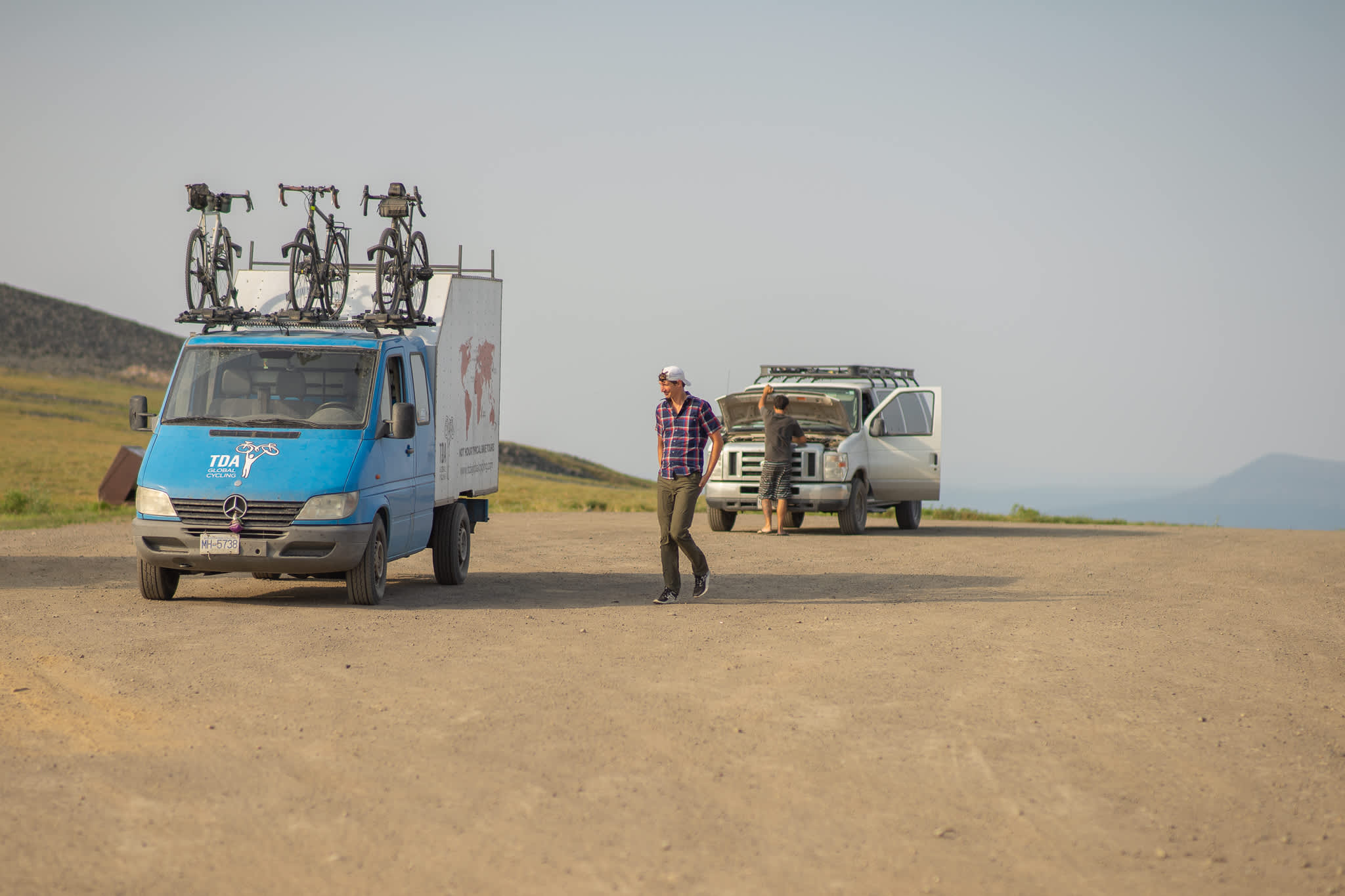 I was manning two cameras, two drones, countless mobile phones and a big Chevy pickup truck. It was day one of the 2022 North American Epic. Our three support vehicles, conveniently named – Baby Blue, Dinner Truck, and Kidnapper – were not enough to transfer all the riders to the starting point, Tuktoyaktuk, from Inuvik where we had gathered a few days earlier. As a result, we had to rent four more pickup trucks, load them with bikes and riders, transfer them north and return them the next day.
I was tasked with returning one of those vehicles – a big black Chevy Silverado. This allowed me the freedom of moving up and down the Inuvik-Tuktoyaktuk Highway and capturing whatever I wanted; photos, videos, drone shots…you name it. BEST JOB IN THE WORLD! The weather was perfect. Blue skies, 30+ degrees Celsius, visibility excellent, the Chevy's A/C blasting, and on the radio, via bluetooth, Bruce Cockburn singing "Wondering where the lions are". I took the liberty of interpreting this song as a reminder that, no matter how perfect things seem, problems, lions, are always somewhere, lurking, waiting for an opportunity to strike. It didn't take long, only 3 days for the first lions to show up.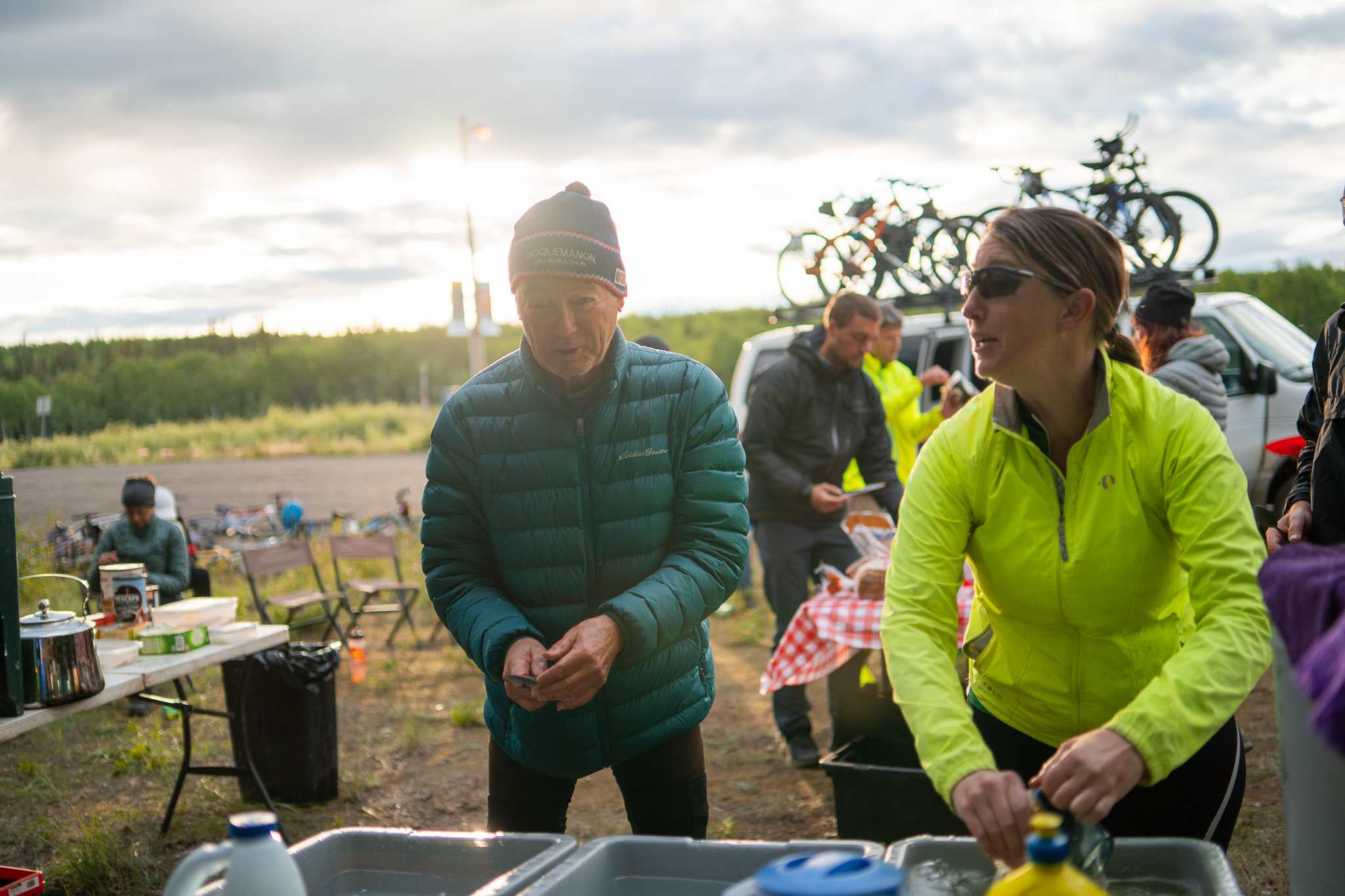 TDA founder Henry Gold, who was with us on this tour, tested positive for COVID, along with another rider. In one of the most remote places in the whole wide world, this little virus found its way to disrupt the peace of this adventure. How convenient! It didn't take long for more people to test positive. Then a day before we reached our first rest stop, Eagle Plains, one of our riders, Tom, lost control of his bike on one of the descents and had a pretty nasty fall. Luckily there were no serious injuries, but a day later, in Eagle Plains, to add salt to his wounds, Tom tested positive for COVID. Being in the middle of the Dempster Highway didn't help as we had to find a way to send everyone to Dawson City to self-isolate for a few days. Looking for transportation was another logistical issue. Luckily there were locals who were willing to help and make an extra buck in the process.
With a small chunk of riders gone for the moment, we continued south from Eagle Plains. The first morning was supposed to be an early start but a thick fog disrupted our plans. Very stubborn and persistent, this fog lingered on and on. Cautiously, the riders started moving, but the fog stayed with us for the next two days. Dawson City was four days away, and these four days were going to be even more remote than the stages before Eagle Plains. There was no cell reception anywhere on that stretch of the road, not a problem for most, but for my role as a content creator, it was a major inconvenience for sure. To add even more inconvenience to the adventure, on the second day of the fog, after a very cold night, I woke up with a bit of a sore throat. I credited that to the lack of insolation from the ground on my sleeping mat. It would let just enough air out during the night so that my bum rested directly on the cold permafrost. I pushed on, still the best job in the world.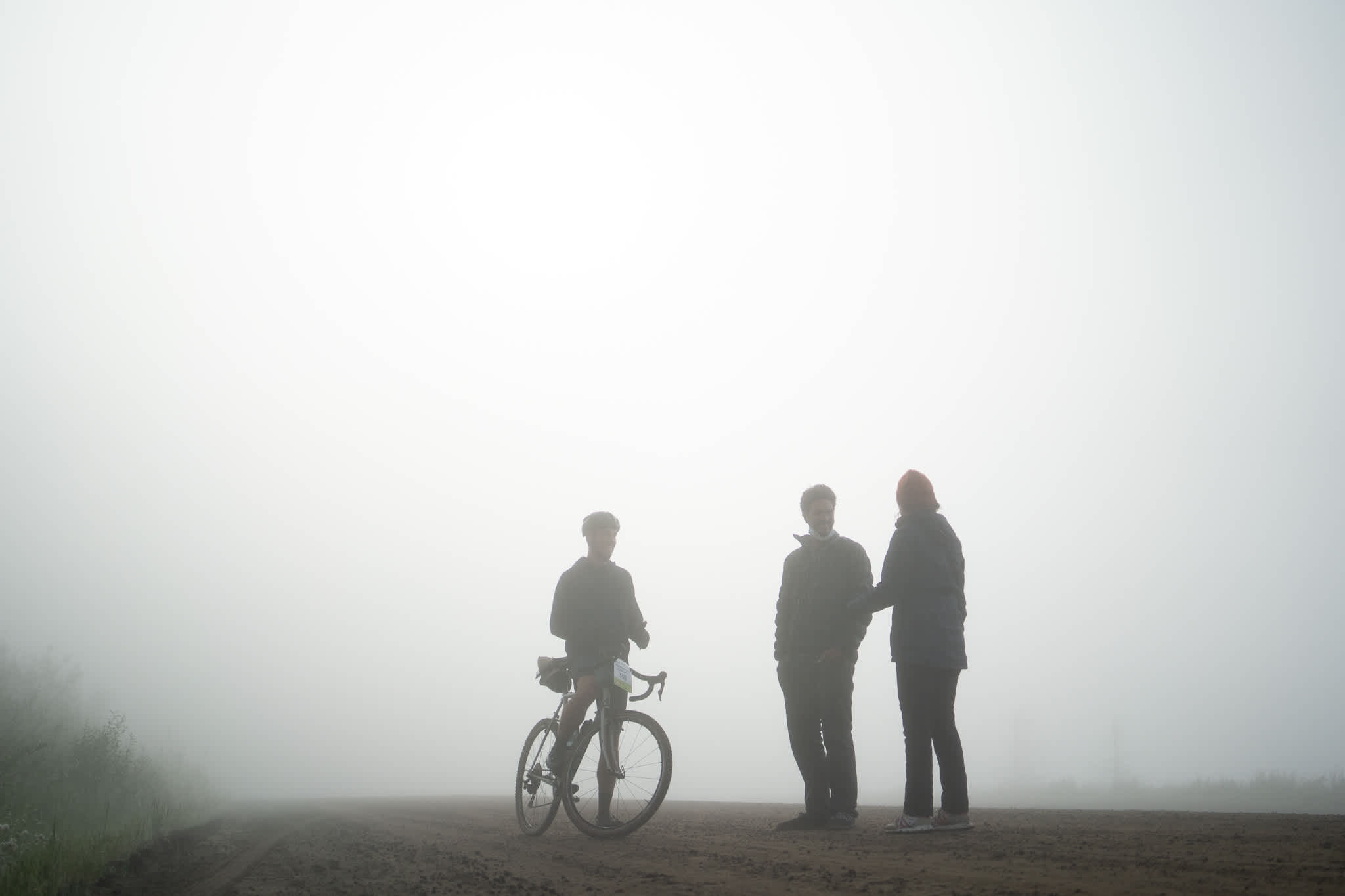 Close to the end of the second day the fog finally came to an end, and in spectacular fashion. As we reached the top of one of the many rolling hills we crossed, still sitting in clouds with zero visibility, I had the idea to try and fly my drone above the fog. Some 10 minutes of setting up and 30 seconds of flying later, a screen showed the colour blue. Sky. And in the distance, mountains, endless line of mountains just chilling above the white blanket of clouds, with the whole rest of the world underneath it, including us. And then, like magic, the fog just started clearing up, and as riders were arriving, it opened its curtains and that little picture I saw on the screen was now right there in front of us.
As we pushed on, the scenery started getting nicer with every turn of the crank. We were closing in on Tombstone Mountain Territory Park. What a spectacular sight. Mountains, serrated with canyons and creeks, rivers, hills and valleys combined to create an incredible visual stew. And cutting through it all like a ray of bright light in this green/grey universe – the Dempster Highway. Even the fastest riders couldn't help but slow their pace to stop and admire the view. BEST JOB IN THE WORLD.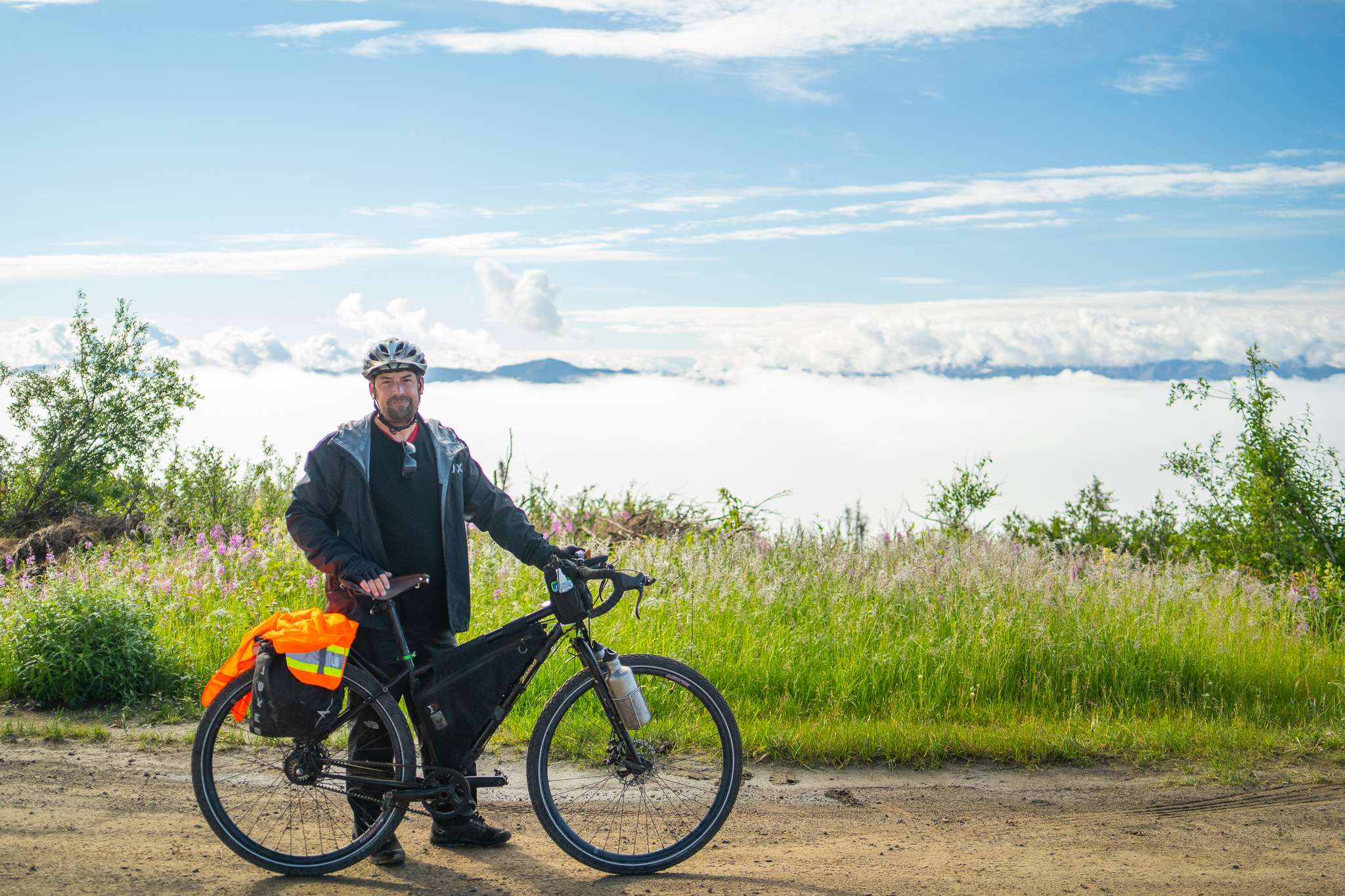 "So that's where the lions are" I thought to myself as Chris, our medic, and I were staring into the little line next to "T" on my COVID test. Positive. Inevitable. Luckily, we were getting closer to Dawson City and the end of the Dempster Highway, where I too would self-isolate and await the clearance to rejoin the crew. Henry has already written a blog about Dawson City so I will not focus on that in this story.
The riders and the rest of the crew pushed on, luckily with no more positive COVID cases after Dawson City. I was bummed as I had plans to capture some interesting content between Dawson and Whitehorse, especially Gary and his sons and their gold-digging property next to Gravel Lake where we had stayed for a night. The gold rush never ended for this family and their massive machines, held together by duct tape and rust, still dig tirelessly in search of this precious metal. A story of its own that I wish I might get the chance to capture fully one day. My assignment was ending in Whitehorse, but I might be able to join two days before that and capture as much as I can before my return to Toronto.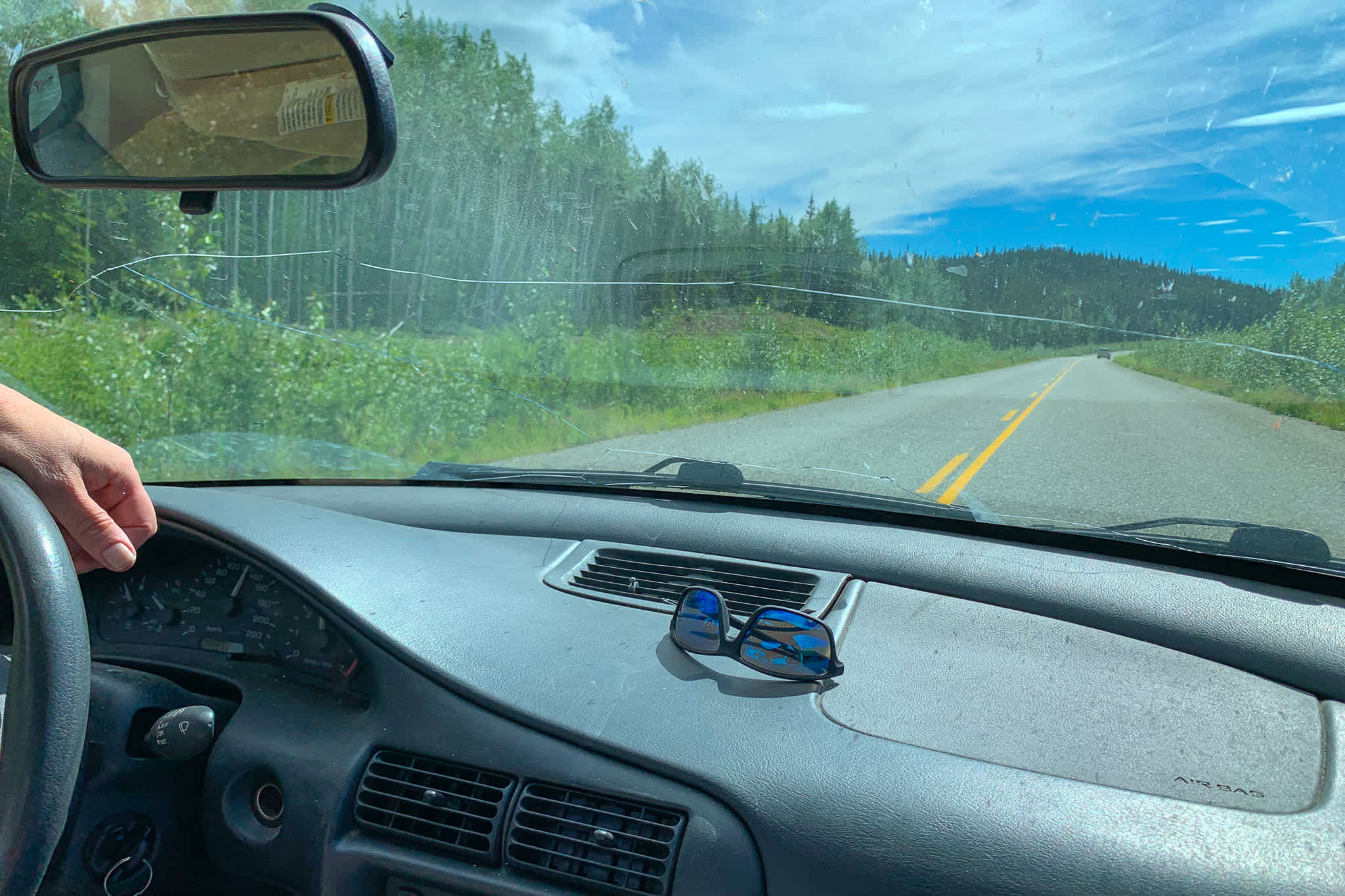 Dawson City was a rest day for our riders. The motel we stayed in was a few kilometres outside of the actual city so in order to avoid a possible DUI on our bicycles, the tour leaders, Carolina and Cristiano, enlisted, 'The Guy', Dawson's only "taxi" driver to haul everyone around in his early 2000's Chevy Cavalier. To explain the quotation marks on the word "taxi" the Guy was going to register his business soon. The papers are in the glovebox.
The pandemic had killed all the transportation businesses in Dawson City, so the only way to get from Dawson to Whitehorse is by flying. Since I wanted to joint the crew two days before Whitehorse, flying was no option for me. And with all public transit gone I had only one option – The Guy. Twenty minutes later than scheduled, mid-day, on a sunny but muddy street in front of the Downtown Hotel, a little black Chevy with manual transmission pulled up. A full ashtray was slowly expanding way past its borders, the whole lower portion of the console was covered in ashes and there were cracks in the windshield, an obvious sign of history of this vehicle on Dempster Highway. The Guy was leaning over the roof, smoking a cigarette procured from far away for $60 per carton. How do I know this detail? For the next four hours I did not ask a single question, nor was I  asked a single question. Regardless, there was not a single moment of silence during the drive.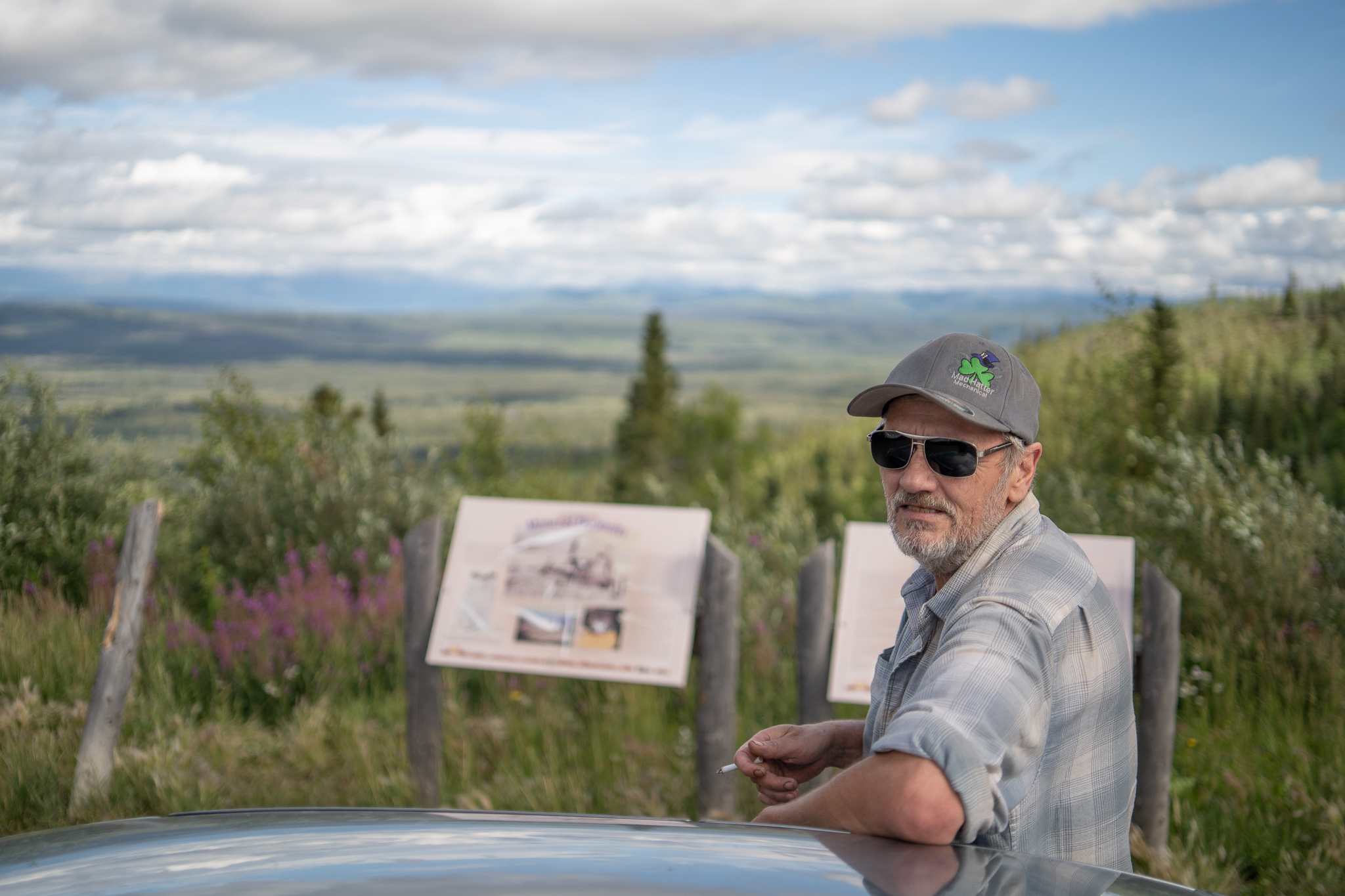 The Guy chatted away. I learned that he was an heir to the throne of the kingdom that at one point in history ruled the whole of Europe, but then the Freemasons came and took everything away from him. Now they dwell in Dawson City, constantly messing with The Guy, taking notes, preventing him from succeeding. He's also writing a letter to the Queen. We pulled over on the hill overlooking the mineral rich valley next to Dawson City. The Guy claimed he hadn't had a cigarette in 20 hours. It was an incredible sight, gold everywhere. An eventful ride for sure.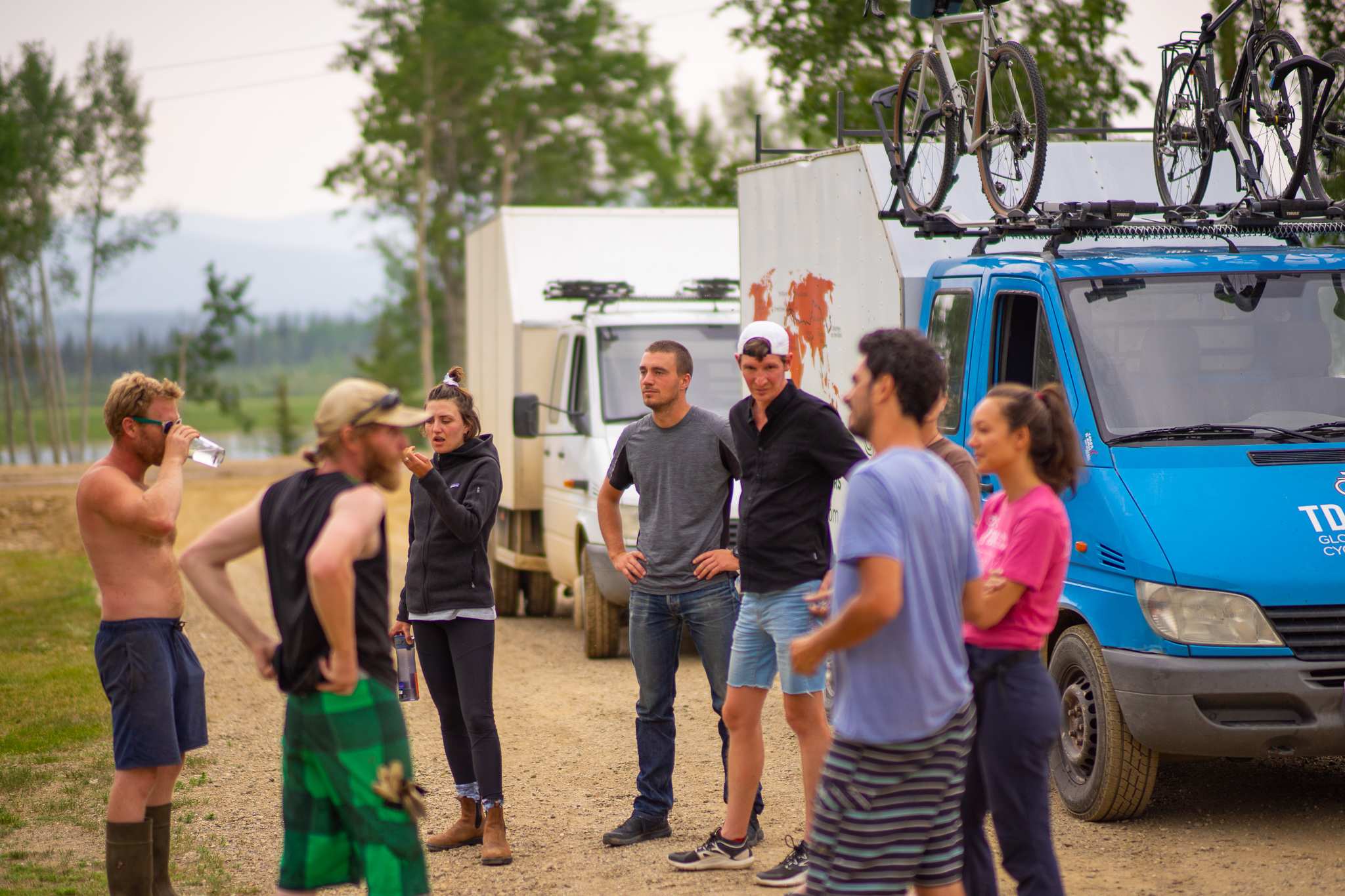 I was glad to be back with the riders and staff. On long trips like this, at some point, the lines between people who work and people who participate get a little blurred. The group looked very coherent, some riders found friends in staff, some staff in riders, some riders were jumping in to help with any task any chance they had. We were pushing through this expedition together. I guess the landscape is not the only beautiful sight on this trip, but also the friendship and smiles on these tired faces. THIS was the hardest thing for me to leave behind when I departed in Whitehorse. What an amazing group of people, both riders and staff. Hopefully, the problems are behind them and luck, joy and the road are the only things between them and Panama City. After all, lions really belong on the Tour d'Afrique, not to the North American Epic.
RELATED
TOUR
North American Epic
Cycling from the Arctic Ocean to Panama City will take you through 9 countries and countless variations in landscape, culture, language, cuisine and...