Blog
REGISTER NOW
LOGIN
SIGN UP FOR OUR NEWSLETTER
The Magic Of The Mundane
Let's face it, not every day on one of our cycling tours is amazing. In fact, on first glance, it may seem that some stages are pretty, dare I say, boring. No Blue Nile Gorge, no switchbacks through the towering Andes, no sprawling vineyards along the side of the road and certainly no elephants standing in the middle of the pavement, staring you down.
It definitely seemed that way at the beginning of the 2022 South American Epic. While the cities of Buenos Aires, Rosario and Cordoba were brilliant, full of things to see and do, the smaller towns between them, at first glance, seemed somewhat uninspired. However, pretty soon I began to understand that there was a certain magic in visiting towns that virtually no other tourists would ever see and observing the day to day lives of ordinary people. I call this the 'Magic of the Mundane.'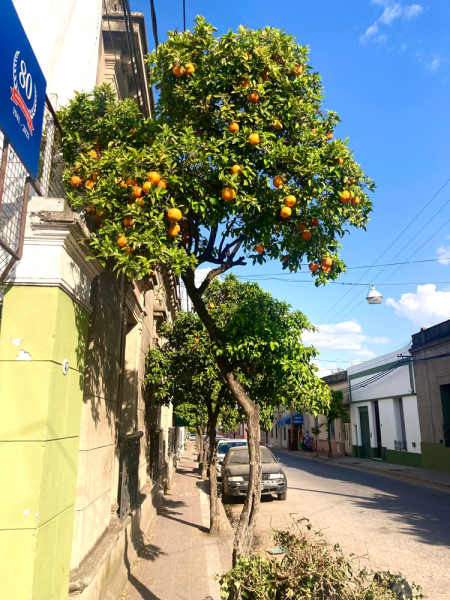 Our first night's campsite was in the small town of Capilla del Senor, about 100 kms northwest of Buenos Aires. It wasn't really a campsite anymore but the owners of the Club Social Deportivo allowed us to put up our tents anyways but warned us that there was a big soccer game that evening at the Club. It was a Sunday and almost everything was closed so I decided to wander through town and see what I could find. I wandered up and down the deserted dusty streets in the hot sun but couldn't find anything interesting. Finally, a girl shyly asked me what I was looking for and when I told her, "A cold beer?", she led me through the town to the only open restaurant where I sat at a table on the sidewalk and enjoyed, yes, a cold brewski. Heaven!
I then looked up and noticed that all the trees on the street were actually orange trees, heavy with fruit. Incredible! How had I missed that on my endless walk through town? Sometimes you just need to open you eyes a little wider. As the old saying goes, 'there are none so blind as those that will not see.'
Returning to the campsite I noticed a stencil on a wall of Juan & Evita Peron, breaking the chains of Argentina's colonial history. Cool.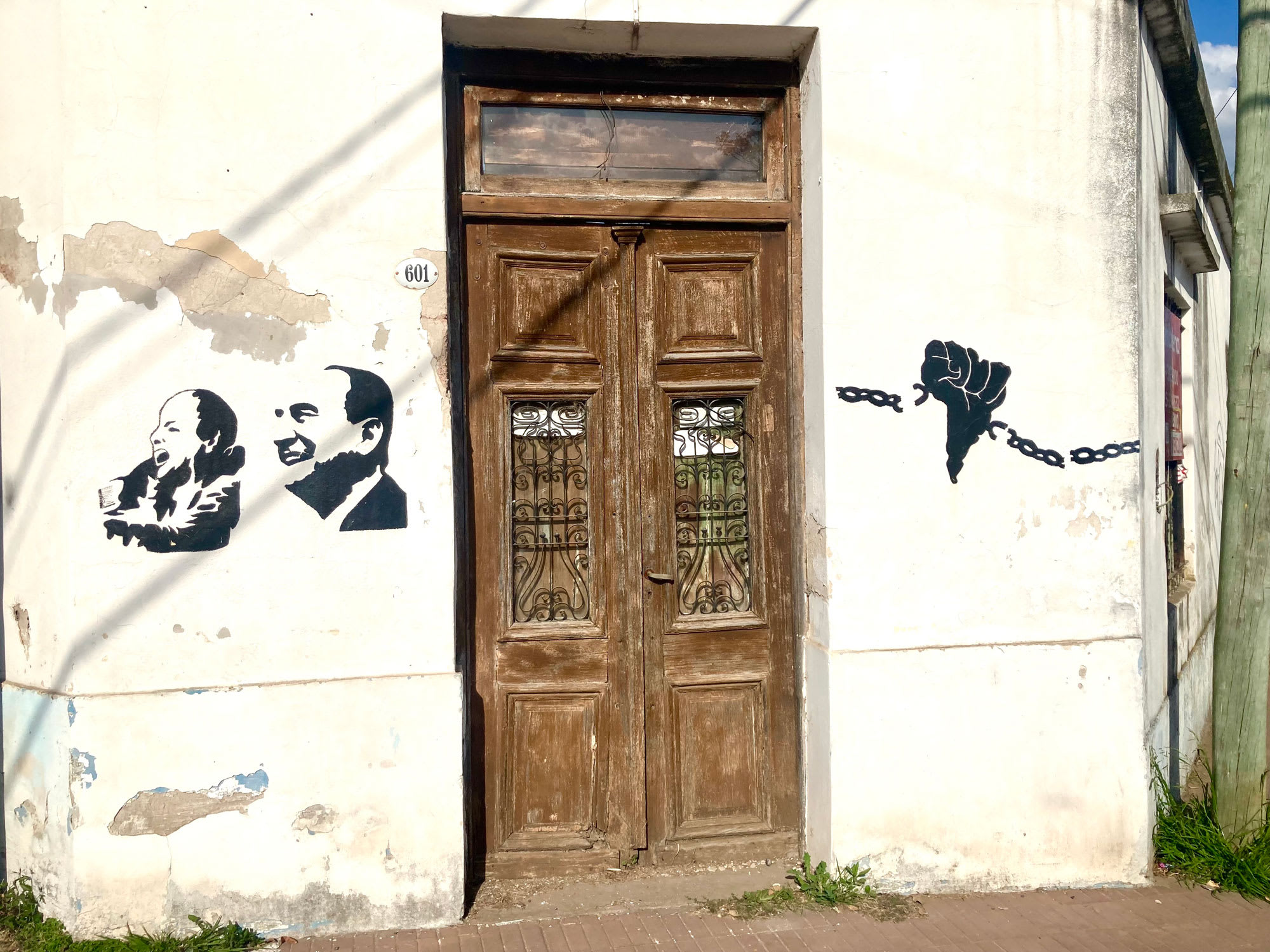 My walk back took me past a riverside park where it appeared that the entire town was relaxing in the shade, chatting to each other and getting ready to cross the river later that evening and take in the big local soccer match at the Club Deportivo…which is exactly what happened. A number of riders joined me as we sat amongst the fans and cheered for the home team. Not an experience you will get on most tours.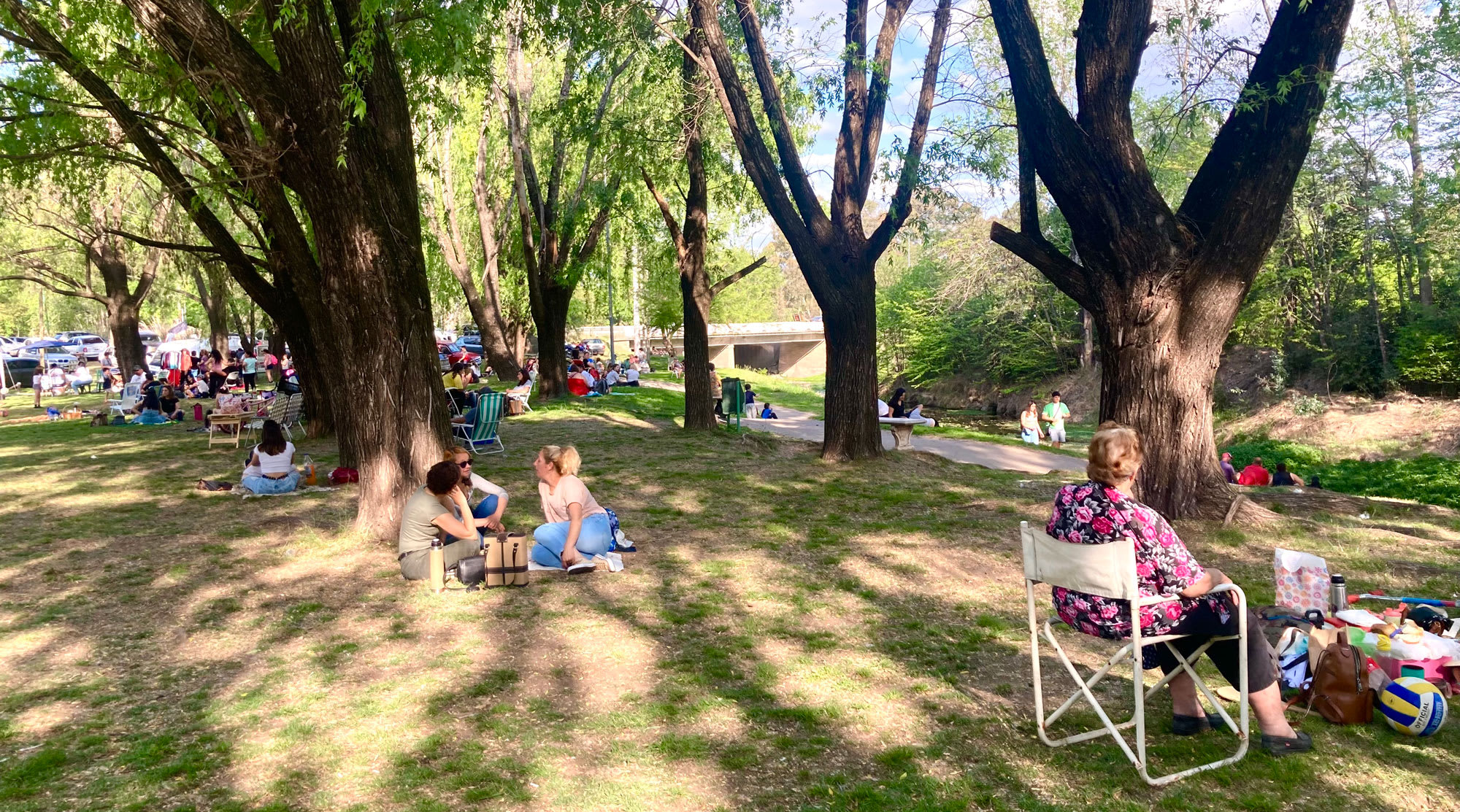 The next 2 nights were spent in the towns of Baradero and San Nicholas. In Baradero, the friendly owner of the campsite (which doubled as a shooting range!) insisted on helping our staff make dinner, taking charge of most of the planning and cooking and then sitting down with us to enjoy the meal, along with his many dogs. Every campground in Argentina is required to have at least 6 or more super friendly pups…or at least that appears to be the rule. In tiny San Nicholas, we pulled into what appeared to be the most run-down, depressing, filthy campsite in existence. Ugh! As we started to look for a place to pitch our tents, a couple guys on a tractor pulled up and started gesturing to us. We finally figured out they wanted us to follow them down a small dirt road. The trucks barely made it past the overhanging tree branches but in the end we emerged into a beautiful camping area set along the river. Small town hospitality, indeed!
After rest day in the bustling city of Rosario we were back to the small towns and deserted rural roads. In Las Rosas (pop: 13,000), there was no campsite. However, the local authorities kindly arranged for us to stay at a small aerodrome, home to some ultralight aircraft. Not only did they arrange hot showers  for our riders, they absolutely refused any payment for their hospitality. Amazing! The next night we found ourselves in Villa Maria at a campsite run by one of Argentina's biggest unions. It turned out that there was a VW camper convention happening in the grounds and I even got to see a capybara, the world's largest rodent, native to South America. Our final stop before historic Cordoba was the town of Villa Ascasubi.
The municipal campsite was set along a gorgeous river and it turned out that it was also hosting an agricultural fair. I wandered over to check it out and was soon, somehow involved in judging a group of roosters. I hope I made an informed choice. I couldn't believe the variety of chickens and other fowl that were being shown at the fair. Returning to our group, I found that a local reporter was there interviewing the riders and staff. Once she had finished, she presented everyone with a medal commemorating their visit to Villa Ascasubi. How nice is that?
These are experiences that may not rival cycling past the Grand Canyon or visiting the temples of Angkor Wat but that are perhaps both more memorable and informative. They provide us with a lesson about the real lives of the people and communities and that our cycling adventures are fortunate to encounter along our routes. The Magic of the Mundane.