Blog
REGISTER NOW
LOGIN
SIGN UP FOR OUR NEWSLETTER
Tanzania: Cool Bananas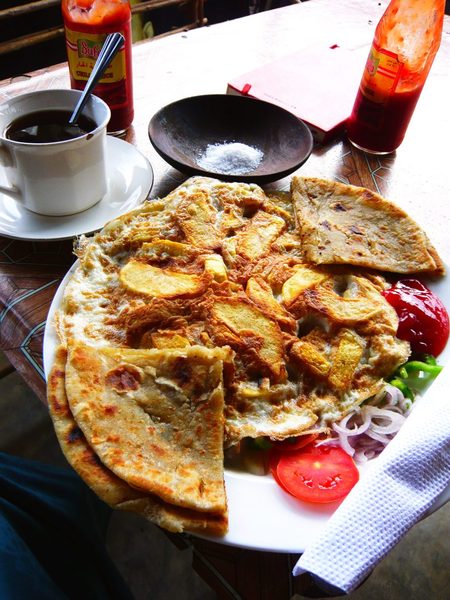 Overview:

Tanzanian food will seem very similar to Kenya – simple and filling with ubiquitous mounds of ugali continuing to play a starring role. And while it's true that a lot of Tanzanian cuisine is typical to what you'll find throughout all of East Africa, there are subtle regional differences.

The left hand rule still applies…and food coma-inducing dishes slathered in oil and salt feature prominently; starchy fillers like corn, rice, millet and sorghum join beans, over-cooked vegetables (mboga) and occasionally grilled meat (nyama choma) once again.

Bananas (ndizi) and their starchy green relative the plantain are a huge part of the diet. Plantains are almost like a potato here, and can be grilled, boiled, mashed up or deep-fried.

Like Kenya, the diet features varying degrees of Indian and Arab influence, particularly on the coast where coconut milk and exotic spices get more play. In most large cities excellent Indian food and restaurants are common.

Agriculture is the foundation of the Tanzanian economy, employing about 80 per cent of the country. About 70 percent of crops are cultivated by hand with nothing more than a hoe! Stunning fields of golden sunflowers are a major export and one of the most important oilseed crops in Tanzania. Sunflowers are prized for their adaptability to a variety of environments. The edible oil is used for cooking, while the leftover "cake" is used for livestock feed.

Pregnant women in Tanzania are said to practice geophagy (gee-off-ah-gee) – which in the plainest of terms, means they eat dirt. Soil or clay is considered a dietary supplement and is craved by many expectant mothers. The dirt is either purchased from drug stores or carefully harvested from natural sources.

Staple Foods:

Aside from Ugali and Nyama Choma…white rice or Wali is more common here than in Kenya.

Corn/Mahindi: Whether ground into flavourless ugali paste, roasted on charcoal and eaten off the cob, or mixed into side dishes and stews in its kernel form, corn is a cheap and important food staple.

Maharage: Maharage are red kidney beans, often cooked with onions, garlic and oil.

Cassava: The cassava root is a carbohydrate powerhouse and has become an important staple in the Tanzanian diet. Mouth-drying grilled cassava root is a common street food. The green leaves can be eaten too.

Mchicha: Mchicha is a popular curried delight combining spinach, peanuts and coconut into a creamy side dish.

Pilau: Pilau combines white basmati rice with fragrant spices like cinnamon, cloves, cardamom, pepper and cloves. Pilau is especially popular on the coast and at community celebrations.

Uji: A nutritious breakfast porridge made with millet.
Chai: Chai is the hot beverage of choice once again, loaded with sugar and sipped with a side of chapati. Despite large coffee plantations on the lower slopes of Mt. Kilimanjaro, you may struggle to find a decent cup of coffee in Tanzania. Instant disappointment is served in most restaurants.

For banana and plantain enthusiasts, you've hit the jackpot. Here are a few notable dishes springing forth from the loins of the banana tree (which is actually a herb…but that's another story):

Mtori: One of the many Tanzanian plantain dishes. This time mashing them up with cooked beef.

Ndizi na Nyama: meat and plantain stew made with coconut milk and tomatoes.

Ndizi Kaanga: Fried bananas or plantains.

Street Foods/Snacks:

Chapati, samosas, maandazi donuts and roasted cobs of corn make another appearance along with some distinctly Tanzania street grub.

Chips & Chips Mahai: Chips Mayai translates to "chip-eggs" in Swahili and is served at nearly every food stand in Tanzania. Chips are thrown into a shallow frying pan, drenched with beaten eggs and tomatoes and served up like a deliciously greasy, gut-busting frittata

Kitumbua/Vitumbua: Tasty fried rice cakes, eaten warm with Chai. The cakes are made with rice, yeast, coconut and cardamom and can be made in special pan with six to seven shallow holes. (Kitumbua and vitumbua is the same thing – "Vi" is plural in Swahili, while "Ki" is singular).

Fruit:

Tanzania's markets are bursting with fruit goodness: coconut, bananas, watermelon, guava, avocado, mangoes, pawpaws/papaya, citrus fruits, passion fruit, tree tomatoes/tamarillo, and custard apples/sweetsops/sugar apples.

Beer/Alcohol:

Beer drinking is popular in Tanzania. Locally produced brands include the pale blond Kilimanjaro Beer, Kibo Gold and Serengeti Lager.

Konyagi: Konyagi is a Tanzanian specialty. A 35% clear alcohol spirit made from sugarcane. It's not vodka; it's not gin. I'm not entirely sure what it is but its makers claim it "Embodies the carefree, fun-loving nature of all Tanzanians and is truly "The Spirit of the Nation." Sold.

Afrikoko: A Tanzanian-made liquor made with chocolate and coconuts.

Mbege: For centuries Tanzania's Chagga people have been making Mbege – a traditional homemade beer made from bananas and millet.

Tipping: Tipping etiquette varies depending on where you are eating, but aside from Safari experiences tipping is not expected in small local restaurants and food stands, and in rural areas. But in major cities and tourist areas tips are expected. High-end restaurants will include a service charge on the bill; otherwise ten percent is a good rule of thumb.