Blog
REGISTER NOW
LOGIN
SIGN UP FOR OUR NEWSLETTER
Riders of the Purple Sage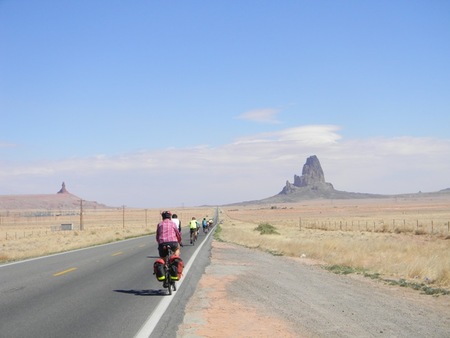 Riders of the Purple Sage is Zane Grey's best-known book. Originally published in 1912, it is critically viewed as having helped shape the genre of Western novels and movies. In the early 1970's the New Riders of the Purple Sage were a psychedelic country rock band whoseanthem was a tune called "Henry."
To this folklore we can now add the NAE Riders of the Purple Sage, a group of 20 cowpokes and cowgals who continue to wind their way on 2 wheels across the Wild West. Their colorful spandex blends in with the many hues of the canyons, mesas and buttes they are spinning through and the bedazzling array of turquoise jewelry to be found in the trading posts along the way.
Yesterday's 101 km ride took us to the Navajo National Monument which is among the most beautiful ancestral Puebloan sites in the southwest. The centerpiece of this serene and mystical place is Betetemkin, an ancient village of adobe walled homes and plazas set in the side of a canyon where it has laid virtually undisturbed since being abandoned in the thirteenth century.
As the wind blew through the Pinyon Pines it seemed to whisper "stay here a while, and forget your modern ways." But came the dawn and we drew back into reality, packing our tents and sipping on caffeine, before hopping on our saddles and riding back down through the purple sage to rejoin Highway 160 en route to Kayenta and Monument Valley.