Blog
REGISTER NOW
LOGIN
SIGN UP FOR OUR NEWSLETTER
Cinelli Road Performance Test Ride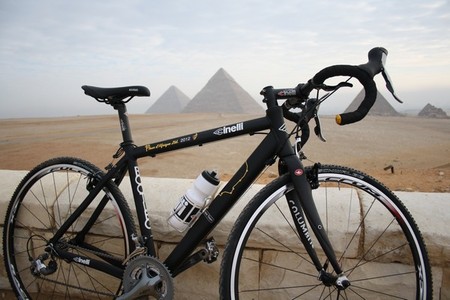 TdA Staffer Brian Hoeniger had the pleasure of test riding one of the Cinelli sponsored bikes today on the 108 km stage into Luxor, Egypt. Riding in a small peloton with Dutchman Herman de Grave and 2 other riders they covered the 61 km race distance from camp to lunch in 1:52, including slowdowns for about 12 police check points, numerous speed bumps, and the town of Qena.
After refueling at the lunch stop Herman and Brian completed the 108 km into Luxor in 3:22 riding time, with an average speed, excepting the many brief slow downs, of over 35 km/hr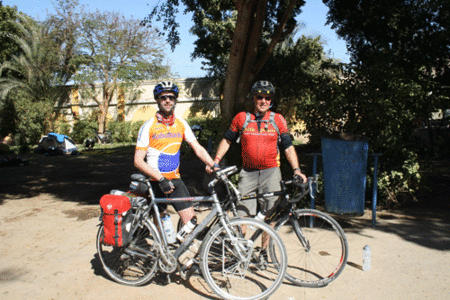 Herman, who has contributed over Euros 2000 to the TdA Foundation, is a strong rider – he pulled for 15 km leaving camp when it was only 3ºC – who carries 2 large rear panniers, and usually tours by himself with 4 panniers averaging 150-200 km per day.
The lightweight Cinelli bikes are fast and handle really well on the tarmac. Another of the Tour staffers, Dr. Annelot, is currently riding one of the Cinellis after her bike was damaged leaving Cairo.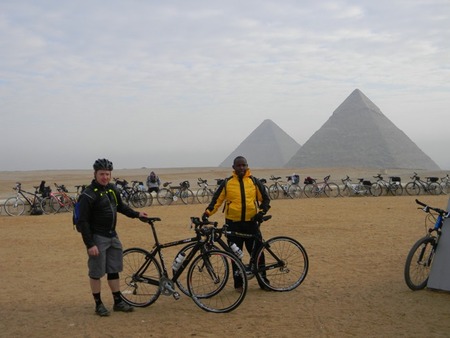 One small improvement would be to have the holes drilled in the frame for a second water bottle holder as our riders drink lots of fluid every day, and many prefer bottles to camelbacks. It won't be until after Khartoum in the Sudan that the bike's performance on a rough off road section can be tested but they are off to a great start and Tour d'Afrique Ltd is very grateful for this generous sponsorship.