Blog
REGISTER NOW
LOGIN
SIGN UP FOR OUR NEWSLETTER
Monkeys, Coffee, and Cycling Epics
Every once in a while, we are treated to thoughts and insights from Henry Gold, our company founder (see this example from January). It has been through his crazy ideas and innovations that our small company can now boast having 10 epic cycling events spread around the world. And here is another interesting post hinting to us of future plans and ideas in the works.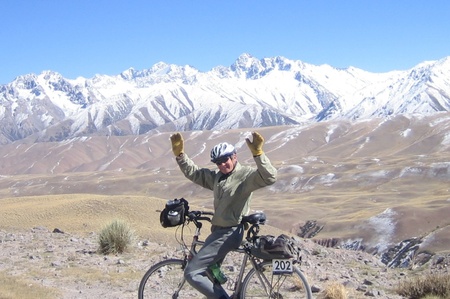 Last week I read an article on the Scientific American site titled "My morning coffee cup kills monkeys." The article describes how "Americans, Europeans and Japanese are largely eating, drinking and wearing the primary causes of the sixth mass extinction in the planet's history. That's because palm oil plantations in Indonesia, mining in Madagascar and forestry in Papua New Guinea are providing the fundamental inputs of the global economy at the expense of a long list of animals, plants, fungi and microbes." And more in similar vain. The writer goes on to plead: "Surely if we apply some of that vaunted human ingenuity to this problem, the problem of preserving our fellow travelers on this planet hurtling through the vast void of space, we can solve it".
Though I found the article interesting, there was not much new I learned. Many years ago before I got involved with Tour d'Afrique I initiated and took part in a variety of developmental projects mainly in Africa and than using the things I learned, I co-produced a documentary film for television screening called Burden On the Land. The film tried to explain what works and what does not when it comes to helping countries to develop and create secure lives for their citizens. But there was another aspect to the work that kept me wondering and that was the idea that the more a country becomes richer the more individuals consume and the more we consume the more strain we put on the environment.
To explore the subject further I proposed to create a documentary series that would deal with prosperity and the massive biodiversity extinction we are now experiencing, where according to scientific studies the planet is losing species at least 100 times faster than the historic rate of extinction.
I never did manage to put the funding together and the project never happened. But my desire to try to do something about conservation of wild areas never dissipated. Enter 7 Epics. A project which we have been working on for a little while.
7 epics is an attempt to not only create wonderful 7 amazing tours that each cross several countries and cultures, but also encourage participants to raise awareness and funds for organizations that help preserve the environment.
In short, an experience that challenges every fibre of your being-mind, body and spirit; inspirational, educational and altruistic-supporting foundations that help protect our collective trust.
It is our little way to have fun and to do some good.Take a quick look at www.tourdafrique.com/7epics and perhaps you may want to be a part of it.